Natural hazard risks to buildings, businesses and communities have become one of the paramount concerns of our time. Due to the enormous financial investment, daily utility and commerce conducted within our nation's building infrastructure, recognizing how important these structures are to our national and global socio-economic stability is critical.
Consider the movement over the past 20 years toward sustainability through organizations like the U.S. Green Buildings Council, which issues LEED (Leadership in Energy and Environmental Design) ratings for buildings that achieve certain energy and environmental conservation goals. The purpose of a LEED rating is to determine a building's impact on the environment. A LEED rating does not, however, help an owner, lender or insurer quantify the safety of a structure, the damage it may suffer in a disaster, or the costs of potential business interruption—in other words, the environment's impact on a building.
True sustainability demands that our buildings reduce their impact on the environment both before and after disasters. In New York and New Jersey during Superstorm Sandy, there were more LEED-certified buildings than anywhere else in the world. Yet Sandy caused billions of dollars of damage, including more than 10 million cubic yards of debris that had to be hauled away, stored and eventually replaced with new building materials during the recovery. Their LEED certification was not a factor during a storm of such magnitude.
Toward Resilience Management
From a property and asset protection perspective, the goal is to improve a structure's resilience, or its ability to cope with change. To understand the importance of resiliency, consider the impact on the city of New Orleans during and after Hurricane Katrina. Before the event, New Orleans and Nashville were on similar economic paths. In 2002, in terms of real gross domestic product, New Orleans was slightly ahead of Nashville. When Katrina stuck in 2005, it caused an immediate loss of more than $80 billion to the New Orleans economy. More striking, however, is that the city's lack of resilience may have cost it more than an additional $100 billion between 2005 and 2012 when compared with the economic output of Nashville.
Resiliency is largely quantifiable and achievable. Given proper strategic thinking, owners and managers who want to evolve from a traditional risk management focus toward a resiliency-oriented one can use a variety of tools to assess and manage the risks of external hazards such as seismic activity, climate and terrorism.
The traditional and often most expedient risk management approach has been, and continues to be, buying insurance. Risk transfer is sometimes the simplest response to the urgent needs of an owner and relies on the insurer to evaluate the associated risks and charge an appropriate premium. A more comprehensive resilience management program includes additional elements such as:


Assessment of assets' vulnerabilities, identifying their potential losses and quantifying impacts such as downtime, loss of use and loss of income.


Risk reduction through a variety of available solutions and best practices, including human element programs, sprinkler protection, mechanical systems, or other building and site improvements.


Risk avoidance that includes not acquiring or leasing sites and buildings that do not meet an owner's risk tolerance.


Risk assignment through a more informed purchase of


property, casualty, cyber, terror and other insurance products.


Adaptation to risks that cannot be eliminated or transferred through emergency preparedness, response, recovery and contingency planning.


Assessment and application of these elements require clear risk communication to support informed risk management decisions. It is a continuous process, as business operations evolve and new risks emerge. Collaboration among insurers, brokers and building design professionals can minimize unnecessary exposures and ensure that appropriate coverage is provided where needed.
Developing Building Rating Systems
Already part of our everyday lives, ratings communicate the quality and expected performance of a product or service. We have ratings for car crash performance, hotel quality, restaurant cleanliness and financial transactions that enable users to compare investment options and quantitatively assess their risks.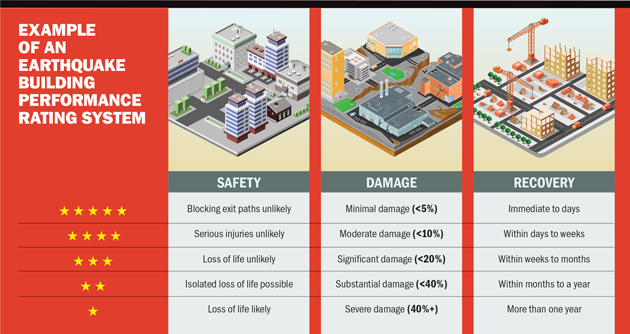 It is a common misconception that buildings built to today's building codes will be "proof" against natural disasters such as earthquakes, hurricanes and floods. Building codes, if they are followed (the International Code Committee estimates that only 65% of buildings built in the United States follow the national building codes), are merely intended to prevent collapse in the largest events. Protection of property and business continuity are not typically considered. Giving owners, tenants, lenders, insurers, government jurisdictions and other building stakeholders reliable information on the performance of their buildings, rating systems for buildings allows these groups to make actionable and informed decisions about purchasing, leasing, refinancing and insuring buildings, and to support development of long-term strategic risk and resilience management solutions.
Building ratings, such as those developed by the U.S. Resiliency Council, the Earthquake Design Initiative, and the Insurance Institute for Building and Home Safety, are issued based on a building's ability to withstand a natural or manmade disaster, and quantify performance along three dimensions: safety, damage and recovery. Whereas LEED ratings are typically based on principles of good environmental stewardship, building performance ratings are based on detailed engineering evaluations of structures using national technical standards.
Improving Resilience with Building Rating Systems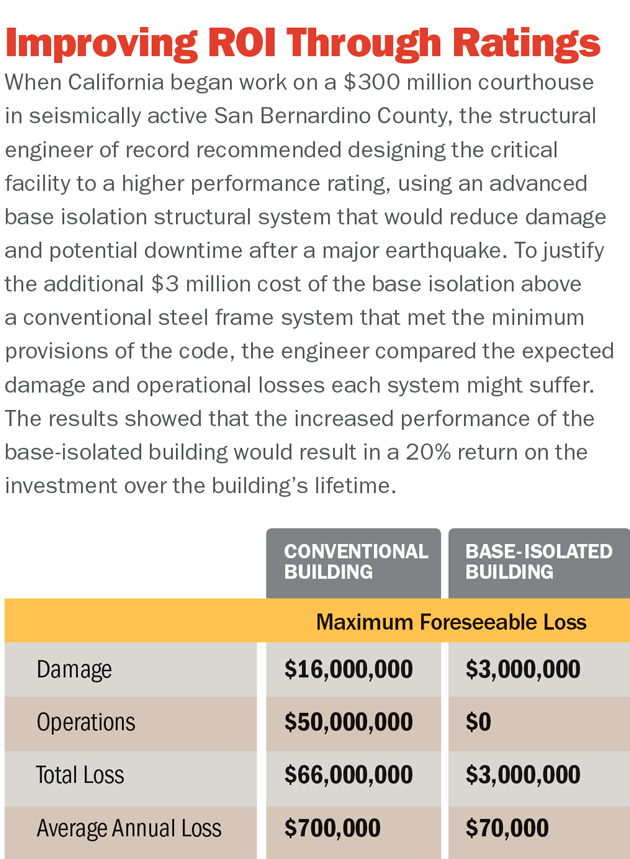 Building owners can implement some practical steps to create a resilience management program with the help of their risk managers, insurance brokers and design professionals.


Create an inventory of building assets and use experienced engineering professionals to employ a building rating system to rate the most important properties along the dimensions of safety, repair cost and recovery.


Rank buildings according to their performance and identify which ones are contributing most to your overall risk.


Aggregate the portfolio to estimate expected casualties, damage costs and business interruption losses in a disaster, or over a defined time frame such as 20 or 50 years.


In collaboration with your insurance brokers, engineering consultants and in-house emergency management staff, perform cost-benefit studies to best allocate resources to mitigation, risk transfer and event response/recovery planning.


Use building ratings to help make decisions about real estate purchases or leases.


Work with your brokers to restructure insurance programs to recognize, based on their ratings, those buildings that are most in need of catastrophe insurance and those that can retain less or forego coverage.


Establish internal company design guidelines to ensure that your most important assets will perform in a manner commensurate with their value.


Transactional and Insurance Applications
Building ratings are a valuable resilience management tool during real estate transactions, both in the immediate process of purchasing and financing, and in the long term as a significant factor in insurance policy pricing. Buyers and lenders rely heavily upon property condition and risk information revealed during due diligence periods. Seismic due diligence has historically been based on probable maximum loss (PML) studies. These studies can lack credibility and consistency, however, because oversight and licensing requirements are often voluntary. PML studies typically estimate building damage, whereas a better indicator of building performance can be made through multiple dimensions of safety, damage and recovery. Building rating systems that include requirements for professional certification and technical oversight provide both credibility and consistency to the information delivered.
Building performance ratings can also provide benefits in insurance pricing. Well-structured policies balance the amount of risk a policyholder carries with the amount transferred. An owner's risk tolerance will influence decisions on coverage, policy limits and deductibles. Along with comprehensive property risk assessments, building performance ratings provide both policyholders and insurers with a better understanding of overall property risk, resulting in policies that are more accurately priced and confidently stay within underwriting capacity limits. Much in the same way that automobile insurance policy discounts are given for good driving records, reductions in property insurance premiums or deductibles can be given for good management of risks, including good building performance.
Strategic Planning
Building ratings can also be a valuable strategic planning tool. Much as investors use securities credit ratings to build their portfolios and balance risk with return, so too can building stakeholders use building ratings to influence resilience management decisions, understanding that good performance is essential to protecting lives and ensuring that a business or community recovers quickly and continues to thrive.
For example, the city of Los Angeles is currently rating its buildings to assess the vulnerability and resiliency of its owned facilities after a major earthquake. With this information, the city can identify the buildings that face the greatest seismic risk, determine where to apply resources to improve areas that do not meet earthquake resilience goals, and develop long-term solutions that will ensure the city's viability post-disaster.
Similar programs are being employed by businesses, universities and other owners of large building portfolios to create custom design guidelines that require all buildings to be built to at least the minimum standards in building codes, with more important facilities critical to operations designed to higher performance ratings, and to improve their business continuity plans by prioritizing and allocating recovery resources to buildings with higher damage expectations.
Resilience is Sustainability
As awareness of resiliency and the impact of building performance in businesses and communities continues to develop, the market value of buildings with good performance ratings will increase. This is similar to the effect that awareness and value of sustainable design and low environmental impact have had in raising the market value of LEED-certified buildings. This has already been observed in Japan, where newer buildings with the latest seismic-performance features command rents 40% higher than older buildings without these features.
In recognition that sustainability truly requires resilience as well as environmental stewardship, the U.S. Green Buildings Council is considering awarding a pilot Resilience Point for buildings that receive high performance ratings. Resilience is the natural evolution of sustainability. Events like Hurricane Katrina and Superstorm Sandy have made it painfully clear that it is not enough for our buildings to have a low impact on the environment—the environment must also have a low impact on our buildings.