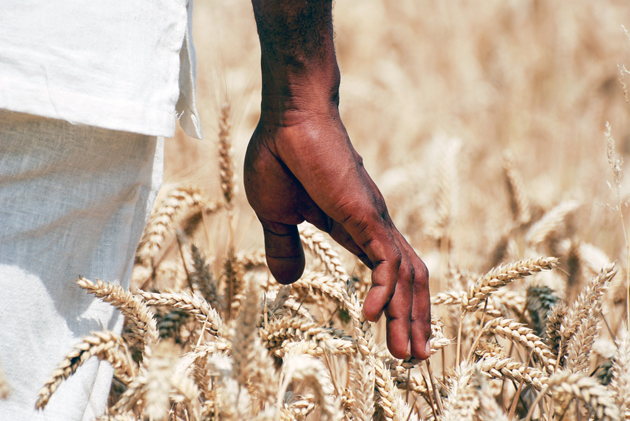 Around the world, approximately three billion people survive on less then $2 a day. Many are trapped in a cycle of poverty that impairs their health, relationships and social mobility. When financial disaster strikes, such as the death of a breadwinner or costly health issues, the majority have no means of getting by.
It is a disheartening phenomenon, that those whose lives are most fragile are the ones without access to a safety net.
Enter microinsurance.
Microinsurance is a segment of insurance products designed with smaller premiums and less coverage to support low-income populations that cannot afford or do not have access to traditional plans. As an example, premiums for a microinsurance plan in India can be as low as 45 rupees a month (3.8 cents per day) and cover losses around 2,500 rupees ($62.75 dollars).
The number of people insured by microinsurance has increased from 78 million in 2007 to 500 million today, according to a study published by the International Labor Organization and the Munich Re Foundation. The total value of the microinsurance market now exceeds $40 billion, according to reinsurer Swiss Re, and Lloyd's of London projects that the market has the potential to someday provide up to three billion policies.
There have been many factors contributing to the growth of microinsurance in the past five years. Urbanization and economic growth in countries with large, low-income populations has increased the purchasing power of this market segment. The two leading microinsurance countries are China and India, which account for nearly 80% of the worldwide market, followed by Latin America, at 15%, and Africa, at 5%. The estimated purchasing power of China's poorest is $161 billion and India's is estimated at $93 billion, according to Accenture. As the purchasing power of these densely populated, low-income areas continues to increase, so too does the need to insure that income.
[caption id="attachment_13138" align="alignright" width="409"]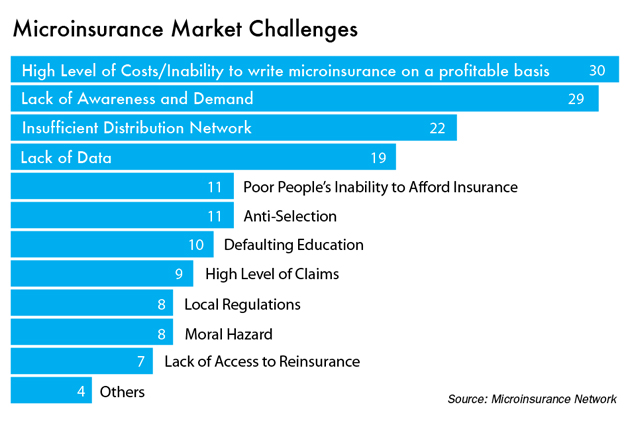 High costs are the top challenge facing insurance companies when issuing microinsurance, according to "Commercial Insurers in Microinsurance," a survey of insurers conducted by the Microinsurance Network. (click for larger graph)[/caption]
Another factor driving the rise of microinsurance is government involvement. The Chinese government first started using microinsurance in August 2008 in rural areas where 400 million people, among a population of approximately 700 million, may be able to benefit from microinsurance. The government has offered incentives for large, state-owned firms, such as People's Insurance Company of China, as well as small, privately owned insurance companies.
The increase of private-firm involvement and partnerships between public and private groups has also helped attract attention. In 2005, seven of the 50 largest insurance companies targeted this low-income group. Today, 33 out of 50 are involved. These companies have seen the enormous potential for growth in the industry and have been eager to increase their market size, a factor that was cited as the largest benefit for insurers that offer microinsurance, according to a survey conducted by the Microinsurance Network.
Private insurance companies have formed partnerships with local microfinance institutions, governments, agents, mobile networks, health service providers and NGOs. The infrastructure created by these partnerships, which include organizations that work in the world's biggest cities and smallest villages, allows these financial products to be distributed to a much more geographically diverse consumer base than ever before.
Another cause for the expansion is the rise in technology, namely the widespread use of mobile phones. The number of mobile phone users in the developing world now surpasses the number of users in the developed world, according to a report by the World Bank. Unbelievably, three-quarters of the world now has better access to mobile banking than to clean water and electricity, and the number of people using mobile banking in developing nations is expected to explode, from 60 million today to close to one billion in 2015.
As technology use continues to evolve throughout the developing world, so too will its citizens' access to microinsurance. Three organizations, for example, have joined together to create a system that allows Kenyan farmers to insure crops through a mobile phone. A microinsurance policy, which is distributed by the Kenyan branch of UAP Insurance in partnership with the Syngenta Foundation for Sustainable Agriculture and Kenya's largest mobile company, Safaricom, can be registered by using a camera phone to scan the barcode on each bag of seed sold.
A text message is then sent to the farmer to confirm the policy. If the weather worsens, analysts use a system to calculate if the crops would be damaged. If the crops are, a payout is made directly to the farmer through his phone using Safaricom's mobile banking service. This system eliminates all other intermediaries and paperwork, which reduces transaction costs drastically.
Even with the sector's recent expansion, microinsurance has experienced a variety of challenges. The concept of insurance is completely new to many low-income populations, including farmers and migrant laborers, many of whom are illiterate. Considering that insurance can be a tough sell even in the United States, there is a larger hurdle in trying to introduce it to populations unfamiliar with the underlying principles.
When a microfinance institution provides a loan to a borrower, it is entrusting that the borrower will repay his installments, however this is reversed when a consumer purchases insurance. The client needs to trust that the agency will repay him or her in case of disaster. This is a foreign concept to many populations in the developing world. It may be more likely that a microinsurance package will be purchased when coupled with a microloan because, in this situation, mutual trust is created.
In order for microinsurance to scale in an area, the revenue model needs to be self-sustaining with a large pool of policyholders. A large number of small policies leads to higher transaction costs, however. Microinsurance programs need to be able to provide sustainable revenue models that can access fluid distribution channels, overcoming geographical and cultural barriers.
Although challenges exist, many initiatives have arisen that highlight the promise, now and in the future, for microinsurance. LeapFrog, the world's first and largest microinsurance investment fund, and its high-profile investors, such as the Clinton Global Initiative and J.P. Morgan, continue to bring attention to the business.
Providing insurance for the poor not only gives the economically disadvantaged a fallback plan, but also an opportunity to invest for the future with increased security. With an growing, successful track record, microinsurance continues to be a promising tool in the war against poverty.