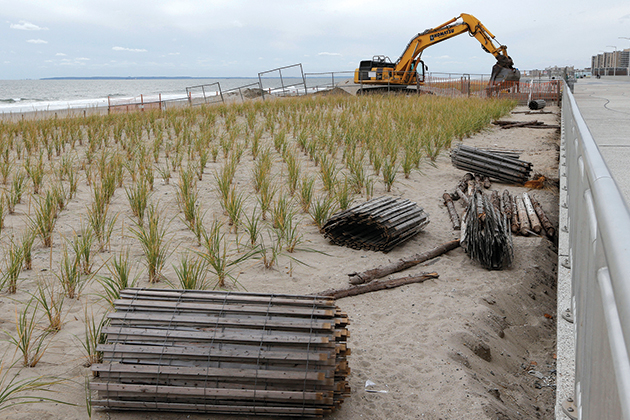 When Superstorm Sandy hit the eastern coastline of the United States in October 2012, it quickly became apparent how underprepared governments and businesses were for the effects of the storm surge. Sea walls were not tall enough and barriers were not big enough. The salt alone from all this water caused billions of dollars in infrastructure damage to utilities and transportation portals throughout the Northeast. The force of the water's surge crumpled boardwalks, rushed through the plate-glass storefront windows of businesses big and small, carried steel structures out to the sea, and wiped away entire neighborhoods, crushing lives and livelihoods in its path.
Yet four years on, governments and businesses are not necessarily any more prepared for another event like Sandy. As they moved from recovery to resiliency, many took steps to develop diverse and sustainable storm surge protection, from mobile walls and taller barriers to more permanent infrastructure projects. Many of these remain on the drawing board, however, leaving residents and businesses vulnerable to future storm surge events.
Devastating Storm Surge
Businesses and municipalities along the New Jersey coastline were among those hit hardest by Sandy. Towns scrambled to repair and replenish beach dunes, incurring near-prohibitive repair costs. Monmouth County alone spent $109 million to dump eight million cubic yards of reclaimed sand back onto its beaches, while FEMA allocated more then $113 million for boardwalk and related beach repair projects and the township of Mantoloking spent more than $23 million to install a 3.5-mile-long wall along the shoreline to protect its coastal properties.
Among the billions of dollars in damages to Lower Manhattan, the then-newly constructed $530 million South Ferry subway station, which had opened in 2009 after three years of construction, was a complete loss. Its reconstruction remains ongoing even today. Many residents and businesses in New York's Financial District were without heat, power and telecommunications for quite some time, largely due to damage caused by the exposure of utility cables to salt from the seawater surge. Some buildings in the area still remain out of service due to the storm.
All told, Superstorm Sandy caused an estimated $65 billion in damage in the New York/New Jersey area alone. While some of the businesses and residents had insurance, many did not, or at least not enough of it. Thousands of Sandy-related insurance claims remain in litigation. Some policyholders allege their insurers undervalued or dragged out adjustment of their claims, while others have even sued their insurance brokers for placing too little coverage. Businesses large and small learned important lessons about the real risks they face being in the path of future potential storms.
Will It Happen Again?
Storm surge flooding is becoming more common, and six-foot-plus surges are no longer a rare event. A "hundred-year storm" could now happen at least once a decade, experts predict.
According to a report by data research firm Climate Central, sea levels are expected to rise one to eight inches by 2030. That dramatically multiplies the risk of catastrophic storm surge when a hundred-year storm comes ashore. In other words, it will happen again, it will happen sooner than many people think, and the damage will only get worse.
The financial impact of another storm with even the same storm surge height of Sandy would be far more destructive. Climate Central's property damage modeling predicts the cost of damage in Manhattan and Jersey City from another storm just like Sandy could be as much as $1 million to $10 million per acre and up to $100 million per acre in certain spots. The impact of a storm even slightly worse than Sandy would be completely devastating.
From Recovery to Resiliency
Most state and local governments in the path of a potential storm surge have created new agencies designed to implement real solutions, such as the New York Rising Community Reconstruction Plan, the Governor's Office of Storm Recovery and the New York City Mayor's Office of Recovery and Resiliency. These entities are about rebuilding with a purpose: creating more resilient waterfront structures and infrastructure protections to lessen the impact from storms.
The subway system in New York City, for example, is being rebuilt with new tracks and stations, and are being fortified against future storm surges by introducing stationary and deployable flood barrier mechanisms at stations and other system entry points in low-lying areas.
A consortium of private foundations also sponsored a competition called "Rebuild by Design," with the goal to "develop innovative, implementable solutions to respond to the region's most complex needs." The winning design, from architect Bjarke Ingels, is known as the "Big U" and involves a web of protective barriers and berms undulating through the parks, paths and waterfront locations from East 42nd Street on the East River, underneath and past the Williamsburg, Manhattan and Brooklyn Bridges, around the Battery at the tip of Lower Manhattan, and back up the Hudson River to West 57th Street. But with a total initial projected cost of at least $335 million, the question of how to pay for this and other resiliency measures remains.
Federal, state and local government agencies are trying to do their part. In the past two years, New York City committed nearly $15 million to design resiliency measures for residents, businesses and infrastructure around Lower Manhattan, as part of its Connect and Protect initiative.
The city then entered the U.S. Housing & Urban Development's (HUD) National Disaster Resilience Competition, where it sought up to $500 million in funding set aside by Congress to redevelop communities affected by natural disasters. New York also committed another $100 million in funding to help supplement the HUD award, while announcing that it would look for additional monetary sources to pay for the necessary resiliency protections.
Ultimately, the city was awarded only $176 million, which HUD mandated must be spent on resiliency measures specifically in the area between the Manhattan and Brooklyn Bridges, leaving the rest of Lower Manhattan (including the Financial District, Battery Park City and Tribeca) to find funding for the project's remaining costs.
More recently, the city promised to allocate its $100 million investment solely to this area of Lower Manhattan, but even with that, hundreds of millions of dollars in funding must be sourced to protect the many billions of dollars invested in the area.
Although many layers of government have committed funds to resiliency projects, there is much more work left to actually fortify and protect the physical assets of the Eastern coastline. Four years after Sandy, many plans have been proposed, but few have been funded and even fewer built, relative to the scale of the problem. Building a resilient coastline will take commitment, dedication and immeasurable sweat equity. The funding gap is immense, but the value of vulnerable assets is many times greater.