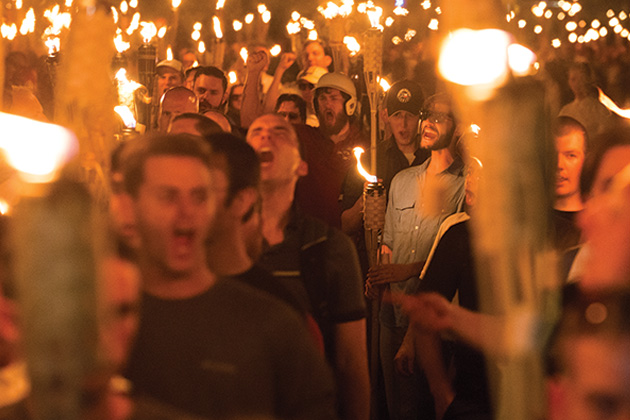 Recent headline-making incidents have raised questions of where the boundaries are around employees' freedom of speech and what employers can do about workers' expression of controversial beliefs. In August, California-based engineer James Damore was terminated from his job at Google after internally circulating a 10-page memo questioning the value of women in the company's workforce. That same week, a violent white supremacist rally in Charlottesville, Virginia, spurred some employers to take action against protesting workers. NFL teams were also put in the spotlight when Colin Kaepernick of the San Francisco 49ers began kneeling during the national anthem last year to raise awareness of police brutality and racial injustice. This season, a number of other players followed his lead by also taking a knee or standing with locked arms during the anthem, reigniting the debate.
Because of the hot-button issues involved and widespread public attention, these incidents have had repercussions on both the individuals and the organizations involved and have fueled debate as to whether the First Amendment protects employees who act on controversial beliefs.
"Overall, First Amendment protections only apply where the government is the employer," said Robin Kallor, a partner at FordHarrison. "All employers, however, even those in the private sector, must tread lightly when attempting to correct employee conduct that is shown to support or oppose any political movement, or when attempting to implement policies that prevent the conduct."
Employees of private companies may be protected in many states whose laws prohibit private-sector employers from retaliation for legal off-duty activities, she added. "Some states codified the First Amendment in a statute and made it applicable to all private-sector employees," Kallor said. "In Connecticut, for example, employees cannot suffer adverse action for engaging in rights protected by the First Amendment, including speaking out on matters of public concern in the workplace."
Similar laws exist in California, where a provision in the state's labor code protects employees who elect to express political affiliations or opinions. "There is also a section in federal law, the National Labor Relations Act (NLRA), that protects employees when they are engaging in activities for the mutual benefit of coworkers," said Daniel Pyne, co-chair of law firm Hopkins & Carley Employment & Labor Law Practice.
For example, Damore could conceivably argue that he was "trying to rally support for an opinion that he believed would be beneficial to his coworkers at Google," Pyne said.
Some employers had difficult decisions to make after their employees were linked to the Charlottesville protest. While it is legal to participate in political rallies, the protest and associated violence pushed the boundaries of what some organizations would tolerate. At least four people lost their jobs after being publicly identified as white supremacist participants.
One such individual, Terrance Hightower, was fired from his job at Mojo Burrito in Chattanooga, Tennessee. The company's president, Eve Williams, posted a statement on Facebook: "Mojo Burrito does not condone harassment, racism or discrimination of any kind. We swiftly took the proper legal steps in order to terminate an employee once we were made aware of the situation. We felt we needed to do this in a very safe manner considering the volatility of the situation."
Such controversies present particular challenge because of the number of factors involved. "Are you dealing with an employee who was merely there to show support for a cause or a point of view, who was not engaging in violence or charged with a crime, or are you talking about somebody who did some or all of those things?" Pyne explained. "There are layers of complexity regarding issues expressed out of the workplace."
He added that expression of a political opinion or participation in a rally are, generally speaking, lawful activities, if you are expressing your views on an issue and not engaging in violence.
In the case of the NFL, while no players have been fired, Kaepernick, who opted out of his 49ers contract in March and is a free agent, charged the league with collusion after being passed over for hiring by various teams. He filed a grievance in October arguing that the league conspired to keep him out of a job because of the national anthem protests.
While President Trump and others have called for players who kneel during the anthem to be fired, legal experts have mixed opinions on whether team owners can actually do so. Some say it would be an uphill battle for players, as they have little recourse under their contracts.
However, Phillip Maltin, partner at Raines Feldman LLP, said there are a number of reasons the NFL cannot discipline or terminate a player for refusing to stand during the national anthem. including the simple fact that the league publicly confirmed last year that it encourages but does not require players to stand during the anthem. "If the NFL were now to punish players who kneel, the players would almost certainly win in arbitration, claiming that the NFL's earlier public statement is a policy on which the players relied," Maltin said.
An organization considering whether to fire an employee for acting on personal political beliefs should start by researching their state's rulings on such cases. To mitigate the risk of litigation and reputation damage, it is important to establish clear and concise guidelines for employees—both in and out of the workplace, Pyne said. Employers can start the process by examining their corporate values and culture, and reviewing how they have handled similar situations in the past—if they have had any. "A lot of companies have not, so they are basically writing on a blank slate," he said. "Your opinion depends on the prism through which you look at the issue."
Once an employee has been terminated, Pyne advised employers to take a step back, because "it would be ill-advised to make broad, condemning statements about an employee you terminated that could conceivably harm their future career prospects and their reputation," he said. "Even if the termination is clean, you want to make sure you don't shoot yourself in the foot by invading privacy and embarrassing somebody publicly."
Companies must also be consistent going forward, "so that you don't have people engaged in similar behavior being treated differently," Pyne said. "That creates its own set of risks, and potentially other lawsuits."
There is also a risk in doing nothing. If an employee is engaged in a protest and expressing biased or hateful views, "you have to consider, if the person is allowed back into the workplace, what kind of message that sends to the rest of the company and what impact it will have on morale," Pyne said. "Does that create a hostile work environment, where we are tolerating the presence of someone who holds and espouses these views?"
Employers must consider the situation carefully in order to make a fair and unbiased judgement. "They should reprimand the behavior, not the political meaning behind it," Maltin said. "For example, a restaurant employee who takes a knee in the middle of the busy dinner hour, in the middle of a busy dining area, is disrupting the business. Politics are irrelevant; she is not doing her job. The employer must punish the behavior, not the political message."
Some political statements, such as those promoting white supremacy, however, "are so offensive and hostile to the rights employers are required to protect that managers can punish both the action and the political statement," he said. "You can always punish racism and sexism. You can probably punish the unwillingness of an employee to do his or her job. You cannot punish liberalism or conservatism."