COVID-19 has upended the way we work. Many are working from home, stressed and attempting to juggle a range of personal and professional responsibilities, leading to an increase in anxiety, depression and burnout. To ensure that companies and their employees are performing optimally—not just existing—during this time, leaders must address the mental health challenges that employees are facing.
Before COVID-19, the option to work from home may have excited some office dwellers—no commute, a comfortable setting, and the ability to schedule your work day around other responsibilities. But given the realities of doing so amid the pandemic, working from home has lost its appeal for many people.
Unfortunately, the pandemic has led to an increase in—or exacerbated—mental health disorders such as anxiety and depression. In fact, in a poll conducted by the Kaiser Family Foundation, nearly half of adults across the country said that worry and stress related to the pandemic were hurting their mental health. As the pandemic has lingered and social distancing, remote working, business shutdowns, school closures and economic uncertainty have led to greater stress and isolation, the toll on mental health has increased.
Employees working from their living rooms or home offices are putting in more hours, juggling more responsibilities and dealing with the burden in sometimes unhealthy ways. This can inevitably lead to decreases in employee engagement, satisfaction and productivity—and in turn, a company's productivity as well.
Mental Health Concerns
For the past several months, we have faced an ambiguous and complex new situation marked by persistent danger, forced isolation, record unemployment and economic instability. Humans are generally not good at dealing with uncertainty or assessing risk and this has led to increased reports of stress. MetLife's 18th Annual U.S. Employee Benefit Trends Study 2020 found that a notable majority of employees (67%) are feeling more stressed due to the COVID-19 pandemic, especially women and low-income workers. Among many factors, social isolation plays a large role.
"Social isolation is inherently uncomfortable," said Dr. Eric Zillmer, a licensed clinical psychologist and Carl R. Pacifico Professor of Neuropsychology at Drexel University. "Humans rely on processing information intuitively and socially—'by the water cooler,' so to speak. But now, we process all of our information through televisions and tablets. For workers, there is also the unknown about job security, which is a very personal stressor. As a result, we worry a lot, and we know from research that anxiety is cumulative—it adds up. COVID-19 and its associated psychological processes are formidable opponents."
The mental health impact adds yet another element to the already staggering physical toll of this pandemic. For the millions of employees impacted, solutions and support are critical.
Addressing Work-from-Home Stress
What can employers do to ease stress for their employees who are working from home during these turbulent times? According to Terri M. Solomon, co-chair of Littler Mendelson P.C.'s workplace violence prevention practice group, this will vary widely depending on the employer's resources.
"Some things I have seen companies do include having weekly team meetings so that employees can stay connected with their colleagues; having virtual happy hours or team building exercises; providing employees with information on childcare and child entertainment options; providing employees with information on eldercare resources; encouraging employees to take vacation; and having friendly contests, such as cooking competitions," she said. "All of these help employees to feel connected and supported even when working remotely."
While some human resources professionals may not be aware of the mental health challenges that employees are going through while working from home, there are best practices all can follow to help ease the struggle. Solomon recommended the following:
1. Provide Employee Assistance Programs (EAPs): EAPs can often be invaluable for employees experiencing mental health issues. These resources can provide free counseling for issues with stress, work, family and personal relationship concerns, and more.
2. Offer leave of absence information: When an employee discloses that he or she is experiencing mental health issues, a human resources professional should provide them with information about leave of absence benefits available under company policy and applicable federal, state and/or local laws.
3. Evaluate direct threats: If an employee expresses suicidal ideations, attempts suicide or is displaying conduct that causes an employer to question whether the employee can safely perform his or her job, the employer can require a direct threat evaluation. There are numerous legal implications, however, so companies should seek advice from experienced employment counsel before pursuing this option.
Additionally, management can directly address workers' well-being by creating webinars and guides that focus on employee mental health and ways to combat stress. It is important to encourage employees and management to tackle problems collaboratively during this time.
Return-to-Work Anxiety
When employees eventually return to their workplaces, they will need to adapt to drastic changes. How employers ease the stress of such changes is paramount, not only for the mental health of employees but also for the company's bottom line.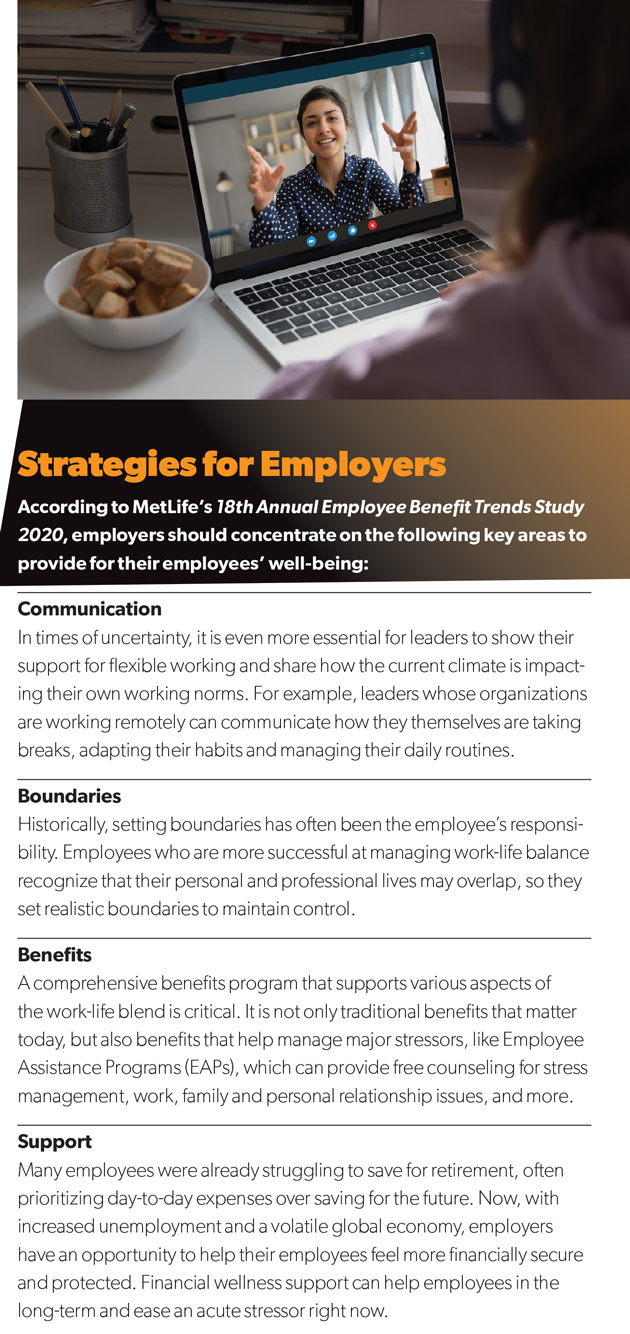 "Managing return-to-work-anxiety is a hot topic," Zillmer said. "First and foremost, it requires managers to be compassionate leaders. It is important to listen, or 'actively listen,' which emphasizes demonstrating empathy. Be flexible and make decisions together. From research on risk-taking, we know that humans are willing to take risks if they are part of the decision-making process."
It is also important for organizations to remember that it is difficult for people to be creative when they are anxious. "It means little to show up at work anxious and then nothing gets done," Zillmer said. "That is why it is so important to deal with anxiety head-on."
Drawing from what he calls "the psychological first-aid kit," Zillmer provided a few ideas. "It helps to take stock of one's mental state, to communicate clearly and be an active participant, to socially network," he said. "Take stock of your own physical symptoms. You have to figure it out. Be patient and flexible. And from cognitive-behavioral therapy, we know not to believe everything that you are thinking."
Entering the next phase of recovery from the coronavirus pandemic will not be simple. Employers can play a key role in helping to ease their employees' anxieties.
"People need to feel psychologically safe," said Dr. Michelle Paul, professor-in-residence at the University of Nevada, Las Vegas. "I think that managers in workplaces have a great deal of influence on the extent to which their staff members feel safe. Psychological safety may mean that employers have to go above and beyond in terms of implementing policies, procedures and protocols than what might initially feel necessary."
Paul emphasized that it is important for managers and company leaders to communicate with employees early and check in often. Managers can say, for example, "Here's what we're thinking of doing—how does that sound to you? Is there anything we're missing? Is there anything we didn't think about? Can we stagger shifts? Can we create traffic flow that minimizes bumping into people?" These kinds of questions will help people feel like they can share their worries and feel heard.
Ensuring Employee Well-Being
Employers need to reassure their employees that health and safety are the company's paramount concern. Employers also need to let employees know that they will be protected if the pandemic worsens. They need to communicate that they are not going to be careless or naive, and that they will closely monitor the situation as it continues to evolve.
It is important to keep in mind the difficult situation employees are facing when they show up to work. "It's about trying to find the balance between the risk of not working and the risk of getting ill," Paul said.
She also noted that there are there other strategies for combating anxiety that might not seem as obvious at first, like compassion. "Finding compassion for ourselves and others is really important," she said. "When you think about having compassion for yourself, you make room for taking a break from social media. You make room for allowing yourself to have the feelings you're feeling when you're feeling them, and validating those for yourself and others. And you find opportunities to try to infuse hope, joy and playfulness despite the dangers that are out there."
Actionable ways to address employee well-being include expanding employee benefits and support. According to a Willis Towers Watson report on how employers can address emotional well-being amid the pandemic, this may include expanding access to behavioral health providers, promoting virtual behavioral health services, and having fewer restrictions on EAP and mental health benefits. Companies can also offer a range of assistance like specialized caregiving resources, financial support services, virtual social support networks, and tools to improve meditation, mindfulness and sleep. Organizations need to learn what resource gaps exist and get creative in filling them.
Staying connected with coworkers and managers is also vitally important. After the 2003 SARS outbreak, researchers in Hong Kong found that increased social connectedness offset the negative mental health impacts of the pandemic. Connecting with colleagues can provide an important buffer to feelings of social isolation and disconnection. One way to address this is to have regular virtual video meetings.
Managers should also encourage employees to take time off. Working from home may seem more relaxed or flexible, but in reality, it often means working more hours per day. There is mounting evidence that working extended hours is harmful to one's mental health. Some organizations are stepping up and increasing employee sick days, vacation and other types of paid time off.
In August, the Society for Human Resource Management reported, "Many HR professionals across the country are struggling with how to convince employees to take vacation. They worry that workers' reluctance to take time off is only adding to the anxiety, stress and other mental health problems caused by COVID-19 and the recession. Fewer employees want to take vacations given that the pandemic has severely curtailed travel options. Some fear that taking time off may make them appear less dedicated or essential, attributes that no one wants to project amid layoffs across many industries." It is imperative, however, to let employees know that time away from work to unplug and recharge is not only healthy, but essential.
Once back in the office, HR staff and other managers should evaluate the effectiveness of all vendor programs and partners. In many cases, it may make sense to repurpose dollars from some lesser-used or low-valued programs to areas of higher concern like emotional support, mental health resources and onsite services for essential workers.
There are also federal initiatives to help combat mental health struggles in the wake of COVID-19, such as the recently passed Coronavirus Aid, Relief, and Economic Security (CARES) Act. It includes a $425 million appropriation for use by the Substance Abuse and Mental Health Services Administration (SAMHSA), in addition to several provisions aimed at expanding coverage for, and availability of, telehealth and other remote care for those covered by Medicare, private insurance and other federally-funded programs.
With or without a pandemic, employers will have a more engaged, productive and successful workforce if they understand their employees' circumstances and needs and take action to help their employees manage the mental health challenges they face.