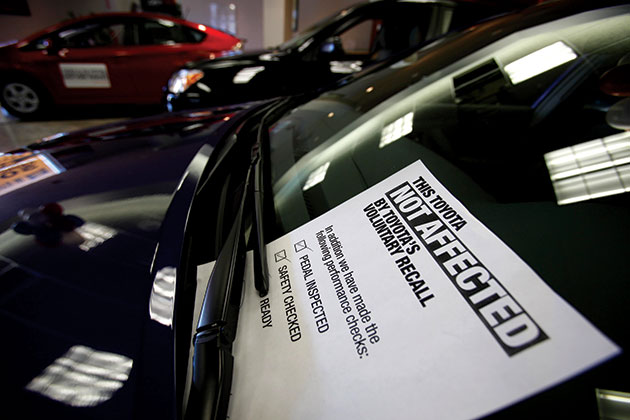 It was only a few months ago that Toyota was comfortably entrenched as the number one automaker in the world. Not only did the company sell more cars than any other competitor, having surpassed General Motors in 2008, but it was also the most respected. In September, an annual survey of the best global brands by BusinessWeek and Interbrand ranked Toyota eighth-the highest ranking for a car company. In another consumer survey by Millward Brown of the most trusted and recommended brands in the United States in 2009, Toyota came in seventh, again ahead of all other automakers. Even in a bad year for the auto industry, Toyota was still able to sell 7.8 million cars worldwide in 2009. In the United States alone, Toyota sold nearly 1.8 million vehicles, giving the company a 16.7% market share, good for second place and less than two percentage points behind GM.
As 2010 began, Toyota's prospects looked as promising as ever. Then the bottom dropped out. An unprecedented flurry of recalls not only shattered the seemingly invincible aura of a once-proud company but has left many wondering if Toyota will ever fully recover.
The problems began last year when investigators determined that unsecured floor mats in certain Toyota vehicles could shift and entrap the gas pedal, causing unintended acceleration. It was an issue that had first surfaced in 2007, resulting in a relatively small recall of 55,000 vehicles. The problem tragically reappeared in August when four people driving in a rented Lexus were killed in a collision in California. The subsequent investigation revealed that the car had sped out of control when the floor mat became wedged underneath the gas pedal. This time, Toyota recalled more than five million vehicles to correct the issue. But reports that gas pedals were sticking even in vehicles that had no floor mats forced Toyota to issue another recall of more than two million vehicles to fix the faulty pedal assembly.
Unintended acceleration was not the only problem facing Toyota owners, however. In the weeks to follow, Toyota issued recalls for faulty anti-lock brake systems in Prius and Lexus hybrids, brake line defects in selected Camrys and front driveshaft issues in Tacoma trucks. Toyota even considered a Corolla recall in February after complaints about power steering problems.
In all, Toyota was forced to recall nearly nine million vehicles-more than its entire worldwide sales last year. Company officials estimated that the recalls could cost the automaker $2 billion in expenses and lost sales. And that was without factoring in the possibly larger cost of the lawsuits that the company will likely face.
Perhaps even more troubling for Toyota is that the recalls uncovered glaring weaknesses in what was previously considered a model company with an innovative manufacturing process and impeccable reputation for quality. Toyota factories were famous for implementing lean manufacturing techniques and "just-in-time" production methods that kept part inventories lower than those of their American counterparts. Toyota also initiated a process of quality control that allowed any member of the assembly team to stop the production line if they noticed a problem. The so-called "Toyota Way" gave all company employees ownership of the products and a desire to pursue kaizen, Japanese for "continuous improvement."
But as Toyota rapidly expanded over the last decade-its production capacity almost doubled since 2000-this devotion to quality seems to have been left behind. In a 2006 memo, Toyota workers warned management that safety was becoming an issue. "We are concerned about the processes which are essential for producing safe cars, but that ultimately may be ignored, with production continued in the name of competition." Management never responded.
After the recent fallout, however, Toyota president Akio Toyoda would finally echo these sentiments in a statement on Capitol Hill before a House oversight committee in February. "Quite frankly, I fear the pace at which we have grown may have been too quick. Toyota's priority has traditionally been the following: first; safety, second; quality, and third; volume. These priorities became confused, and we were not able to stop, think and make improvements as much as we were able to before...we pursued growth over the speed at which we were able to develop our people and our organization."
Unfortunately, Toyota's growing pains have also come at the expense of the lives of more than 50 people who have died in sudden acceleration incidents in Toyotas since 2000, according to the National Highway Traffic Safety Administration (NHTSA). These fatalities have prompted many critics to question whether Toyota could have done more to fix the problems sooner. While Toyota has insisted that it has done all it could, the fact that the floor mat issue first appeared in 2007 indicates that the company was aware of the problem at least three years ago, if not more.
Investigators also uncovered an internal document of a Toyota executive bragging about saving the company $100 million by negotiating only a limited recall in the case, which, at the very least, raises some questions about the company's true motives and exactly when it knew there was an actual defect involving the gas pedals. If regulators find that Toyota waited too long to initiate a recall (federal law gives manufacturers five days to notify the NHTSA of any defects and begin recalling vehicles), the company could be fined up to $16.4 million.
Of course, such a fine would be the least of Toyota's worries. More importantly, Toyota needs to work on restoring its reputation and the trust of consumers who are increasingly developing the impression that the company is slow to respond to safety issues and willing to mislead investigators if necessary. To its credit, the company's leadership has been appropriately contrite in the aftermath, beginning with the apologetic testimonies of company leaders before Congress and continuing with Toyoda's apology to Chinese consumers in Beijing.
The company is also trying to ease the recall and repair process. It is offering free at-home pickup of recalled vehicles and alternate transportation for owners of the vehicles while they are being fixed, as per an agreement with New York Attorney General Andrew Cuomo that was later extended to customers around the country.
In a Wall Street Journal op-ed piece, Toyoda pledged that the company would rededicate itself to quality and "set a new standard for transparency and speed of response on safety issues." The company has hired independent engineering experts to test the mechanical systems in question and, along with outside safety experts, has begun a systematic review of its quality control procedures. Toyota also plans to add a brake-override system to its new models that will automatically cut engine power when the brake and gas pedals are pushed simultaneously-a measure that federal regulators may make mandatory for all new cars.
Whether these or any other safety measures will convince customers to stick with Toyota is unclear. Anecdotal reports that some Toyota owners were still experiencing sudden acceleration problems-in some cases, even after Toyota dealers had "fixed" their recalled cars-prompted concerns that the company had still not correctly identified the actual source of the trouble.
Consumer opinion is mixed. A
USA Today
/Gallup poll conducted in late February found that 31% of Americans think Toyotas are unsafe, 35% have lost confidence in the brand and 17% will no longer consider buying a Toyota. While these numbers are not overwhelmingly negative for Toyota, 55% do think that the company responded too slowly to safety issues.
Toyota is feeling the pinch in its sales numbers. The company cut back production in two of its U.S. facilities in anticipation of reduced demand and saw its February 2010 sales in the United States drop 9% from its February 2009 numbers, making Toyota the only major automaker to experience a sales reduction for the month.
Toyota has also seen a decline in the resale value of its cars. By early February, the Kelley Blue Book values of used Toyotas were dropping an average of 1% to 1.5% a week, reflecting a weakening consumer demand. In response, Toyota began an aggressive sales incentive campaign in an effort to lure customers back to its showrooms.
If there can be any silver lining for Toyota in all of this mess, it is the fact that automotive recalls are relatively common. In 2009, automakers recalled more than 15 million vehicles. And this year, with automakers more focused on safety in a post-Toyota environment, recalls could become more frequent. In March, for example, GM recalled 1.3 million Chevrolets and Pontiacs for power steering problems. The next day, Nissan recalled 540,000 vehicles for brake pedal and fuel gauge defects. So in the end, Toyota's failures, while noteworthy, may only prove that they are a typical car company.