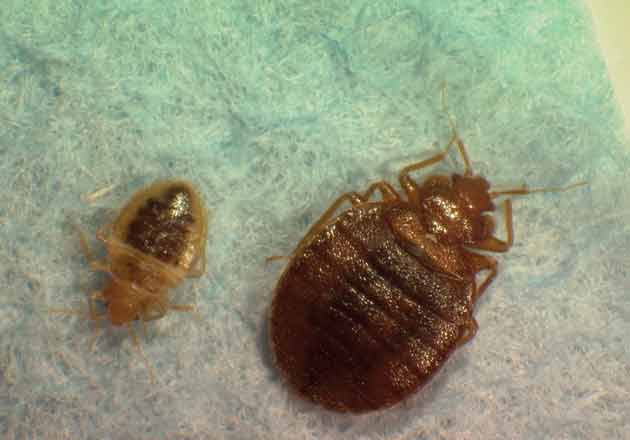 New York is no stranger to invasions by unwanted creatures. Throughout the years, King Kong, the Stay Puft Marshmallow Man and the Cloverfield monster have all wreaked havoc on the City That Never Sleeps. The latest threat to take Manhattan, however, is quite a bit smaller. And although it sounds like it came from a lullaby, it is unfortunately not fiction. New York is being invaded by bedbugs.
Recent months have seen an unprecedented rise in bedbug infestation reports across the city. New York City's 311 information hotline reported that calls about bedbugs increased from around 22,000 in 2008 to nearly 34,000 in 2009 -- a 54% jump in only a year.
New York's struggles with the pest have become emblematic of what is quickly becoming a national issue. Over the summer, bedbug infestations closed down the Time Warner Center, home to CNN's New York offices, and various retail stores around Manhattan, including Abercrombie & Fitch, Victoria's Secret and Hollister. Bedbugs were discovered in a Times Square AMC movie theater and an employee changing room in the basement of the Empire State Building. They are also an ongoing problem in many apartment buildings, schools and hospitals throughout the city and have even been found on park benches and in subway cars.
In response, city officials have committed $500,000 toward an initiative to deal with the pests. The measures, which include a bedbug web portal to raise public awareness and increased coordination with city agencies to improve bedbug abatement training and enforcement, were based on recommendations by the New York City Bedbug Advisory Board, a group of industry experts, entomologists and city agency representatives that was formed in 2009 to study the problem.
New York Governor David Patterson also signed the Bedbug Disclosure Act into law in late August. The bill requires landlords to disclose to prospective tenants any history of bedbug infestation in the building within the past year. New York is the second state after Maine to adopt such a measure.
"Nothing is more horrifying than signing a lease after a lengthy apartment search only to discover that your new apartment is bedbug-infested," said New York Assemblywoman Linda B. Rosenthal, who sponsored the bill. "By requiring landlords to disclose infestations before the lease is signed, people will have a means of guarding themselves against exposure to this plague."
Rosenthal also proposed a second bill that would provide a modest 15% tax credit of up to $750 that victims of a bedbug infestation can use to replace furniture, clothing, bedding and other personal property that was contaminated or damaged by the pests.
In addition, New York Assemblyman Dov Hikind and Senate Majority Conference Leader John Sampson have announced plans to introduce legislation that would require property/casualty insurers to offer bedbug infestation insurance in New York to cover all infestation-related costs, from extermination to cleaning to replacement of damaged property.
These costs could add up. Bedbugs are little more than a disgusting nuisance -- their bites may itch, but the insects do not carry disease -- but they are notoriously hard to eradicate since they are resistant to many pesticides and can spread rapidly, particularly in crowded cities where human food sources and dark hiding places are plentiful. This means that extermination is often a time-consuming process that requires professional attention.
Since treating one room for bedbugs is no guarantee that the pests will be fully eradicated from a building, hotels and apartment complexes can spend tens of thousands of dollars treating bedbug infestations. On top of that, lawsuits from bitten guests and residents are common. Some of these cases have resulted in six-figure judgments due to punitive awards that often take emotional strain of the plaintiffs into account, in addition to the value of damaged property. For example, of the $382,000 in damages awarded in 2004 to two plaintiffs who were bitten in a Chicago Motel 6, $372,000 was for punitive damages. The year before, a plaintiff settled with the Helmsley Park Lane Hotel in New York for $150,000 after a bedbug attack. On the residential side, a New York tenant was awarded 45% of his rent for six months in 2004 due to a bedbug infestation in his apartment.
But these judgments pale in comparison to some of the damages that are still being sought in bedbug-related suits. In 2008, a soprano for the New York City Opera sued Hilton Hotels for $6 million after sustaining more than 150 bedbug bites during a stay in a Phoenix hotel. And in 2006, a Chicago woman who received more than 500 bedbug bites at a Catskills resort in New York sued for $20 million. Both cases are pending.