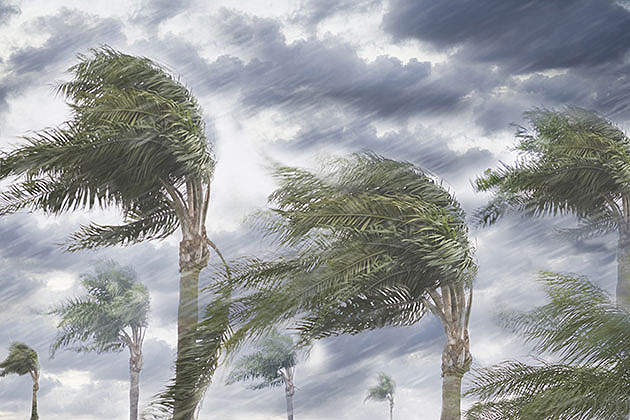 We've just gotten through one of the harshest winters on record. Time to relax? Not with hurricane season ahead.
The prognosis for the 2014 Atlantic hurricane season is similar to last year's results. Although a high number of storms were anticipated in 2013 - the National Oceanographic and Atmospheric Administration predicted a 70% likelihood of 13 to 20 named storms, of which 7 to 11 could become hurricanes - no major hurricanes materialized. In fact, NOAA reported that the 2013 season ended with the lowest number of hurricanes since 1982.
This year, ImpactWeather predicts one intense storm, four hurricanes and 10 named storms. But even though the season is expected to be relatively uneventful, company president Mark Chambers urged caution. "We advise our clients not to focus on the number of storms that may potentially make landfall, but rather the chance that one could be the hurricane-the storm that causes widespread damage and disrupts their business for days or weeks," he said. "Many along the Gulf Coast remember Hurricanes Alicia and Andrew. Those storms were catastrophic to the Houston and Miami areas and came during seasons that were otherwise considered quiet."
Chambers added that it has been eight years since a hurricane stronger than Category 3 made landfall in the United States. "Preparedness never takes a vacation," he warned.
Trial by Fire
Ron Hayes, who now works as a public entity commercial producer at Arthur J. Gallagher Risk Management Services, was previously school board risk manager for the Calcasieu Parish, overseeing 5,000 employees, 32,000 students, 280 buses, and more than $700 million in physical assets in Lake Charles, La. There, he weathered Hurricane Katrina in August 2005 and, a month later, Rita.
Not surprisingly, Hayes has a healthy respect for hurricanes. The local risk management community has also taken increased note of the risk. "Down here they are preparing earlier, because it is a real threat," Hayes said. "The risk managers have seen what storms can do and they give hurricane season the respect it deserves."
Risk managers in the area have learned that they need to have contracts with restoration companies in place before a storm. Those who wait until after it hits will compete for services and equipment, making them vulnerable to price-gouging, he warned.
They must also prepare for the unexpected. When law enforcement returned to police the community and prevent looting after Hurricane Rita, for example, they had 500 flat tires in the first week from running over nails and debris. "You don't think about things like that until it happens," he said. "Until you have the tire store up and running, what are you going to do?" The department has since made arrangements to access tires whenever needed. "Pre-storm planning is so important for post-storm recovery," Hayes said.
The biggest and most expensive problem they encountered was also something unanticipated. "Because you lose air conditioning and have post-storm buildings that are wet or damp and temperatures that may exceed 100 degrees during the day, conditions are ripe for mold and mildew," Hayes explained. "We had several facilities where the restoration crew would clean up the mold and mildew that had appeared and, three days later, it was back at the site as if it hadn't been touched. We had to repeat that process to restore the buildings for use after the storm. It was a constant fight."
All in all, it cost millions of dollars just to clean up mold and mildew. "For those of us with the task of guiding recovery after the storm, mold and mildew were probably the biggest surprise-both the degree to which it occurred throughout the property and the cost of eliminating it," he said. "This is something that has to be taken into account in any location, since chances are the weather will be warm when a hurricane hits."
High Seas Precautions
Those in the shipping industry have their own unique risks to contend with. Kirk Rider, director of risk control for ocean marine at Travelers, finds that those preparing for disasters tend to focus on the "front end," trying to protect property and move things around so they will not be affected by the water. While this is important, he said, "that window closes fast. The long-term part of it, where they don't spend as much time, is recovering from an event-continuity planning."
While many marine operators think about securing and protecting their interests, they often do not consider what their region may look like after a storm. "You're not going to have law enforcement in the area and you won't have dump trucks picking up your garbage at the curb for months. If a storm happens fast, you may not have time to get fuel for the generators and forklifts that might be needed for recovery," Rider said. Making arrangements in advance is critical. "A business in Florida may consider contracting with a company in Chicago that can drive fuel trucks and generators down within 72 hours," he explained.
Companies also may need to bring in employees to assist with recovery, which requires more advanced planning. Workers who must stay overnight will need facilities to do so. Cots and shelter will also be needed, as well as water, food, areas for showering and cleanup, and portable facilities.
Thorough planning is crucial, "because your customers expect you to meet their expectations," he said. "A competitor just a couple of miles away can benefit if you are out of operation."
Senior Management's Role
Because senior management feels that the burden is all on them, Rider advised executives to delegate and provide aid to keep the system running smoothly. "Make sure people understand what is expected of them, and help them get the resources needed to complete the plan."
Tabletop simulation can help stress-test a plan. "Bring in the key officers and sit around a table, set up a scenario and review the plans," he said. Savvy companies will add unexpected hurdles to disrupt routine planning, such as, "Bob, you're on vacation that week, so somebody else will have to cover for you. Do you have that lined up?"
This practice helps identify elements the company may need to further address in an exercise. For example, insureds are advised to remove and relocate cargo stored on lower warehouse shelves in anticipation of flooding. However, in August and September, warehouses are typically full in anticipation of the coming holiday rush. "If that's part of your plan, but your warehouse is 90% full, then you only have room for 10% more to come off of the bottom rows. So you might have a considerable amount of product on those bottom rows that you can't move anywhere," he explained.
This situation may call for an alternative plan, such as ensuring there are enough trucks to temporarily store and move ground-level cargo. An actual drill may be necessary to make sure these arrangements will hold up in a crisis. "It's easy to plan that time element on a piece of paper, but you need to clock how long it takes to go to the back of the warehouse, pick up a pallet, move it to the front and load it on a truck," he said.
Focus on Supply Chain
Richard Lawson, senior marine risk consultant at Allianz Global Corporate & Specialty, said that Superstorm Sandy has helped shippers identify many areas of concern. Before Sandy, people did not consider the potential impact because such a crisis had never happened. The storm costs were an eye-opener for those shipping goods.
Some New York and New Jersey ports remained open until the night before Sandy made landfall so shippers could get their containers to safe ground. "Despite these efforts, there were times when the number of containers coming into the port was equal to the containers going out," he said. "This meant that shippers lost track of their cargo, most of which had gone into a port that would end up flooding. That raised the awareness of logistics throughout the supply chain."
Overall 15,000 containers were lost and more than 16,000 new vehicles shipped in were flooded. While there was a contingency plan in place, Lawson said, "it didn't go as planned because the storm went from a wind event to a surge event, which the tools and models were not equipped for."
Planning has since expanded to include all logistics and transportation partners. Those having goods shipped should be familiar with the expectations of the shipper, whose contingency plans may not match their own.
For example, a trucking company or warehouse understands that an event at their location could mean paying a claim for lost cargo or a damaged container. However, if they lose their trailers and other capital equipment, they may be out of business. Their contingency plan might be geared to preserving capital equipment versus cargo. With this in mind, the partners can put in place and rehearse a comprehensive plan that protects all parties.
Retail Readines
s
Retail businesses have less tolerance for downtime from an event than in the past, creating more pressure to get up and running quickly, said Yo Delmar, vice president of GRC solutions at MetricStream. "Companies need to determine the amount of downtime they can tolerate. It used to be that a business could absorb downtime of two or three hours to recover from an outage, but that is not acceptable now," she said. "Companies should work more closely with recovery and return-to-operations objectives."
To that end, she recommends they start with operational goals and work backward to determine how to keep business processes going.
However, she added, "Static exercises aren't enough. Organizations also need practice and execution of plans. They need to get their processing in a central location in the cloud, not in a place where it could be vulnerable. They also need to be mapped properly so they know what the downstream and upstream affects are."
Delmar cautioned that nothing can be fully prepared for. But companies need to be vigilant about taking proactive steps, such as moving essential equipment and generators out of harm's way to upper floors.
Planning should also focus on how to get the word out and mobilize first responders, which may require more innovative use of social media. Social media networks, such as Facebook and Twitter, can help notify the public about closings or timeframes for power restoration, she said. While technology can be complicated, it is also a blessing. Having a smartphone means quick access to emergency messages and new apps that companies can use to consolidate and distribute information to customers and employees.
Keri Dawson, MetricStream's vice president of industry solutions and advisory services, agreed. "One of the most dangerous program failings is an inability to put the right information in the hands of the people who need it when they need to mitigate loss and make intelligent decisions," she said. "Too many organizations still suffer from fractured, siloed information. This is exacerbated when communications go down, data is lost, and processes are interrupted."