[caption id="attachment_15881" align="aligncenter" width="630"]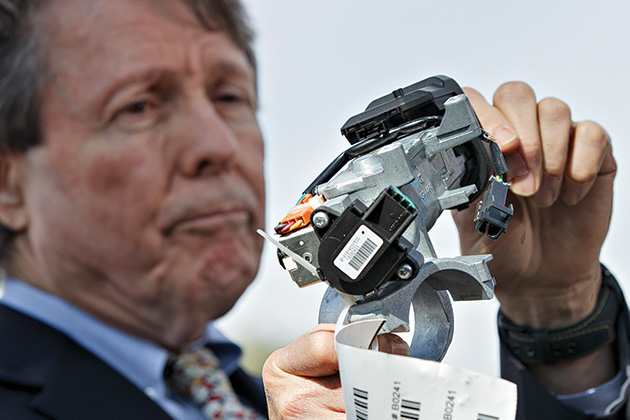 Center for Auto Safety Executive Director Clarence Ditlow displays a GM ignition switch similar to those linked to the recall of millions of vehicles.[/caption]
As its recall of nearly seven million vehicles worldwide unfolds, General Motors has already begun to see the financial and reputational fallout. The automaker posted a $1.3 billion charge against first quarter earnings and has been widely criticized for withholding information about the problem and trying to use the terms of its 2009 bankruptcy as protection against legal claims.
The February recall was caused by an ignition component that, if jolted, can shut off the car's electrical system and disable engines, air bags, power steering and power brakes. The problem has so far been linked to 31 accidents and 13 deaths in the United States and Canada.
The recall's $1.3 billion price tag-up from a previously announced $750 million charge-reflects projected costs of recalling and repairing millions of vehicles and providing loaner and rental cars to owners who might have to wait months for dealers to get replacement parts, according to the
Detroit Free Press
.
GM has accepted responsibility for vehicle repairs and hired Kenneth Feinberg to determine how to compensate the victims. Feinberg also handled funds for victims of the Sept. 11 terrorist attacks, the BP oil spill in the Gulf of Mexico and the Boston Marathon bombing.
At the same time, the company has filed a motion requesting exemption from legal claims for actions that took place before its bankruptcy. The automaker contends that, under the bankruptcy terms, liabilities of the old General Motors were split. Good assets went to the "New GM" and bad assets and most liabilities went to the "Old GM." The recalled cars were produced and sold by the old company.
Insurance Industry Sees Little Impact
While a crisis for GM, the recall has had little effect on the insurance industry, which does not offer recall coverage for auto manufacturers.

"I am not aware of any insurance implications, because I am not aware that any -recall coverage was in place," said Robert P. Hartwig, president of the Insurance Information Institute. "GM has publicly announced its plans to set aside reserves against its first quarter earnings to handle this recall as well as a number of other recalls it announced recently."

These reserves, Hartwig said, suggest that GM plans to finance the costs out of its own pocket and that there is little or no coverage in play.

While product recall coverage for auto manufacturers has not been available, coverage is offered to automotive component parts suppliers and manufacturers. "We are seeing first, second, third and fourth-tier component and parts manufacturers purchasing this coverage," explained Bernie Steves, managing director of crisis management for Aon Risk Solutions in Chicago. "Generally these policies would provide coverage for recall, as a result of the product you manufactured or supplied your customer."

It would be customary for any manufacturer to have product liability insurance to cover allegations of product failure. Auto companies also routinely self-insure to cover these costs, Steves said.

Typical losses associated with an automotive recall include announcements about the problem and the need to bring a car into a dealer for repairs, he added. One of the biggest areas of loss is the actual value of parts and labor for replacing products.

Mike Stankard, managing director and industry practice leader for Aon Risk Solutions, said that, while coverage has been available to parts suppliers for the past 10 to 15 years, "Over the last five years it seems to have taken hold. There is more stability around the coverage-more carriers and more capacity is available."
The motion states that, after bankruptcy, the new GM took on only three categories of liability: Those for post-bankruptcy crashes involving cars made by "Old GM" that caused injuries, deaths or property damage; warranty claims; and lemon law claims. The motion asks the court to dismiss more than 50 class action lawsuits that seek damage for lost car values, and requests an order stopping similar new claims.
But lawyers suing GM argue that it should not benefit from bankruptcy protection since it concealed the deadly ignition problem while the court was making bankruptcy decisions. They contend that the company's motion is a strategy to force settlements in dozens of lawsuits alleging that the ignition switches caused injuries and deaths.
Adding to GM's tarnished image, a round of Congressional hearings saw the company accused of "criminal deception" and a "culture of cover-up." Mary T. Barra, GM's newly appointed CEO, promised to make changes to prevent such occurrences in the future. She named Jeff Boyer to the new position of vice president in charge of global safety. His first priority is to "quickly identify and resolve safety issues," according to a company press release. He will also provide regular vehicle safety updates to management. "If there are any obstacles in his way, Jeff has the authority to clear them," Barra said. "If he needs any additional resources, he will get them."
While other losses can be calculated, the cost of reputational damage is more difficult to assess. GM received considerable negative publicity for delaying the recall for 10 years after it became aware of the problem, especially when it was reported that the defective part in question only cost 57 cents.
All of this has big implications for GM's reputation and future sales. The company's first-quarter profits fell 86% to $125 million, and GM made 6 cents per share compared to 58 cents per share a year ago. By itself, the recall charge cut 48 cents off GM's first-quarter earnings, CBS Money Watch reported.
GM's global first quarter sales were up 2.3% compared to a year ago, with China the top importer. But in North America, the company's most profitable market, sales were down 2%. Sales in South America fell 10%.
If Toyota's recall experience is an indication, any damage to sales and reputation may be short-lived. Toyota had a major setback when it was forced to recall more than 10 million vehicles in 2009 and 2010 for a defect linked to unintended acceleration. The Toyota recall involved cars still in production, however, while GM is recalling older models that it no longer sells.
Following the recall, Toyota suffered a significant 16% drop in January 2010. Sales rebounded in March 2010, and Toyota has since seen its stock price and car sales increase. Toyota has yet to regain its 17% market share, however.
This has been an active year for auto recalls. Car manufacturers in the United States recalled almost 11 million vehicles in the first quarter alone, compared to 22 million in all of 2013, according to the National Highway Traffic Safety Administration. Not surprisingly, GM has called back the highest number of vehicles so far.