[caption id="attachment_16348" align="alignright" width="378"]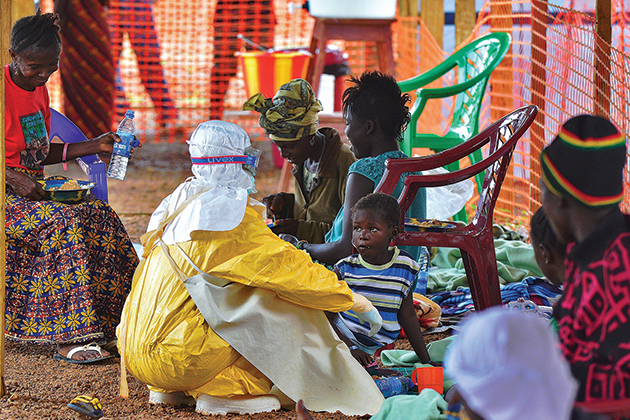 A medical worker in Sierra Leone feeds an Ebola-stricken child.[/caption]
As senior director of insurance and risk management at New York University, Michael Liebowitz is constantly scanning the horizon to make sure students and staff stay safe. The Ebola outbreak in West Africa is a threat he now must evaluate every day.
The World Health Organization (WHO) said that, as of Sept. 9, the disease had claimed more than 2,300 lives and infected more than 4,200 people in Guinea, Liberia, Nigeria and Sierra Leone. It is not yet considered a threat to the West, however, and international authorities and risk managers like Liebowitz aim keep it that way.
International travel is attractive to many college students, especially those who want to do humanitarian work or study abroad. NYU even gets grants for social services outreach in African countries. In addition, the university has a study-abroad campus in Ghana, but due to the Ebola threat, it decided to shut it down for the fall semester.
"We had our evacuation contractor talk with charter companies and they will not fly in there," Liebowitz said. "When you add that to the loose border control issues, the question is, what kind of academic experience will that create for our students who go there? We want our students to have a fulfilling, safe international experience."
This goal is further complicated by the fact that running water may be scarce and that latex gloves, masks and other disposable protective equipment are already hard to come by.
"When the outbreak exploded, I took a look at my travel management system and we made the decision to pull out everyone who was there," he said. "Four people were doing research in Sierra Leone and Nigeria. Even then, I had to wait three days to get them open seats on a flight."
One of the evacuees told Liebowitz that, when they returned to the United States through JFK Airport, they had to go through several levels of health screening, were asked who they were in contact with, where they were geographically and had their vital signs checked.
Liebowitz has also evacuated students and staff from other volatile -situations, most recently from Israel and, in late 2010, from Egypt during the Arab Spring.
"We take the tack here at NYU to get our people out early," he said. "What is the worst they can say if they are taken out early? These decisions can't be based on cost-lives have to be placed ahead of money."
Nevertheless, students and employees sometimes have their sights set on travelling abroad and do not always see the danger. Currently, several students and staff members are planning to make trips to potential hotspots in January. "I can only tell them that I know what is happening today, but that things change and they change quickly," he said. "It could get worse or better."
Liebowitz recommends avoiding countries where there are confirmed human outbreaks or countries that border those with confirmed outbreaks. Prospective travelers should also wait until closer to their travel date, and buy tickets that are refundable or get trip insurance.
One of the biggest problems is that it is difficult to know where the disease has spread because of lax controls at some borders. "The fact is, if this really goes sideways, you won't be able to get people out, which is a main reason we didn't open up our campus in Ghana for the fall semester," he said. "If the outbreak crosses the border into Ghana, the ability for us to get our students out will be reduced significantly."
To make these determinations, Liebowitz scans a number of government websites, including the WHO and the Centers for Disease Control, as well as daily news reports. He also works with specialty contractors to help evaluate threat levels and options for possible evacuation.
Any organization with people in other countries needs to have an evacuation plan in place and resources at the ready at all times. "If you don't and you get into a tight situation, you're done," he said. "I contract with an evacuation or security provider with access to ground, air and water resources and people on the ground around the world who can get to a location immediately or within hours. I can listen to my students, but I also need someone on the ground to give me a balanced report."
In these situations, organizations often overlook communications. Because internet and cellphone service can be spotty abroad-particularly in high-risk regions-they should not be relied upon. "Be prepared, pre-trip, with things like copies of passports, and local and international telephone numbers, and use Skype or SMS instead of cellphone calls," he said.
Sometimes creative solutions are required. An evacuation could entail transporting someone by truck to the nearest airport and getting them on a local flight to another airport until they can reach a gateway city.
Of course, no method is without risks. For example, once an evacuation is in progress, how do you ensure that it is safe? Do you need an armed escort to be with the evacuee to provide protection? "These are all things that need to be thought out in advance," Liebowitz said.
Thankfully, using these resources, he has had no issues with keeping students and staff safe. "I've been successful with every evacuation to date," Liebowitz said. "The world is an ever-changing place and you need to be prepared and flexible."
Above all, his most important piece of advice is to be cautious and conservative. "Don't be a hero," he said. "You can't replace a life."