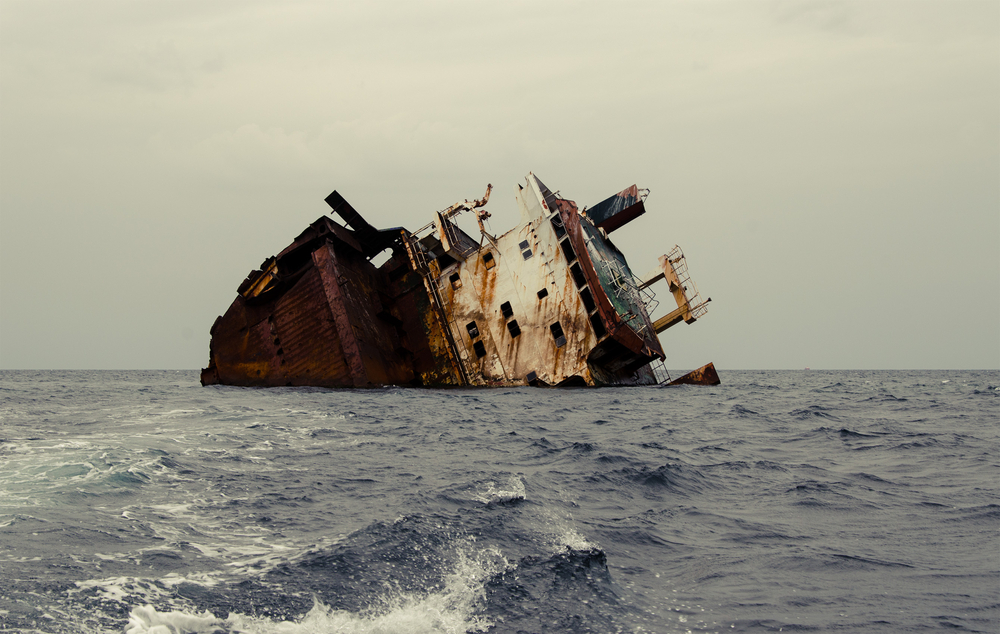 Over the past 50 years, the number of multinational companies has escalated from only 7,000 to about 104,000. In the process, risks have become more complex. Businesses are increasingly aware that an event across the globe can impact their supply chain, customer base and reputation. A risk can also have unplanned consequences, such as when flooding in Thailand led to technology product shortages because of the unavailability of components.
It follows that global risks are a top concern for risk managers worldwide, according to the 2015 Allianz Risk Barometer, a survey of 516 businesses and risk consultants, underwriters, senior managers and claims experts from 47 countries. The study found that business interruption and supply chain risk was at the top of the list of concerns for the third year in a row, cited by 46% of respondents across regions of Europe, the Middle East and Africa, the Americas and Asia Pacific. In North America, more than half considered it to be their top concern. This was followed by natural catastrophes, fire and explosion, regulatory concerns, and cyberrisk.
The business interruption cause that companies feared most was fire/explosion, closely followed by natural catastrophes. That fear is justified: An analysis of insurance claims by Allianz showed that fire is the second leading cause of loss for businesses overall. (Ship grounding was number one.) In fact, fire accounted for eight of the 20 largest non-natural catastrophe insurance losses of 2013, adding up to almost $4 billion in damage.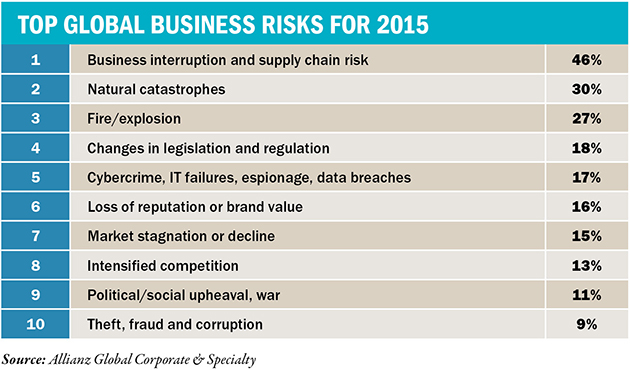 Mounting concerns about data breaches, publicly fanned by the loss of data and resulting lawsuits from the Sony Pictures hack, made cyberrisk the most significant mover and also the top emerging risk for the next five years. Cyber jumped from eighth to fifth place in the survey, just above reputation risk.
Allianz noted, however, that "although awareness increases, [cyber] is still the top risk underestimated by business, with budget constraints cited as one of the main reasons why companies are not more prepared for the disruption caused."
For the first time, political/social upheaval and war risk was listed in the top 10 risks in Europe, the Middle East and Africa. The risk is also new to the top 10 for Brazil and has become one of the top three risks in Russia and Switzerland. As no surprise, Ukraine ranked political/social upheaval as its top business concern.
Thomas K. Varney, North American regional manager at Allianz Risk Consulting, said he was surprised that political/social upheaval and war was not ranked higher in North America. "While it moved to ninth place from 18 in 2014, I might have thought it would be higher, with all the unrest in Ukraine and the Middle East," he said.
As more businesses lose workers to retirement, Varney said one risk to watch is talent shortage and an aging workforce, which came in at 13, up three from 2014.
"Competition remains fierce to secure the best talent and poaching is common practice, particularly in the insurance industry," Allianz reported.
Taking a longer-term view, the study noted that companies can expect further disruption from technological innovations and volatile environmental conditions. Organizations will need to address the business risks and opportunities of disruptive technologies such as 3D printing and nanotechnology, and will also have to deal with climate change as an underlying risk over which they may have little control.