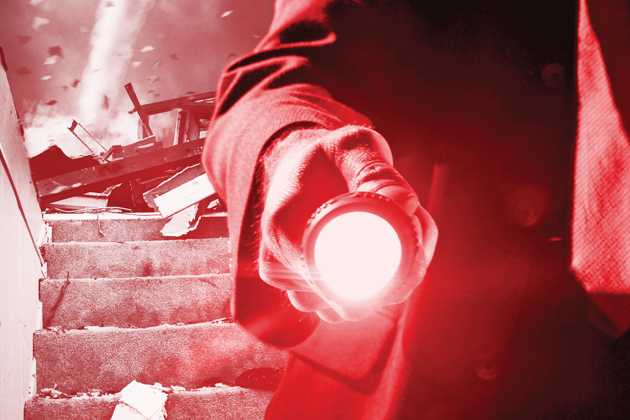 Whenever a natural disaster occurs, whether natural, accidental or intentional, a special squad of forensic investigators is soon on the case. Known as Mitigation Assessment Teams, these groups are part of FEMA's Building Science division, and they are tasked with determining how and why specific on-site damage happened and whether stronger building codes, construction or preparation could have helped reduce the disaster's impact. Their investigation and subsequent recommendations can ultimately translate into big savings for building owners: According to a three-year study by the National Institute of Building Sciences, every dollar invested in mitigation actions saves the country an average of four dollars.
Who Are They?
Mitigation Assessment Team (MAT) members have at least 10 years of experience in post-disaster field investigation and are not limited to FEMA employees. "To assemble the expertise for a particular investigation, FEMA can reach out to industry organizations, contractors and other agencies with similar concerns, including the Department of Housing and Urban Development and Army Corps of Engineers, for expert staff," said Daniel Bass, interdisciplinary architect in the risk reduction division of FEMA's Federal Insurance and Mitigation Administration. "We try to develop partnerships, turning to universities for subject-matter specialists. For local awareness and expertise, we seek building officials, contractors, and design professionals with specific knowledge of the disaster area, such as history and practices." Prominent architects and engineers are also often recruited.
Each team ranges from five to 50 participants, based on the event's size and the extent and type of damage, Bass said. Under certain circumstances, multiple field teams might be needed. Hurricane Sandy, for example, prompted the first MAT investigation of a vast urban area, and different teams were assigned to assess coastal damage, infrastructure issues and health care sites.
What Do They Do?
FEMA's "effective mitigation" goals are to foster more rapid response, reduce overall damage, and make reconstruction faster and less expensive. For each individual disaster, the MAT is tasked with determining the best steps for mitigation.
MATs arrive on the scene as soon as possible after a disaster. "There's no exact time frame, with so many variables in deploying the field team," Bass said. "We work closely with several different parties to determine logistics and get all the pieces, including various permissions, in place. Sometimes it takes a few weeks, or even more. In the beginning days of a disaster, response activities take priority."
Although these disaster detectives work with high-tech equipment and sophisticated statistics, "your eyes are your number one tool," Bass said. "We want to get educated, expert eyes on the damage." To quickly pinpoint the hardest-hit areas, MATs use geospatial maps and extensive data, including depth grids, flood extent maps, water surface elevations, surge sensor readings, critical infrastructure facts, FEMA grant project findings and ImageCat assessments.
Team members document their observations with detailed notes, photographs, measurements, interviews with affected stakeholders, and, when possible, aerial video and photos. On the ground, experts look at immediate damage, but not everything is done in the field. Daily reports compile and track each day's key findings and accomplishments for later review.
"We study a lot about performance of building envelopes, including roofing and glazing, trying to learn what happens based on where you've placed buildings," said John Ingargiola, lead physical scientist in FEMA's Federal Insurance and Mitigation Administration. "Experts look at buildings, interview owners and build on their knowledge."
In 2007, a tornado devastated 95% of Greensburg, Kansas. Darin Headrick, Kiowa County's superintendent of schools, was relieved when a MAT arrived to inspect school buildings, which had been built between the 1920s and 1950s. "They have to evaluate exactly what you lost: how many rooms, their function and size, kinds of amenities, or type of air conditioning," he said. "We had no infrastructure—no electricity, sewer or water. We were rebuilding from scratch. We still had a foundation to look at to show square footage and each building had a vault for keeping documents. The MAT worked off our salvageable records and blueprints. Once the baseline of what you lost is established, FEMA can give assistance."
MATs have also earned the respect of other industry groups. "Their research is in-depth and carefully thought-out, based on the best data they can put together," said David Bowman, manager of codes for the International Code Council's codes and standards group, which works closely with the teams on wind- and flood-related disasters. "They don't do anything willy-nilly. They provide information to develop new regulations that make buildings stronger and safer. They make no recommendations requiring expenditure of a lot of money without some strong technical rationale."
The Impact of MAT Findings
To protect affected areas, teams often propose immediate actions, although these can take time to enact. Sometimes their findings impact entire industries, such as recommendations to create flood protection measures or build storm shelters. Ultimately, one major indicator of success is the inclusion of MAT recommendations in building codes, local rulings and rebuilding efforts.
Soon after the 2011 tornado in Joplin, Missouri, for example, Bowman said that the MAT was able to get required in-school tornado shelters and emergency operation facilities added into 2015 building codes. Even before their full report was released, some of the proposed code changes were already accepted. "The odds are that your city, state or community will adopt some new building codes to which we've added MAT recommendations," Bowman said. "Our biggest MAT benefit—increased awareness and better understanding of the hazard—translates into teamwork between communities, our organization and FEMA to make codes more stringent in regard to high winds due to tornadoes." As a result, tornado-related MAT recommendations are currently under consideration in 21 states.
After Hurricane Andrew in 1992, investigators in south Florida discovered that building materials had not been tied together, allowing them to become an airborne hazard during the storm. In 2004 and 2005, following Hurricanes Ivan and Katrina, they found standing buildings with damaged windows and torn-off roofing and vinyl siding. "Based on MAT observations in these disasters, new construction standards are improving performance where they're implemented," Ingargiola said. "When we see widespread adoption of these new building codes nationwide, we know the benefits are avoiding damage and loss."
Some MAT recommendations are adopted promptly, while others take years to come to fruition. "After Sandy in 2012, good rebuilding guidelines were clearly needed," Ingargiola said. "[Using] early information a MAT shared with New York City officials, many local laws changed quickly."
New York City still uses detailed MAT guidance for its post-Sandy recovery efforts to reduce future probability of related risks. "They looked for a more academic sense of the storm and its magnitude, documenting the damage they saw," said Joseph Ackroyd, director of engineering and assistant floodplain manager for the New York City Department of Buildings. "They evaluated our entire building code suite for consistency and compliance with national and international standards. We implemented some recommendations where they found room for improvement. Within a year, local laws were passed to make buildings more resilient."
Rulings included many MAT recommendations, such as those concerning the protection of fuel storage tanks. "After 9/11, we had determined that all fuel oil storage should be in basements," he said. "During Sandy, those tanks ruptured and flood damage wiped out most of this equipment. Now, two 1,500-gallon tanks are allowed to be located above the lowest level."
A MAT also recommended equipment to increase buildings' flood resistance. They found that flood-shield gates did not function because they had been inadequately maintained. "Now, we educate owners and industry, including developers and maintenance companies, about this issue and require that new buildings submit emergency action plans, which we look at more rigorously," Ackroyd said.
Kiowa County's MAT experience was similarly positive. "If you're doing something for the very first time—in our case, we'd never had a tornado wipe out our town—you only have one opportunity to do it correctly," Headrick said. "The MAT suggests where you can partner with people and get what you need without exorbitant costs." For example, the expense of constructing commercial buildings that are not used very frequently often means that such projects are hard to justify. Rebuilding a 300-seat school auditorium, which was only used 10 evenings per year for plays and concerts, would have cost $2.5 million. Instead, the school board was able to partner with a local movie theatre to develop an on-site performance center for nighttime school programs.
For Headrick, the MAT was critical in navigating from having nothing to rebuilding. "Rather than always looking at construction costs and rebuilding just like it was, it's become very important to consider a building's life-cycle costs and efficiency," he said.
In addition to identifying potential collaborations for innovative solutions, MAT findings spur training programs and outreach about specific hazards. Their investigations also help determine recipients of funding from FEMA's annual Hazard Mitigation Grant Program. Plaquemines Parish in Louisiana received a FEMA grant for retrofitting to protect critical parish buildings so they can operate as quickly as possible after a storm. "When FEMA teams looked at our buildings, which were 18 inches above ground, they suggested new Advisory Base Flood Elevations of eight feet above ground," said Ken Dugas, the parish's chief engineer.
In addition to investigating flooded local properties, the MAT helped with the parish's letter of intent and infrastructure mitigation grant proposal. Following Hurricanes Katrina and Rita, Plaquemines Parish received two separate grants totaling $6 million.
"It takes several years for things to filter down after a disaster," said Hilda Lott, parish grant administrator. The first grant was to fortify 30 parish buildings with storm-rated windows, doors and roofs, particularly to protect first responders. "The parish government building had been totally glass-enclosed," she said. "The grant allowed the glass to be completely covered with protective corrugated plastic panels. They worked beautifully during Hurricane Isaac in 2012."
Learning from Experience
MATs publish frequent fact sheets and recovery advisories online as a long-term reference for planners, building departments, officials, design groups, risk managers and others who may find themselves in similar situations. "They cover how to prepare better for the next storm, so officials in other areas can read it, utilize the information, and lower their risk," Ackroyd said.
The MAT's 2002 World Trade Center recommendations, for example, remain an essential reference for fire protection and evacuation planning. The team identified several design features as key to helping the two towers remain standing as long as they did, allowing for the evacuation of many who were inside.
The 2008 Midwest Flood report advises managers responsible for critical facilities to "perform a comprehensive vulnerability assessment, including…the loss of municipal utilities (i.e., electrical power, water, sewer and communications). Take preventive measures to ensure replacement equipment and essential supplies (e.g., fuel) are staged outside the floodplain, so that they are readily available and accessible following a flood." The report also recommends that owners have emergency operations plans and checklists in place for disasters. For example, "a wastewater treatment facility should have contact information for its major customers as part of the emergency action plan, so that customers can reduce inflows to the treatment facility, if necessary, in event of a major flood."
Through the MATs, FEMA is able to learn more about disasters in order to help communities around the country. It is a service that has proven invaluable.
"FEMA has the benefit of going from disaster to disaster, growing their knowledge," said Thomas Fariello, first deputy commissioner of the New York City Department of Buildings. "They offer something that no one else can because of their nationwide experience." Disasters may be inevitable, but if there can be any silver lining, it is that hopefully some of the lessons learned by a MAT can prevent future harm.