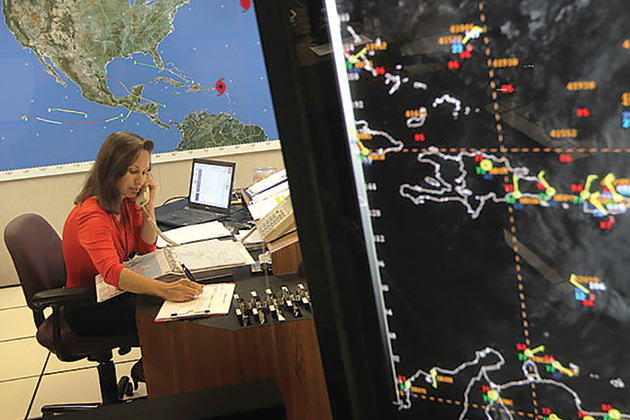 The current "drought" of major hurricanes (Category 3 or higher) making landfall in the United States has been remarkable. The last major hurricane to affect the United States was Wilma in 2005, making this the longest streak without a major hurricane landfall since record-keeping began in 1851.
This might suggest that we are due for a major landfall this season, but recent research by Timothy Hall from NASA's Goddard Institute for Space Studies and ACE Tempest Re's Kelly Hereid show that the probability of ending the streak is independent of drought duration. In other words, the length of time since the last major hurricane does not affect the chances of a major hurricane landfall in the upcoming season.
This year, we again face the uncertainty of determining the number of hurricanes that will make landfall, where they will do so and how strong they will be. Outlooks have been complicated by the fact that researchers have to consider the effects of the El Niño Southern Oscillation (ENSO) and a possible shift from the more active period that began in 1995 to a less active period. Accurately determining how this will affect the hurricane season is challenging because of the year-to-year variability in the tropics and the combination and interaction of ENSO and other climate factors. There are no absolutes when it comes to hurricane predictability.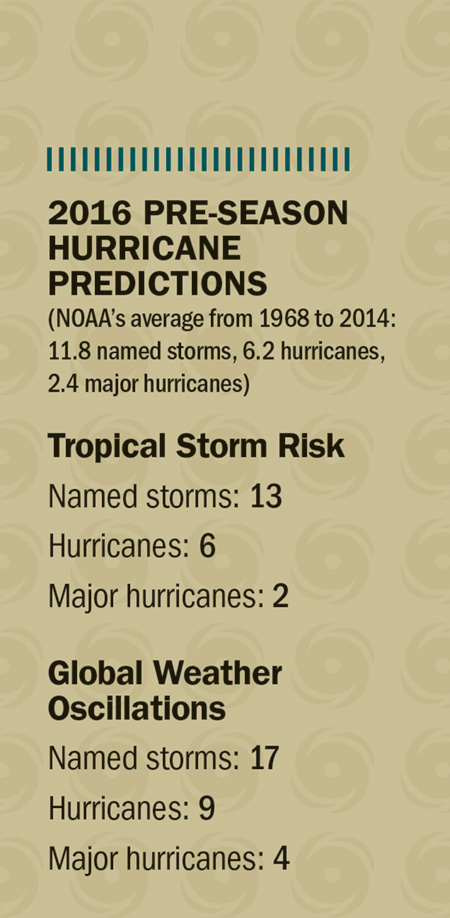 One essential question for the coming hurricane season is the evolution of ENSO. The phenomenon is characterized by sea-surface temperatures in the tropical East-Pacific. A warm or "El Niño" phase typically brings elevated wind shear to the Atlantic deep tropics, suppressing tropical cyclone development and generally leading to fewer hurricanes for the Atlantic Basin. The opposite of El Niño is the "La Niña" or cool phase. This typically brings reduced wind shear to the Atlantic deep tropics, better enabling sustained tropical cyclone development, usually meaning more hurricanes for the Atlantic Basin. Last winter saw one of the strongest El Niño episodes on record and indications are for ongoing relaxation back to ENSO-neutral or perhaps weak La Niña conditions for the August through October peak of hurricane season. All else being equal, we should expect an increase in hurricane activity for 2016 as compared to last season if this occurs.
While ENSO in the Pacific remotely affects wind shear in the Atlantic, sea-surface temperatures in the Atlantic play a more immediate role in Atlantic hurricane activity. Warmer sea-surface temperatures provide more abundant energy for tropical cyclone development—generally where temperatures are above about 80° Fahrenheit or 27° Celsius. Historically, ocean circulation in the Atlantic has enabled long periods of generally warmer, followed by generally cooler, sea-surface temperatures in the Atlantic Main Development Region. One indicator of this slow transition is the Atlantic Multidecadal Oscillation (AMO). Warm periods of the AMO are typically associated with more active periods of hurricane activity in the Atlantic Basin, and have a duration of roughly 20 to 40 years. The last such active phase began in 1995. It is possible that we have moved away from this latest active phase, but such a shift is still statistically indeterminate and a subject of some debate in the scientific community.
Given predictions for the 2016 season, it seems intuitive that there should be some proportionality between hurricanes in the Atlantic Basin and those that make U.S. landfall. History has shown otherwise, however. The relationship between annual basin activity and U.S. landfalls is highly variable, with landfall-to-basin ratios ranging anywhere from zero in 2010, which had 12 hurricanes and no U.S. landfalls, to 86% in 1985, which saw seven hurricanes in the basin and six U.S. landfalls.
Of course, impactful hurricanes can make landfall during any season, even a quiet one, as we saw with Audrey in 1957 and Andrew in 1992. Hurricane development in the Atlantic Basin depends on the combination of sea-surface temperatures, instability, wind shear (influenced in part by ENSO), dust, dry air and even sunspot activity. U.S. landfalls depend on the hurricane's distance from the mainland and steering currents in play during the hurricane's lifecycle. These steering currents depend in great part on general, evolving weather patterns that can change hourly and are difficult to predict on a three- to five-day time frame and are not reliably predictable beyond 10 to 14 days.
Key factors to monitor for 2016 are sea-surface temperature anomalies in the deep tropics, the Gulf of Mexico and areas adjacent to the mainland, as well as the evolving state of ENSO. Landfalls will be determined by proximity to the mainland and steering currents at hand during the hurricane's lifecycle. There is enough variability and uncertainty in the tropics to always warrant proper preparation, especially since history has given us hard evidence of what can happen. As with any hurricane season, this time of year warrants proper review and preparation of hurricane plans by all interests, from individual homeowners to businesses to the insurance industry at large.