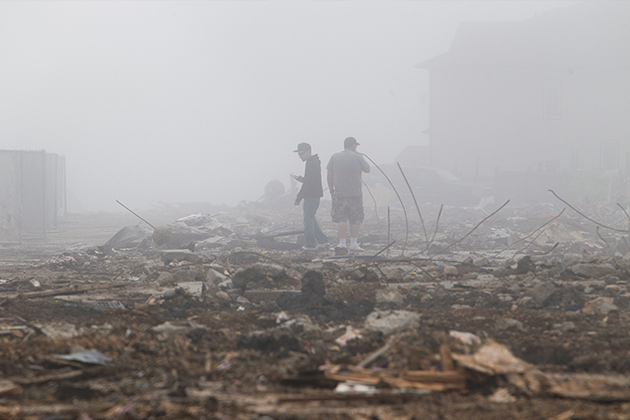 On May 1, a wildfire started in the Fort McMurray, Alberta, Canada, area that quickly spread from forests to neighborhoods, displacing more than 80,000 people, causing two fatalities and outpacing local firefighters' capacity to contain it. The fire became the largest and most expensive natural disaster in Canada's history, surpassing floods in Alberta in 2013 in which four people died and 100,000 were forced to evacuate. It is also the largest wildfire event in North America, followed by the "2003 Firestorm," in which 15 wildfires burned 800,000 acres in Southern California.
The Fort McMurray wildfire charred more than 1.43 million acres of land and destroyed at least 10% of the city, including more than 2,400 homes, businesses and other structures. Nearby oil sands operations were also stalled temporarily.
To make matters worse for Fort McMurray residents, less than two months after the fire broke out, torrential rain flooded the streets and destroyed some 40 homes that had survived the fire. Some residents were forced to wait for debris from both events to be cleared before they could return. "My God, I'm sure they were wondering would the locusts be next. I mean, it's so biblical. They had the fires and the drought and now the floods," David Phillips, Environment Canada's senior climatologist, told Canada's
Globe and Mail
.
Commercial and personal damages from the wildfire are estimated at $6 billion, according to the Insurance Bureau of Canada. Thomas Johansmeyer, assistant vice president of property claim services strategy and development at Verisk Insurance Solutions, said the preliminary estimate for insured losses has come in at $3.5 billion (C$4.6 billion). Oil sands losses are included in the commercial component of the estimate.
Reinsurers are also expected to take a hit due to the substantial level of claims. Jim Lynch, chief actuary at the Insurance Information Institute, told
The Royal Gazette
that he expected insured losses to "dent the second-quarter profits of insurers and reinsurers."
Much of the loss was absorbed by Canadian insurers, Johansmeyer said, however, "reinsurance is attaching, so the loss will be distributed worldwide." While he does not yet have a breakdown of the ceded rates to reinsurers, "I have been getting a lot of calls from reinsurers and reinsurance brokers, because there is definitely an impact. There are a fair amount of ILWs [insurance loss warranties] that trigger at C$5 billion ($3.79 billion), so this is obviously being watched by the retro market."
In its 2016 interim results, Canadian insurer RSA Insurance Group reported a net claims cost of C$75 million ($57.07 million) for the Fort McMurray wildfire. "Large losses were 6.3%, driven by a higher than expected level of large claims in commercial," RSA reported.
While commercial losses may be higher than anticipated, Ted Gregory, director of operations of property claim services at Verisk, estimated that the majority of losses will be in the personal lines sector. He also noted that multiple reports indicate there has not been significant damage to oil production assets, and there has not been an uptick of business interruption losses for the sector.
That could be because oil sands producers are expected to file a low number of claims, according to
The Canadian Press
, a national news cooperative. A spokesperson for Suncor Energy, whose operations include oil sands development in the Fort McMurray region, said in a May statement that there was no damage to the company's assets and that it had enhanced fire protection around all of its facilities. Suncor was able to resume operations two weeks later, although it reported a C$735 million ($567 million) loss in the second quarter, partly due to wildfire-related production cuts.
Elsewhere, fire damage and loss to structures is significant, and Gregory said that other types of losses will also have a large impact. They include claims involving additional living expenses for displaced residents, loss of fair rental value of rental property while structures are being repaired or reconstructed, damaged or destroyed personal property and business inventories, expenses associated with smoke remediation of structures and contents, mitigation and restoration from water used to save structures from fire loss and business interruption losses.
The wildfires in Canada illustrate a continuing trend of increasingly severe wildfires that caused a record 10.1 million acres to burn in the United States in 2015, according to the National Interagency Fire Center. With sweltering temperatures and prolonged drought that has created huge areas of dry timber, the forecast for the remainder of 2016 remains dire.