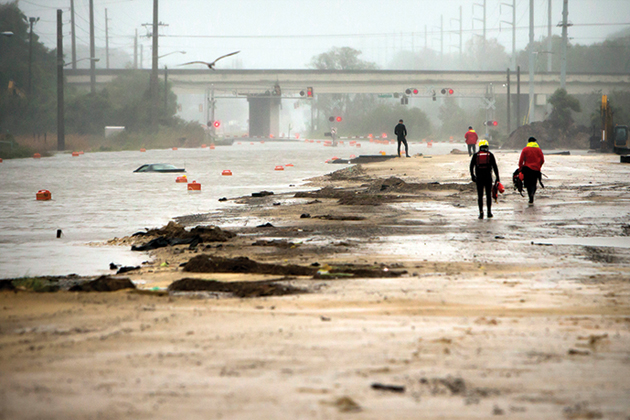 As a Category 4 storm on Oct. 4, Hurricane Matthew decimated Haiti, causing more than 1,000 deaths before moving on to the southeast coast of the United States. There, downgraded to a Category 2, it hit sections of Florida with hurricane-force winds of more than 74 mph, damaging roofs, windows, awnings and signage of residential and commercial buildings. Moving north as a Category 1, it grazed Georgia and South Carolina, then made landfall north of Charleston, South Carolina, lingering in North Carolina. More than 43 deaths were reported along the East Coast, including 27 in North Carolina, and thousands of residents were displaced, some for weeks. Many of those who could make it home found that they had no electricity or water. In one county alone, 20,000 people were without power.
Despite extensive damage, however, the hurricane's impact in the United States was much less than originally anticipated, especially considering that at one point the storm reached Category 5 intensity. "The estimates started in the early phases at $25 billion in damages," said Hart S. Brown, vice president of organizational resilience for HUB International's Risk Services division. "That has come down, based on the path it took, to an estimate of $10 billion in total losses. Insured damages have come to $1.5 billion at the low end and $5 billion to $6 billion on the high end." Modeling firm Karen Clark & Co. estimates insurers will pay around $7 billion for damages in the United States.
The storm is not expected to impact the property and casualty insurance market for buyers. "If those estimates would have been at $25 billion—if it had seen a landfall and significant damage—we might have seen some hardening of the market," Brown said.
Claims have poured in. In Florida, for example, just two weeks after Hurricane Matthew there were more than 91,000 claims with estimated losses of $550 million, according to Amy Bogner, communications director for the Florida Office of Insurance Regulation. She added that close to 80,000 of those claims were for residential property, more than 3,000 for commercial property and about 4,000 for flood damage.
In South Carolina, Matthew dumped significant amounts of rain along the coast. More than two weeks later, some 60 state roads and bridges remained closed in two counties and at least 10 dams that had previously been examined for safety by state inspectors had either broken or sustained major damage, according to
The State
.
Many areas in Georgia, South Carolina and North Carolina had not seen such levels of flooding since the 1800s, FEMA said. Eastern North Carolina was hit especially hard. Extensive wind, storm surge and inland flooding caused some rivers to peak at around 25 feet and at least 17 dams to burst, washing away roads and major highways and making it difficult for some to return to their homes.
On the agricultural side, which is a large part of the commerce of the eastern parts of both North and South Carolina, Brown said, "we have seen some of the larger players come out and say they are looking at between $15 million and $20 million for losses related to single corporate events."
The storm also renewed fears of large-scale pollution and water contamination from the many hog and poultry farms that dot the eastern part of North Carolina. During Hurricane Floyd in 1999, lagoons broke open, leaking tons of untreated animal waste that ended up in estuaries along the coast. The contamination led to elevated nitrogen levels and killed fish, according to Waterkeeper Alliance. The sludge is also a threat to groundwater, wells and oyster beds. Of special concern is damage to Pamlico Sound, the second largest estuary in the country.
The North Carolina Department of Environmental Quality (DEQ) said that 14 commercial-scale hog and poultry farms in seven counties were flooded in the disaster and that two waste lagoons were found to be breached. Gov. Pat McCrory has directed state environmental directors to sample water quality downstream from swine farms. The agency is sampling 30 locations where flooding impacted hog lagoons as well as wastewater plants, towns and cities, according to the North Carolina Environmental Quality office.
North Carolina Health News reported that less attention has been paid to the large amount of untreated wastewater, which includes human waste spilled into waterways by floods. The DEQ said it has identified 235 storm-related spills of sewage/wastewater related to Matthew. It said that more than 62 million gallons of sewer overflow escaped from water treatment systems into surface waters, with extreme weather, pump station failures and power outages cited as causes of the spills.