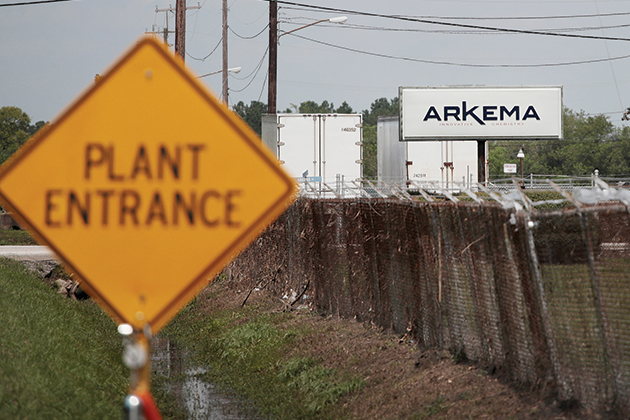 At its peak in late August and early September, Hurricane Harvey was a Category 4 hurricane moving at 130 miles per hour, leaving fatalities and untold economic losses in its wake. Over one week, the hurricane dumped approximately 33 trillion gallons of rain on Texas and Louisiana and led to at least 82 deaths in the United States.
According to catastrophe modeling firm AIR Worldwide, Harvey's rainfall alone caused an estimated $65 billion to $75 billion in property damage. Insured losses from the wind, flood and storm surge are expected to surpass $10 billion. Neither estimate factors in the additional losses covered under the National Flood Insurance Program.
In Crosby, Texas, the historic flooding had a particularly dramatic impact, leading to several explosions and fires at the Arkema Inc. chemical plant on Aug. 31 and Sept. 1. At least 21 of the emergency responders called to fight the fires and evacuate plant employees were reportedly injured and some have filed suit against Arkema for exposure to "unspecified toxic fumes." Although the full scope of its environmental and economic impact remains to be determined, this plant disaster already offers valuable lessons in disaster preparedness and emergency response.
A Volatile Situation
The Arkema chemical plant manufactures organic peroxides, which are key components of plastics and composites and are also used in certain skin treatments and pharmaceuticals. These chemicals are temperature-sensitive and require cold storage to prevent them from breaking down and catching fire.
When Harvey made landfall, the plant was housing nine containers that held a total of almost 500,000 pounds of liquid chemicals including organic peroxides. According to an internal company timeline of events, Arkema did not move the chemicals off-site before employees shut down plant operations in anticipation of Harvey's landfall on Aug. 25. The subsequent floodwater knocked out electricity to the plant and its two backup systems, rendering the company unable to control the temperature and, thus, the stability of the chemicals.
According to the
New York Times
, Arkema then called upon an 11-person "ride-out" crew of employees trained to address crisis situations, tasking them with moving the chemicals into trailers at the facility. This crew's goal was to keep the chemicals cool and get them away from other hazardous chemicals. Despite their best efforts, the crew was unable to store the chemical containers beyond the reach of the rising floodwaters and with no way to stop the climbing temperatures, the company warned explosions were likely.
As a precautionary measure, the Harris County Fire Marshal's office imposed a 1.5-mile evacuation perimeter before the first explosions occurred on Aug. 31. By Sept. 1, three containers had burned, and two days later, Arkema conducted a controlled burn of the remaining containers, which it stated would not "pose any additional risk to the community."
This was not the first time safety issues had surfaced at the plant. Arkema had a recent history of safety and environmental violations at both the state and federal levels, including for the use of unsafe equipment and failure to provide updated training for employees. Bloomberg Businessweek reported that the Occupational Safety and Health Administration (OSHA) fined the plant more than $91,000 for 10 safety violations this year, including some that involved mishandling of hazardous materials.
After the first explosion, the company's officials also faced another problem: First responders became ill shortly after they began working on the scene, with many left vomiting, gasping for air and unable to breathe during and after rescue efforts. Seven responders have since filed a negligence lawsuit against Arkema, alleging they were not warned of the smoke and fumes and their effects prior to arriving on the scene. They claim that Arkema failed to properly alert both the public and first responders about the risk of explosions, safely store its chemicals, and adequately prepare for the flood, among other allegations.
Protecting Industrial Facilities
The Arkema explosions and the company's handling of the situation offer vivid examples for risk managers preparing for catastrophes at industrial facilities, including chemical plants. The following disaster preparation measures can help reduce potential business interruption and physical injury in such environments:
Update the chemical management plan.
A full risk assessment, including a chemical management plan, should be conducted to catalog the chemicals and materials stored in a facility. The Environmental Protection Agency (EPA) has various guidelines, resources and databases to help craft the most detailed and efficient risk assessment. The EPA and other state environmental quality agencies can provide feedback, including suggestions to limit the facility's susceptibility to physical damage and ensure public safety and business continuity.
Institute an emergency plant management plan.
Every plant needs detailed plans for emergency scenarios and to ensure these protocols are well-known by employees. These plans should establish a reporting structure or chain of command during a catastrophe, and address proper disposal and containment methods of hazardous chemicals.
Formal guidance is readily available from several government entities. OSHA provides emergency preparedness response guides for chemical plant management that should be regularly rehearsed and reviewed to keep personnel updated and ready. The National Institute for Occupational Safety and Health's "Pocket Guide to Chemical Hazards" also offers key facts about workplace chemicals and their hazards and helps users recognize and mitigate related risks.
Communicate with local authorities and emergency workers.
Between their scale and their function, most industrial facilities can affect the surrounding area during a crisis. A company's hazard plans should be communicated to local fire and police departments and hospitals to ensure emergency workers know the potential dangers the plant faces in the event of a disaster and is prepared to mitigate them. This includes what types of materials are being used or stored, the likelihood of a dangerous chemical reaction, and the implications for public safety.
Develop public-facing communications plans.
It is the communications team's responsibility to inform the public and it should have statements drafted in anticipation of, during and following an emergency. These statements do not need to be drafted from scratch, however. The Centers for Disease Control and Prevention offers communications worksheets, templates and guides regarding water, sanitation and hygiene-related emergencies and outbreaks. These documents can be customized to an organization's specific circumstances and community.
Issue advisories through all possible outlets, including social media.
To keep people informed, Arkema sent out press releases, incident statements and Twitter alerts. This included practical tips such as warning residents in the evacuation zone to only drink bottled water and to use protective clothing and surgical masks. Companies should inform the public about whom to contact should there be cause for alarm or if, for example, debris ends up on their property. Creating a community outreach or emergency hotline in response to a disaster is one way to offer such guidance.
In addition, industrial facilities should consider what information they can and cannot reveal to the public in the event of a catastrophe. For example, Richard Rennard, president of Arkema Americas, told reporters he was willing to disclose certain types of chemicals the plant housed, but not their precise locations or quantity so as not to tempt "those who would do us harm," like terrorists.
Prepare to resume operations safely.
In the aftermath of a catastrophe, getting back up and running can be hazardous. Some government organizations issue specific advisories for safe management of chemical processes post-disaster. For example, the U.S. Chemical Safety and Hazard Investigation Board issued an "After Harvey" alert detailing the precautions that should be taken at oil and chemical facilities to ensure they resumed operations without incident. Additional safety protocols include checking bulk storage tanks for evidence of damage, and examining insulation systems, sewers, drains, furnace systems, electric motors and warning systems to make sure they are fully functional.