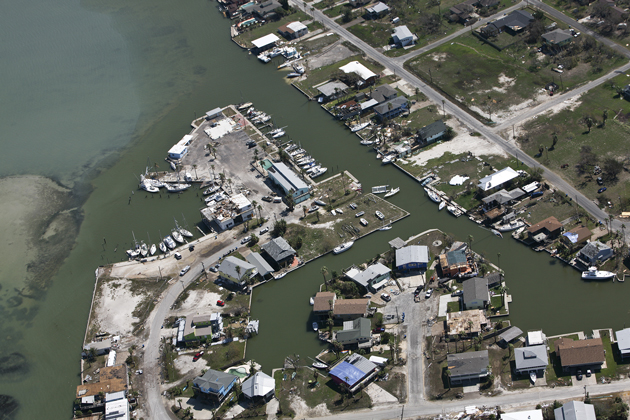 In August 2017, Hurricane Harvey pounded Houston, Texas, dumping some 50 inches of rain in four days. The effects on the supply chain were dire, both going into and out of the disaster area. According to Zipline Logistics' analysis of some 33,000 truck shipments, market surcharges due to hurricane activity were the costliest of added fees in 2017, with a total cost of $673,000. The average cost per load after the hurricane rose by 11% (or $159.58) and the average cost per mile increased by 15%. Compared to just four months prior, 915 fewer loads moved after the hurricane. Critical shipments were delayed to places like Florida (an 8% drop in volume and 3.4% drop in spending), other parts of Texas, and surrounding states.
In its research on the effects of Hurricane Harvey, the Institute for Supply Chain Management found the effects compounded for related supply chains. Two-thirds of supply chain managers surveyed believed the disaster negatively affected material prices in the short term and about a third of those surveyed thought the effect on prices was significant. More than half of supply chain professionals surveyed believed material deliveries were negatively impacted somewhat in the short term and about a fifth believed deliveries were significantly affected. Six months after the hurricane, more than half still saw a negative impact on prices.
When a natural disaster strikes, the supply chain into and out of the affected area is obviously negatively impacted, leading to material and financial loss. The effect also ripples out to both direct customers and others in the supply chain who depend on goods shipped from the area.
According to FTR Transportation Intelligence, almost 10% of all U.S. truck transport was affected during the first week after Hurricane Harvey, not only because of damage and closures, but also when drivers were diverted to help retrieve loads stuck in Texas. Even a month later, shipment delays could be seen, with 2% of truck transports still affected nationally and 25% regionally.
Hurricane Harvey is hardly the only natural disaster to cause such a broad impact on a supply chain. According to the United Nations, the incidence of natural disasters has quadrupled since 1970, averaging about 400 natural disasters worldwide per year. To best manage the risk, it is critical to construct a framework of policies and action plans so that, when the time comes, the risk mitigation architecture is ready to go. This should include the following steps:


Create a thorough contact network to notify suppliers and customers. Any contingency response plan needs to consider all means of communication, electronic and otherwise, in the event of a disaster. It should include both contact information and the best way to communicate with the appropriate parties such as carriers, warehouse, distribution and fulfillment centers, material suppliers, and receiving customers.


Build and update a supply chain contingency plan. Developing a thorough contingency plan may require the input of advisers and should entail written instructions, a schedule of scenario exercises, identification of critical supply chain pathways, and any other important information. Further, you must ensure that this information can be quickly and easily accessed no matter what has happened.


Estimate and account for demand spikes relative to days of disruption. Your contingency plan should have assessments of anticipated demand spikes relative to disaster duration, including the effect of a short-term, medium-term or longer delay. Identify all stakeholders in the supply chain and their roles, consequences, and possible mitigating actions to avert more damage.


Prepare alternate routing plans with scenario planning. Conduct regularly scheduled scenario drills and plan accordingly. Identify the probability associated with different geographic regions, whether high- or low-risk areas. Build scenarios and plan around them to protect your key supply chain routes. Where possible, develop alternate route plans along major lines of supply. This may include backup transport modes, carriers, and fulfillment and distribution centers. Involve as many stakeholders as possible to gain the most confidence in the plan and build collaboration so that all involved know what to do and are ready to act in time of need.


Disasters are not predictable, but they are probable. It is very likely that your supply chain will be disrupted at some point, either directly or indirectly, by a natural disaster. By understanding your region, your supply chain components (carrier network, shippers, warehouses, and fulfillment centers) and the geography of every link in the chain, you can properly plan and prepare to best mitigate the risk and its ripple effects.