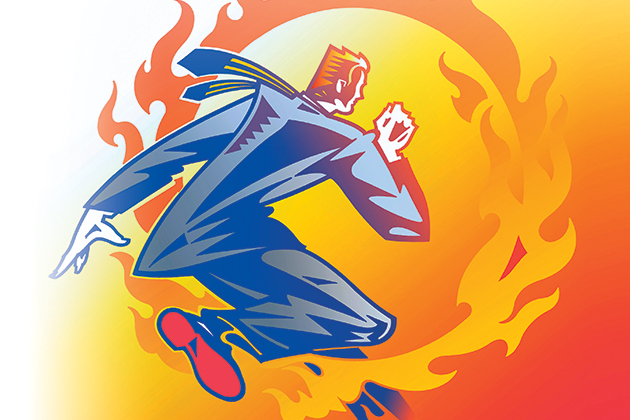 There was a time when companies went to great lengths to sidestep controversy of any kind. Most still do. But, increasingly, more businesses are playing with fire, viewing a successful leap through the flames as a means of enhancing their reputation and galvanizing a consumer base.
In September, Nike presented the most prominent example to date when the sneaker and sports apparel giant launched an ad campaign featuring Colin Kaepernick, the now-unemployed quarterback who sued the NFL claiming he was blackballed by all 32 teams after his on-field protests. Billboards and ads focused on Kaepernick's face and a simple tagline: "Believe in something. Even if it means sacrificing everything."
During his last active season in 2016, Kaepernick began kneeling during the national anthem before each game in silent support of the Black Lives Matter movement, protesting police brutality against black Americans. Many players followed suit, and a national controversy began as many critics condemned the protests, including President Donald Trump, who suggested the NFL fire players who kneel during the anthem. Kaepernick has not played football since, and before this past season, the NFL created a policy mandating that players on the field stand during the anthem or face possible fines.
The backlash against the ad campaign began immediately as #NikeBoycott pledges flooded social media, and financial fallout ensued. The Beaverton, Oregon-based company's share price fell by 3% the next trading day, equating to a $3.4 billion drop in market capitalization and prompting a CNN Money article to proclaim, "Wall Street seems to think Nike just blew it."
On the other hand, Nike was coming off a record-high stock price in June and generated $163 million of media exposure in the campaign's first three days, according to Apex Marketing Group. Online sales also jumped by 31% very soon after its debut, per research group Edison Trends, as the ad was hailed by everyone from world-famous athletes and celebrities to political activists and social rights groups.
Many marketing and public relations experts sang the campaign's praises as well. "If you look at what Nike did, the market initially reacted to that as something that was a mistake, but it was quickly evident from sales data that it was genius for Nike to take a political stance," said Adam Kleinberg, partner and CEO of San Francisco ad agency Traction. In fact, in December, Nike reported that its revenue for the quarter was up 10% over the year before.
Times They Are A' Changin'
The success of the Kaepernick ad can be debated, but the underlying question for companies thinking about taking a political stance is not complex: Is it worth it to design an intricate plan to walk through a minefield when they could simply stay out of it?
For those that choose to take a stand, the key factors usually center on today's changing consumer expectations, societal norms and demographics. Millennials and Generation Z look at companies differently than their parents did, and businesses are reacting to this reality more as they see positive effects on the bottom line and these consumers become a primary demographic of increasing spending power. "There is simply an ROI to being a purpose-driven brand," Kleinberg said. "People want and expect brands to have a point of view."
Kleinberg's clients increasingly seek this in their ad campaigns. "Purpose is becoming the core of their marketing," he said. "They're moving away from talking about features, they're moving away from just trying to be funny, and are trying to do something meaningful that is aligned with their customers' values."
Two-thirds of consumers now say that it is important for a brand to take a public stand on social and political issues, according to the study
Championing Change in the Age of Social Media
, by social media management service provider Sprout Social. "While historical PR wisdom may have told brands to stay out of social and political issues, that's no longer the case," said Alicia Johnston, the company's manager of content and communications.
Now, people see companies less as mere suppliers of goods or services, instead wanting to know that the brands they buy from are worthy of their hard-earned dollars. In short, consumers are voting with their wallets more than ever before. "Nike's campaign was a smart move that appealed to what their core demographic cares about, with the numbers to back it up," Johnston said.
These trends are increasingly apparent across a wide range of businesses. After mass shootings drew public outrage last year, BlackRock made news on Wall Street when it launched exchange-traded funds that excluded gun manufacturers and gun retailers, such as Walmart, Dick's Sporting Goods and Kroger. The investment management firm told clients that its position as a leading shareholder meant that the time had come for it to offer options for anyone who wanted to keep their money away from firearms makers.
"It was basically a really bold move by a market-mover against a specific type of business," said Erin Allsman, managing director at Brownstein Group, an advertising and public relations agency in Philadelphia. She viewed BlackRock's decision as "an indication that they see that people are expecting a response on certain things."
Indeed, consumers have made a public point in the past of not giving businesses money on the basis of their stances on social issues, but proactively offering a specific product on that basis poses a notable formalization of such efforts—and potential new opportunities moving forward.
Politics as a Catalyst
This generational shift had been progressing gradually, but when Donald Trump took office, organizations in all areas of society began to respond differently to the subsequent change in tone in American politics.
This shift inspired a new level of consciousness, Allsman said, with companies feeling more free to speak up. "There are so many examples of situations that are directly related to the president," she said. "That's obviously something that we haven't seen at this scale ever before."
For example, Nordstrom, Neiman Marcus and other retailers dropped Ivanka Trump's clothing and jewelry lines not long after her father took office. Several executives dropped out of Trump's business advisory groups around the time that he commented on a deadly white nationalist rally in Charlottesville, Virginia. The Kaepernick controversy was already well underway before the election, but when the commander-in-chief began decrying the NFL protests, it boiled over even more.
"There is nothing that drives people to align with—or against—a brand like politics," Kleinberg said. "Today, we live in a society where everything has been politicized by the Trump administration being in office and by social media and by people being constantly connected."
Kleinberg recently experienced this first hand when his company instituted a workplace policy that gave employees two days of paid leave per year to participate in democracy. This could include volunteering, working for a candidate, protesting for a cause, or a number of other civic activities. After the announcement, the conservative press began to characterize what was intended to be a nonpartisan policy as a creative agency in the liberal bastion city of San Francisco paying its employees to protest in the streets. "We got inundated—we were buried. We were attacked by the right half of the internet," he said.
Positive press followed as well, but he was struck by how quickly the issue was twisted to fit into a specific narrative—much in the way he sees Kaepernick's original protest warping from a plea for civil rights to claims of disrespecting the military. The experience served as a reminder that people come to the table with their own assumptions, he said.
Staying in Your Lane
If there is any company that has the brand equity to pick a fight with a sitting president, it is Nike. The global company controlled 37% of the U.S. sneaker market in 2017 and has seen its brand value (a calculation maintained by Forbes) nearby double in less than a decade, growing from $15 billion in 2010 to $29.6 billion last year.
But being a dominant global brand certainly does not guarantee that a foray into controversy will go smoothly—a lesson Pepsi learned the hard way last year. Like Nike, the soft drink giant chose to align its messaging with a top social issue of the day, alluding to the Black Lives Matter protests in an ad that featured celebrity model and entrepreneur Kendall Jenner offering a police officer a soda during a protest.
But unlike Nike, the beverage firm did not succeed. The ad fell flat with some, while others found it to be more tone-deaf or outright exploitative than principled. The company quickly discontinued the campaign. "Pepsi was trying to project a global message of unity, peace, and understanding," the company said in a statement. "Clearly, we missed the mark and apologize. We did not intend to make light of any serious issue. We are pulling the content and halting any further rollout."
With more careful execution, Pepsi likely could have crafted a better spot related to this issue. Still, some of this failure was due to the company's lack of history speaking about community protests and race relations—in contrast to Nike's extensive track record of spotlighting major athletes and urging consumers to act. That is always going to be a high bar to clear. "You have to be true to who you are as a brand," Allsman said. "It's never going to be in your favor to try to go out on a limb and connect with something that doesn't very closely align with who you are as a brand. Nike and Colin had that obvious connection."
Patagonia may be the poster child for companies that make their values part their company. Advocating for Mother Nature is typically a lower-risk proposition than issues centering on race or politics specifically, but the outdoor retailer has spent decades partnering with environmental advocacy groups, donating money and building awareness of environmental issues. In the lead-up to the 2018 U.S. elections, the company even endorsed two Senate candidates in Montana and Nevada because of their commitment to preserving public lands. "Patagonia's commitment to environmentalism is ingrained in everything they do, including their marketing, and their customers respond with long-term brand loyalty," Johnson said.
A large number of tech firms also chose an issue close to home last year when they legally opposed the so-called "Muslim ban" instituted by the Trump administration. Google, Amazon and Facebook were among more than 150 companies that blended the cause of religious tolerance with their own self-interest by advocating for the cross-border freedom of movement that helps them hire skilled foreign engineers.
Ultimately, when it comes to weighing in on controversial topics, Allston has a rule of thumb for companies. "If the topic has really nothing to do with you, then don't go after it," she said. "Don't take that risk—stay in your lane as far as who you are as a brand."
Finding an Authentic Purpose
The difference between Pepsi and Patagonia's messaging highlights another trend in the world of branding: "earned media." This is marketing jargon to describe corporate mentions that are neither bought ("paid media") nor appear on the company's proprietary channels ("owned media").
This form of exposure is seen as increasingly valuable in a world dominated by streaming or on-demand television viewing, ad-blocking software, and an otherwise distracted, fragmented consumer base that is getting very difficult to reach through traditional advertising. Marketing executives now spend much of their time working to generate organic, earned media mentions of their company in the press. They understand that putting the company out there on controversial issues can generate earned media even though it is much more risky than more traditional approaches.
If a company like Nike can get enough free advertising in the form of newspaper headlines and generate enough lasting goodwill among young consumers, however, those benefits can drown out the damage done by fringe boycotts and sneaker-burning videos shared on Twitter. Companies need to make sure, however, that they do not risk coming off as insincere while trying to make headlines. A decade ago, with the rise of social media, marketing meetings were full of professionals strategizing about how to "go viral." Now, similar conversations are taking place about how to "do a Kaepernick." Some brands will inevitably shoot themselves in the foot while opportunistically trying to profit off of social issues.
"It's very easy to 'pull a Pepsi' and come from a place where you don't have the credibility with your audience and try to usurp a movement like Black Lives Matter," Kleinberg said. He is not shy to call it a fiasco. "They had to pull the spot, apologize, look like idiots—it hurt their brand," he said. "That is definitely a risk brands face by rushing to jump in on a trend."
At the same time, aggressive companies maintain a healthy fear of making missteps but do not let that paralyze them from acting. Success breeds complacency, after all, and it seems that Nike is not content to simply rest on their laurels. After all, today's kids, teenagers and young adults have many other trendy options to choose from like the Under Armour footwear worn by Steph Curry or Adidas styles promoted by Kanye West and Lionel Messi. So, when it came to working with Kaepernick, Allsman thinks Nike saw more potential to stand out from the competition than downside. "They knew that they were going to be scrutinized, and they knew that they would make news," she said. "That was a risk they were willing to take."
Kleinberg believes authenticity matters more than market capitalization when it comes to taking a stand, and purpose-driven messaging should be employed only when it truly matches the company's values, rather than being driven by the potential marketing opportunity.
"While a brand like Nike may alienate a part of the market and have people burning their Nikes, that energizes the other half of their customer base even more," he said. "And I think that Nike will see rewards from this for years to come...Hate and threats are part of the what you're signing up for—but it just may be worth it."