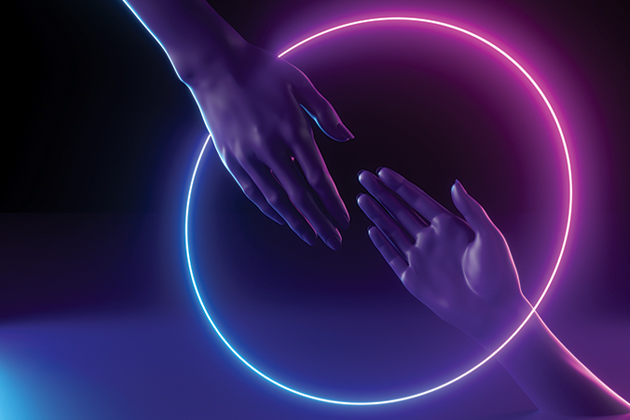 As the COVID-19 pandemic has forced businesses to go remote, professional development activities like conferences, networking events and education sessions have also shifted into virtual venues. Some of this shift will likely outlast the pandemic, making the skills to manage and maximize these opportunities critical for professional development moving forward.
"Since the start of the pandemic, many of us have been confined to our homes and immediate family, and virtual meetings have been the only way to interact with friends, business associates, and colleagues," said Will Gilchrist, senior member and chapter programs manager at RIMS. "These virtual meetings, while a nuisance to some, have been a lifeline to others. Virtual events have done wonders in bringing people together across the country and have enabled people who might be confined to their homes to branch out and regain some normalcy."
Gilchrist has hosted over 150 virtual events for members of RIMS, the risk management society, since the pandemic's onset in North America. To keep members engaged with the organization and each other, RIMS has offered webinars, topic-specific virtual roundtables, networking meetings, social gatherings, large-scale virtual conferences, mentoring roundtables and legislative meetings with government officials. The organization has also reimagined its annual conference as RIMS LIVE 2021, a fully virtual event spanning two weeks of educational and networking events from April 19-30.
While these remote connections may be a necessary substitution now, the virtual technology currently being adopted will undoubtedly remain a part of the business experience long after the pandemic. In The Next Normal Arrives: Trends That Will Define 2021—and Beyond, consulting firm McKinsey reported, "The effective use of technology during the pandemic—and the economic constraints that many companies will face for years after it—could augur the beginning of a long-term structural change in business travel."
Once COVID-19 is sufficiently contained around the world and people can return to gathering in person, virtual meetings and events technology may instead take on the role of enhancing rather than replacing in-person events.
"The possibilities with virtual and hybrid events are limitless," said Stuart Ruff-Lyon, vice president of meetings and events at RIMS and 2020 chair of the business event professionals association PCMA. "For example, PCMA's Convening Leaders annual meeting was a virtual experience that incorporated small group 'hubs' where people gathered, safely, to watch the content together. Because Asia is more open than the United States, the main hub was in Singapore, where a few hundred ASEAN event professionals gathered to see keynotes and even a hologram of the CEO delivering his speech. It was an innovative event experience, and shows the future of events—all events will be hybrid in the future and will offer both in-person and virtual experiences."
In any form, learning how to navigate these virtual experiences and get the most out of such opportunities will be a critical professional development skill for years to come.
Broader Access to Better, More Global Experiences
Virtual meetings and events can offer more opportunities to people who face limitations from geography, mobility, budget or travel time. "The biggest pro is breaking down the barrier to attend by eliminating travel and expense costs," Ruff-Lyon said. "Events are attracting new and diverse audiences by being virtual, which represents growth when we return to face-to-face."
Virtual events and networking are also providing ways for organizations to reach new audiences, enrich their offerings or engage more diverse talent. This has been particularly beneficial for rising risk professionals, according to international insurance fraternity Gamma Iota Sigma. "While virtual engagement can't always take the place of face-to-face engagement, it does allow for increased access," said Alyssa Bouchard, vice president of industry engagement at GIS. "Virtual conferences have lower registration fees in many cases. They have no associated travel costs or commitments. For some, the lack of business travel or daily commutes in our virtual environment means more time in the day. Collectively, this creates a big opportunity for rising risk professionals to pursue career development opportunities that might not have previously been an option but are now right in front of them—literally."
She added, "It is a great time for rising risk professionals to participate in industry conferences and events to expand their industry knowledge and networks."
Hosting events for a broader base of participants can help organizations expand their events or increase their brand recognition in other markets. For attendees, this enhanced global access can also add more diversity and strength to the networking opportunities and content these events provide. "Virtual events pre-record a lot of content for a consistent, polished experience," Ruff-Lyon said. "This enables event organizers to use speakers from remote parts of the world, to build better, more global content."
Companies participating in such events can also tap into a bigger talent pool, which may offer opportunities to fill talent gaps or meaningfully advance diversity, equity and inclusion initiatives. For example, virtual engagement has ­facilitated new Gamma Iota Sigma initiatives to reach out to diverse groups, and made it easier for minority participants to reach back. "GIS recently launched an HBCU [historically black colleges and universities] Engagement Initiative, allowing for engagement with over 100 new universities," said executive director Grace Grant, who also shared many of the tips in the event day checklist (below). "By taking advantage of enhanced virtual connections, students and the industry are able to increase access and exposure across the world through much simpler and more affordable methods."
The range of opportunities can help both organizations and individuals develop a more robust network or generate connections in alternative settings that are easier to fit into busy schedules. "While we all wish we could see each other in person again, and screen fatigue has become a very real issue, there is an opportunity for greater connectivity and to bring individuals together who might not have otherwise had the same opportunity for virtual networking and learning," Gilchrist said. "Risk professionals in Los Angeles can very easily join a chapter meeting or educational event in Dallas one afternoon and then attend a virtual cooking class with colleagues in Minneapolis that evening."
14 Tips to Maximize the Value of Virtual Events
Virtual event opportunities are far easier to access and fit into your schedule. However, they can also create new challenges for those trying to take advantage. Networking and learning in virtual formats can be difficult—many feel awkward when meeting strangers this way, or have a hard time tuning out distractions and learning from afar.
Whether it is the admission price or the value of your time and attention, there are real costs to virtual events, and you want to get as much out of your investment as possible. These 14 tips and tricks can help maximize the value from your virtual experience:
1. Do your homework: To best allocate your time, review the program and the ­platform being used before the conference begins. If presentation materials are available, try to review these in advance to help ensure you focus on sessions that are worth it, and that you use your time during the session to ask questions that will truly advance the knowledge and resources you already have. Look at the different formats of engagement available, such as on-demand classes, live social events and different networking tools. For example, RIMS LIVE 2021 is using an AI-powered networking platform that will make relevant connections based on attendees' profiles, so spending the time to set one up will get the best results during the event.
2. Build a schedule: As part of the homework process, identify the key sessions, networking opportunities and other events you want to check out and make yourself a detailed schedule. Having this plotted out can help ensure you hit everything you wanted to and gain as much value as possible. It can also help you take a realistic look at what you want to accomplish and how to allocate your time and energy—if sessions conflict, you can assess which would be most helpful to attend live and start a list to look up later for on-demand viewing. Want to focus on networking? Schedule time for the virtual expo hall that will not bleed into your must-see classes or keynotes. Also, consider the time you will need for stretching and getting some fresh air, having a meal or tending to things at home, and explicitly schedule those breaks in your day.
3. Diversify your virtual learning: Consider mixing things up with a variety of event formats and subjects. "It's always good to expand your horizons and the wealth of topics offered in our virtual world ensures that there is something for everyone," Gilchrist said. "It's also important to unwind sometimes, and not every virtual event or session you attend has to be content-heavy. Feel free to blow off a more education-led webinar to grab a mixology class or do some virtual yoga. Also, keep in mind that while these events are virtual, they still require a lot of attention and energy. As with in-person meetings, don't overload yourself. Try to grab some time for yourself and either get outside or step away from your computer."
4. Block off your calendar: Distractions are the biggest challenge for virtual event attendees. "Participants need to block their calendars, turn off their chats, and close their email," Ruff-Lyon advised. "If you want to get the best return on your investment, make time to fully engage and participate during the event times, and eliminate or minimize possible disruptions." To ensure you have the time and space to commit to fully engaging, block off your calendar the same way you would for an in-person event, and let your team at work and anyone in your home know that you will be unavailable. In a convention center or a meeting room, it is easier to tune out distractions and focus on your surroundings. In virtual spaces, you need to account for these challenges and think ahead about how to manage them.
5. Do a virtual walk-through: Many virtual event platforms have rich features to replicate the in-person experience. Doing a virtual walk-through can help you take stock of your options and increase your comfort using them on event days. "It is important that meeting participants learn and play the virtual platform the event uses," Ruff-Lyon said. "Just like when you arrive at a convention center, you have to find your place and the locations. The same applies to virtual events—spend time navigating the site and poking into every tab or section to make sure you fully understand the features and capabilities of the platform."
6. Tune in live: Finding the time to ­dedicate your full focus can be hard, ­especially if taking advantage of opportunities to attend events in other parts of the world. That being said, it is worth making every effort you can to attend live rather than watching later. Chat functions are widely available on different platforms for meetings and events, and may be your primary chance to meet other attendees and ask the presenter questions. "Show up and participate during the event times," Ruff-Lyon urged. "Don't wait until after the event is over to view the content—instead, participate fully during the event times to maximize your ability to network and engage with speakers, exhibitors and attendees."
7. Preview your video: Check to make sure you and your background are looking your best, and look for any personal items that you do or do not want in-frame. It is also helpful to focus on how you come across in this format. Research shows that body language can make up as much as 70% of our communication. Yet, with cameras largely cutting off around the shoulder or—even worse—being shut off entirely, this critical channel is severed in virtual formats, making it harder to send and receive body language messages. This can exact a mental toll since we are wired to expect these messages and are constantly looking for them to help contextualize interactions. According to communication experts from the American Management Association, one of the key contributors to so-called "Zoom fatigue" is that constant subconscious effort to interpret and understand people's cues on the other end of a call, and having to do tremendous amounts of extra work to try to fill in the gaps. To help connect with people in these new formats and to ensure your messages are clear, it is critical to think about ways to overcome this issue when communicating remotely.
8. Turn on your camera: "We've all be sitting in our homes on virtual meetings for the last year and we can be a bit fatigued of staring at each other through a screen, but it's always better to interact in some way with your attendees and your peers," Gilchrist advised. "If you're going to be sitting at your computer for an hour anyway, take the opportunity to at least say hello to everyone." Ensuring you put a face on your participation is ­critical for fostering a sense of connection. Ideally, be on camera whenever possible, or use a headshot when you are unable to do so.
9. Introduce yourself: Meeting new people in virtual spaces can feel awkward, but taking the chance and introducing yourself can really pay off. Tailor your introductions to the event or meeting you are attending and how much information is appropriate. "When you enter a 'room' or session, use the chat feature to introduce yourself and say where you are from," Ruff-Lyon suggested. "Break the ice by adding what you are hoping to learn from the experience. You will be surprised by the number of responses and the new connections you will make."
10. Ask questions: People attend virtual events to tap into expertise—be sure you take advantage. Particularly if the host or presenter emphasizes the option, asking questions can liven up the session, engage other attendees, and offer feedback for the presenter. There is a key caveat, however: make sure you ask good questions. There is nothing more frustrating than having others monopolize conversation, hijack the presentation by offering their own opinions instead, or ask questions they could either Google or read in the session materials. Be considerate of others and ask: Is this ­something I could just look up? Is it a question or a comment? Is this relevant to a broader audience? Is this something I should discuss separately?
11. Use the hashtags: Follow along on social media and chime in on the events using the official hashtags. This can be a great unofficial channel for networking with other participants, and can help highlight your engagement in the industry. It also offers an easy way to learn about the sessions you have not attended and may want to catch on-demand, if offered.
12. Ask about on-demand and presentation documents: Check in advance for the materials offered during and after the event. Many event coordinators offer session recordings that can be watched on-demand, which can come in handy if you have to leave a session early, want to catch sessions in conflicting time-slots, or just want to go back and find a point of interest after attending live. Many organizers also make their slides available so attendees can follow along during the session or access after the event. This can help alleviate the stress of taking notes and minimize the need to ask presenters to go back or repeat themselves.
13. Take non-virtual notes: The sessions may be virtual but the lessons should be real—and the notes should be too. Grab a notebook and jot down your takeaways and questions for reference later. Researchers believe that the physical act of writing improves memory and processing, and you are less likely to get distracted by other activity on your computer if you limit on-screen activity to the event itself.
14. Write a list of action items: While you have your notebook out, Gamma Iota Sigma's team recommended dedicating a page to concrete next steps after the event. This could be individuals to follow up with, new connections to add on LinkedIn, or lessons learned from a session to share with your team when you go back to work. It can also be helpful to try to develop at least one actionable takeaway from every session you attend—think of one way you can apply the material in the next month and write that down as soon as possible. It will help you see the value in how you have spent your time, offer some great talking points to demonstrate that value to people within your organization, and help ensure you walk away feeling educated and empowered rather than overwhelmed by content and connections.