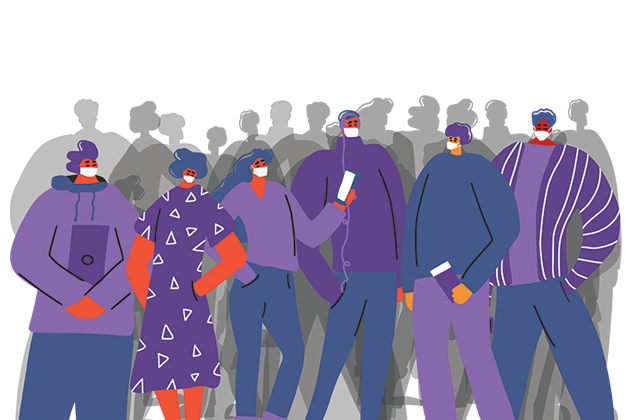 While COVID-19 dominated news cycles and redefined the risk landscape throughout the year, 2021 also saw more than its fair share of non-pandemic risk events. Read more: Year in Risk 2021.
For a second year, the world battled the COVID-19 pandemic and suffered its impacts. As of November 15, the World Health Organization reported more than 253 million confirmed cases and over five million deaths from COVID-19 globally. More than 46 million cases and 755,000 deaths from COVID-19 have been confirmed in the United States alone.

February
Governments around the world begin authorizing and distributing COVID-19 vaccines to the public. As of mid-November, medical professionals have administered more than 461 million vaccine doses in the United States and more than 7.3 billion doses worldwide.
March
YouTube announced that it had deleted 30,000 videos spreading misinformation about the COVID-19 vaccination in the previous five months, and removed more than 800,000 videos containing misinformation over the year since the COVID-19 crisis began.
June
More than 150 workers from Houston Methodist hospital system resigned or were fired for not getting vaccinated against COVID-19 or having a valid exemption as mandated by the hospital. More employers began requiring vaccinations throughout the year, including government services like police and fire departments, sparking employee protests in major cities.
July
After a year-long COVID-related delay, Tokyo hosted the 2020 Summer Olympics in July and August. The events were largely shut to the public due to COVID precautions, but the games still faced a number of complications. These included COVID cases among competitors and staff, as well as a reported 10,000 volunteers quitting amid protests over holding the Olympic games at all during the pandemic.
August
China's third-busiest cargo port, Ningbo-Zhoushan, was closed after a worker contracted COVID, threatening an already compromised global supply chain. Worldwide, the shipping industry has been facing a crew crisis, with workers stranded on ships beyond their contract terms awaiting replacements, and limited access to vaccines for ship personnel.
September
With more than 675,000 people dead across the country, COVID-19 officially surpassed the 1918 Spanish Flu as the deadliest disease in U.S. history.
October
The CDC recommended COVID-19 vaccine boosters for certain groups, allowing millions of people in the United States to begin getting an additional shot. Some health officials criticized the recommendation, pointing out that many people in poorer nations were still having trouble getting a first dose. In November, the FDA and CDC also approved use of the Pfizer vaccine for children ages 5 to 11, a group that comprises about 28 million children in the United States.
November
OSHA issued an emergency temporary standard requiring employers of more than 100 employees to mandate that workers be vaccinated for COVID-19 or undergo weekly testing and wear a face covering. After a federal appeals court temporarily blocked the rule, OSHA said it would suspend its enforcement.