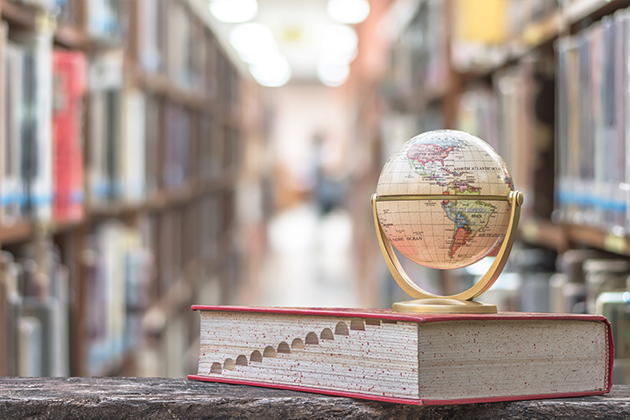 While video conferencing has become a preferred meeting method for businesses and educational institutions, there is no substitute for living and experiencing another culture first-hand. After participation in study abroad programs fell sharply in recent years, students are once again exploring full study abroad experiences.
As a result, it is prudent for educational institutions to evaluate their insurance coverages to help manage the risk associated with educational travel while meeting mandatory host-country visa requirements. Perhaps more importantly, institutions must take steps to help ease anxiety and address the concerns of their students and faculty who may be considering a study abroad program.

The State of Educational Travel
With vaccination rates increasing, international travel guidelines easing, and travelers' confidence rising, there has been a dramatic shift in the study abroad landscape. A survey of more than 550 institutions by the Institute on International Education (IIE) found that 83% of institutions reported an increase in study abroad applications for the 2022-23 academic year, compared to 35% the previous year and 1% in 2020-21.
Not surprisingly, the impact of COVID-19 is still being felt, even as the pandemic evolves. Potential health risks associated with travel in general—and international travel more particularly—remain at the forefront.
To address pandemic-related concerns, 89% of institutions in the IIE survey have been communicating with their international students about their health and wellbeing, with a majority (61%) offering mental health support and other services.
Expanding Risks of Study Abroad
International travel for higher education institutions has always come with its own unique set of risks, even before COVID-19 introduced a spectrum of new concerns. Students, faculty, and other employees traveling abroad may be faced with medical emergencies, such as sudden illnesses or accidental injuries, that could be life-threatening or cause serious harm if not treated right away. Fractures and broken bones from trips and falls are very common. Additionally, deaths due to motor vehicle crashes are the number one killer of U.S. citizens traveling abroad.
From an illness perspective, risks range from a sudden cardiovascular event, heart attack or stroke to exotic illnesses or even a severe flu—all of which may require immediate treatment to ensure the health and safety of the traveler.
Management of mental illness is also of great importance to the higher education community. This is because students who travel outside of their home country's comfort zone are exposed to new and unfamiliar environments that may pose unique physical and mental health challenges, potentially creating substantial liabilities for the sponsoring institution. Adapting to the unique circumstances and social pressures of a particular country—different laws, regulations, language, diets, cultural norms and expectations—may create stress and anxiety, triggering behavioral health issues. As such, having the proper insurance that treats mental illness like any other illness is key.
Lastly, non-medical emergencies are just as prevalent. Political unrest, civil disturbances, natural disasters and severe weather can all wreak havoc for a traveler while they are in unfamiliar territory.
All of the above factors—the heightened risk of illness combined with increased travel, security and health requirements around the world—are causing institutions to take a fresh look at their international travel accident programs.
Scholastic Travel Policy Coverage Considerations
A scholastic travel policy can help to demonstrate a school's commitment to provide for the wellbeing, safety and security of students while they participate in sponsored programs. It can also help students stay informed on security and medical issues via phone, app or web that can be accessed before or during a trip.
Coverage serves a few basic purposes. For one thing, it helps meet mandatory host-country visa requirements needed to enter certain countries. Depending on the type of benefit, at least $100,000 of medical coverage may be necessary to fulfill these requirements.

In addition, it may help fill gaps in medical coverage since home-country health insurance does not typically follow a traveler overseas. University-sponsored student health coverages are also limited when it comes to international travel. Eliminating out-of-pocket medical expenses is an especially important consideration as the costs of medical services continues to rise:
The average cost of an emergency room visit has steadily increased every year, tripling from 2014 to 2020.
Average costs associated with flu claims have increased by 76% from 2015 to 2020.
The average cost for medical claims due to mental nervous conditions increased 50% from 2016, with anxiety as the leading cause of these claims.
Scholastic travel coverage typically also includes a transport benefit, which allows for emergency evacuation to the nearest appropriate medical facility, transport and reunion with family members, and transport back to the traveler's home country once their condition has stabilized.

Finally, a scholastic policy is designed to cover perhaps the most frequent issue faced by modern international travelers: travel inconveniences—including trip interruption, cancellation, delay, along with quarantine-related costs.

The Role of Travel Assistance Services Providers
Many scholastic travel programs include travel assistance services as part of their offering. Travel assistance service providers can help international travelers through challenging situations, from navigating countries' visa requirements for insurance before a trip to coordinating emergency travel arrangements if a medical or security situation arises during a trip.
Travel assistance services providers typically often have access to extensive medical networks, including on-staff physicians and relationships with thousands of other providers. This enables them to deliver support via telemedicine, physician referrals and emergency transport. The addition of telemedicine has greatly enhanced the claim experience, allowing the student or faculty member to consult with a physician form their current location to resolve minor medical ailments. Behavioral consultation is also available remotely and is highly applicable to the needs of students overseas.
Travel assistance providers typically offer web portals and apps to help student travelers stay informed about developing security and health situations in their host country so that they can be prepared to avoid potential danger and to mobilize to safety, if necessary. If a security risk escalates, the assistance partner in many cases can arrange for travelers to leave the country by commercial transportation or an even more focused means of evacuation. Assistance providers also take steps to keep all stakeholders informed by connecting the student to the university personnel, physicians, hospitals, and their parents or guardians back home.
Since travel risks can take many unexpected forms, it is important for educational institutions to consider scholastic travel policies that will enable them to limit and transfer risk, safeguard traveling students, and provide students access to an international network of resources to monitor and navigate potential difficulties while studying abroad.