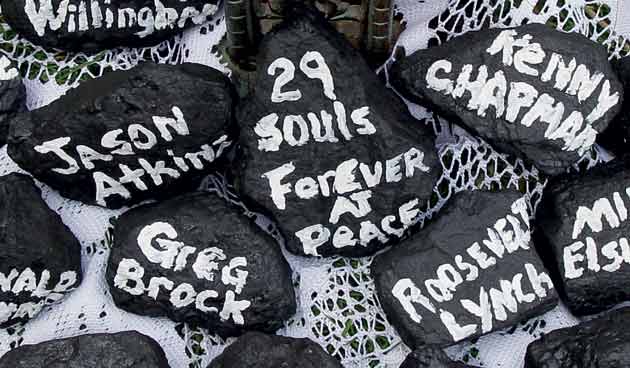 Across the globe, major mining disasters were a serious issue in 2010. From Montcoal, West Virginia, to Yuzhou, China, hundreds- -- possibly thousands -- have perished while working deep below the earth's surface. Each disaster brings to light the unsafe working conditions in many mines, both in the United States and abroad. To address safety at American mining sites, the Mine Safety and Health Administration (MSHA) developed a targeted inspection program for those with troubling safety records. In September alone, MSHA issued an unprecedented 550 violations and 11 closure orders during surprise inspections. "We are continuing to find serious threats to miners' safety and health," said Joseph A. Main, assistant secretary of labor for mine safety and health. "While some operators are finally getting the message, others are not."
April 2010

On April 5, the Massey Energy-owned Upper Big Branch mine in Montcoal, West Virginia, exploded, killing 29 of the 31 miners at the site. The accident, the worst in the United States since Kentucky's Finley Coal Company disaster in 1970, was blamed on high levels of methane, which caused the explosion after a spark was generated from the mine's mantrip, the shuttle used to transport workers through the mine. The tragedy brought to light Massey's track of safety violations and fatalities. In 2009, Massey Energy was fined $382,000 for serious violations, some in reference to improper ventilation. In the month before the explosion, authorities cited the mine for 57 safety infractions, and the day before the explosion, the mine received two additional citations. The Upper Big Branch coal mine disaster put a critical spotlight on the inadequacies of worker safety in U.S. mines.
May 2010

Just before midnight on May 8, an explosion occurred at Russia's largest underground coal mine near Kemerovo Oblast, due to a buildup of methane gas. The mine, owned by Russian coal company Raspadskaya, had a history of safety violations and deaths. In March 2001, a methane explosion killed four miners and injured six, and in January 2010 one worker was killed after a partial mine collapse. The most recent explosion killed 66, making it the deadliest Russian mine incident since 110 people were killed by a methane blast at a mine in the coal-rich Kemerovo region in 2007.
August 2010

Part of the San Jose copper/gold mine near Copiapo, Chile, collapsed on August 5, leaving 33 miners trapped 2,300 feet below ground for 69 days. The mine, owned by Compania Minera San Esteban, had a history of instability and accidents, including one death. Between 2004 and 2010, the company received 42 fines for breaching safety regulations. According to San Jose locals, the dangers at the mine were so well known that they called its miners "kamikazes" (after the Japanese suicide pilots of WWII). The owners of the mine were also well aware of the dangers and offered salaries 30% higher than average. All 33 men were rescued using a custom-built pod designed by NASA engineers and the Chilean Navy in an operation that took a gut-wrenching 26 hours before the last miner was pulled to safety.
October 2010

On October 16, 37 men were killed in an explosion caused by a gas leak at a coal mine located in China's Henan Province. Thankfully, 239 workers were able to escape before the disaster. Just prior to the incident, a miner reported to superiors that he found gas concentrations to be 40% -- 40 times higher than acceptable levels. This warning was ignored and a leak occurred as miners were drilling a hole to release pressure from a gas build-up -- a common practice to decrease the risks of deadly blasts. China is no stranger to coal mine disasters. More than 2,600 miners were killed in Chinese mine accidents in 2009, making its mining industry the world?s most dangerous by far.
November 2010

Acting in response to the deadly mine disasters of 2010, regulators around the world took action. In China, small mines with lax safety were either closed or absorbed into larger, state-owned mines. As for Chile, its government announced changes to health and safety rules, focusing on the country's small, less-standardized mining companies. In Canada, Ontario dedicated November to increasing miner's protection equipment as part of the government's "Safe at Work Ontario" strategy. And in West Virginia, the state's mine safety chief resigned, leaving miners hopeful for better leadership and improved safety.