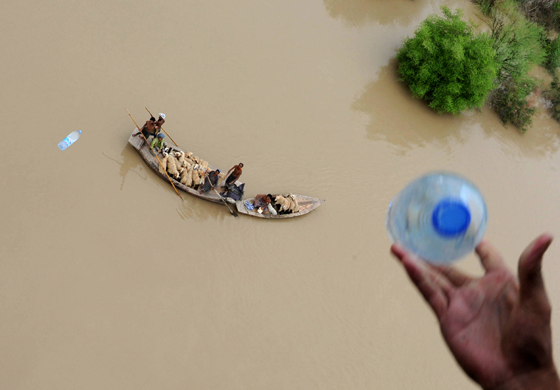 When we look back on 2010, the Gulf of Mexico oil spill, the Haitian earthquake and Chilean mine disaster will likely top the list of memorable moments. But there was, of course, a lot more that happened over the past 12 months. Creating a comprehensive list would be impossible, but the following represent the stories of 2010 that defined the Year in Risk.
Deadliest Disaster in Western Hemisphere History Hits Haiti

January 12
A 7.0 magnitude earthquake struck near the Haitian capital of Port-au-Prince, killing up to 230,000, according to Haitian officials (the true total will never be known), and leaving another two million homeless. Nearly 11 months later, the poorest country in the Western Hemisphere remains ill-equipped to manage the nation's ongoing health, food, housing and infrastructure crises -- something tragically illustrated by a fall cholera outbreak that killed hundreds.
Oprah Fights Texting and Driving
January 14

The dangers of texting while driving have received increasing attention for years, but it was Oprah Winfrey's launch of her "No Phone Zone" campaign that gave the movement the mainstream momentum safety advocates had been seeking.
Toyota Apologizes for "Confused" Priority on Safety

February 24
In testimony to Congress that followed Toyota's recall of 8.5 million automobiles for manufacturing defects that led to numerous deaths from unintended sudden acceleration accidents, chief executive Akio Toyoda admitted that his company's "priorities became confused" while striving for growth without proper vigilance to safety. Less than two months later, Toyota agreed to a $16.4 million fine for improperly notifying the Transportation Department of the gas pedal defect. It was the largest fine an automaker ever paid to the U.S. government. (See
"When the Toyota Way Went Wrong"
for more.)
Quake Devastates Chile, Insurers

February 27
An 8.8 magnitude earthquake hit off the Chilean coast, killing as many as 800, spurring a tsunami that devastated several towns and causing a near-nationwide blackout. Total insured losses eclipsed $8 billion, but the relatively low loss of life -- compared to the Haitian disaster a month prior -- illustrated the grave importance of well-constructed infrastructure and enforced building standards.
"Repo 105" Scandal Is Uncovered

March 15
A report uncovered a sleight-of-hand accounting trick that the now-bankrupt Lehman Brothers used to cloak some $50 billion in bad investments from its balance sheet. Later in the year, the SEC revealed that Bank of America and Citi also hid billions in recent years through similar Repo 105-type "window dressing" accounting irregularities.
Massey Mine Explosion Prompts Improved Industry Oversight

April 5
An explosion at a Massey-operated mine in West Virginia killed 29 workers, making it the worst U.S. coal-mining disaster in 40 years. The company was cited for improper ventilation procedures and safety violations, prompting the U.S. mine regulator to ramp up enforcement -- a crack of the whip that all mining companies are still feeling. (See
"Time Line: Mining for Disaster"
for more.)
Record Rains Ravage Brazil

April 5
Record rainfall led to a tragic mud slide in Rio de Janiero that killed at least 200 and caused an estimated $13 billion in economic losses. In June, floods befell the nation again, killing 42 and leaving 115,000 homeless.
Quake Rocks China

April 14
More than 85% of the homes in Jiegu were leveled by a 6.9 magnitude quake in the Qinghai province that killed 400 and injured 10,000. As one of China's poorest provinces, there were few locations less prepared to deal with the fallout.
Iceland Volcano Grounds Airlines

April 14
Thick clouds of volcanic ash blocked out the Northern European sky after a series of eruptions of the Icelandic volcano Eyjafjallajokull intermittently halted air traffic throughout Europe until May 17. The worst of the disruptions occurred in the first week, causing losses for the tourism, aviation and insurance industries.
BP's Deepwater Horizon Explodes

April 20
The largest environmental disaster in U.S. history began with an oil rig explosion on BP's Deepwater Horizon in the Gulf of Mexico that killed 11 crew members. Before summer ended, BP would allocate $20 billion for spill-related claims, fire CEO Tony Hayward and receive an unrelated, record $50 million fine for safety violations that led to the 2005 Texas City explosion. On September 19, after 87 days, the company would finally seal the leak. Clean-up continues. (See
"The Legal Recourse in a Sea of Oil"
for more.)
Greek Debt Crisis Turns Violent

May 5
The Greek financial crisis reached a tragic climax when three people were killed in Athens amid protests and a nationwide general strike against a strict government austerity plan. The crisis began in 2009 when the newly elected government discovered a budget deficit more than twice of what had been previously announced. The deficit could have forced Greece to default on its debt, prompting ratings agencies to slash Greek bond ratings to junk level. Budget cuts and a 110 billion euro EU/IMF bailout followed to prevent the crisis from spreading throughout the Eurozone.
Johnson & Johnson Recalls 130 Million Pediatric Products

April 30
An unprecedented recall of 130 million pediatric products, from PediaCare to Benadryl to Children's Tylenol, depleted pharmacy shelves nationwide and left parents fearing that their children might have ingested metal. The recall came not due to reported health effects but because of a manufacturing flaw discovered at a Pennsylvania plant that was closed by the FDA.
Flooding Hits Tennessee Hard

May 3
A series of thunderstorms over multiple days dumped more than 13 inches of rain on Tennessee, Kentucky and Mississippi, swelling creeks, lakes and rivers above their banks. At least 30 people were killed, roads were washed away and property damage in Nashville was particularly widespread -- so much so that the legendary Grand Ole Opry was shuttered for renovations until late September.
"Flash Crash" Stuns Wall Street

May 6
A mysterious, nearly 1,000-point, mid-day plunge in the Dow staggered Wall Street, paralyzing traders amid fears that the European debt crisis had reached a tipping point. An SEC investigation later uncovered that a single firm's attempt to trade $4.1 billion in specialized future contracts triggered the panic.
Bangkok Clashes Kill 50, Cause $1 Billion in Insured Losses

May 13
At least 21 people died when Thai troops clashed with opposition supporters in the capital city of Bangkok in what has been called the deadliest violence in the city in 18 years. The fighting arose after opposition "red shirt" forces began protesting in an attempt to persuade the government to call new political elections.
U.S. Launches Cyber Command

May 21
Secretary of Defense Robert Gates announced the activation of Cyber Command, the Pentagon's initiative to protect U.S. military missions, government networks and critical infrastructure from cyberattack.
Madoff Victims Recoup $15.5 Billion

May 24
Approximately 720,000 investors, some 80% of Bernie Madoff's European clients, received $15.5 billion in an agreement with their banks, representing a recovery of almost 25% of the total $64.8 billion in losses attributed to Madoff's Ponzi scheme.
McDonald's Recalls Shrek Cups

June 4
McDonald's recalled 12 million promotional drinking glasses for the movie Shrek Forever After after they were found to be tainted with cadmium, a carcinogen that can cause kidney problems and soften bones.
Eight Employees Convicted for Bhopal Tragedy -- 25 Years Later

June 7
A court issued two-year jail sentences to eight former employees of the Union Carbide plant in Bhopal, India, that caused the worst industrial accident in history. "Too little, too late," stated Amnesty International about the prison terms given those who oversaw the leak of 40 tons of the toxic methyl isocynate that killed 3,000 immediately and as many as 25,000 in time.
Ground Zero First Responders Receive $712.5 Million Settlement

June 10
More than 10,000 ground zero workers who sustained respiratory illnesses during their 9/11 cleanup efforts reached a $712.5 million settlement with New York City and its insurer WTC Captive Insurance Company. The case had originally been settled in March but the judge rejected the deal for being too small.
Cops Bust Massive Fraud Ring

June 15
Police in 12 countries busted one of the biggest global fraud rings in history, arresting 178 suspects accused of participating in credit card fraud, robbery, extortion, money laundering and even sexual exploitation. The gang is believed to have made nearly $25 million, much of which came from the 120,000 stolen credit cards authorities found during raids.
U.S. Adopts Preparedness Standards

June 18
The Department of Homeland Security officially adopted a series of business continuity standards first recommended by the 9/11 Commission to improve the private sector's preparedness for disasters.
Google Wins YouTube Suit

June 23
A federal judge sided with Google in a landmark $1 billion copyright infringement case brought by Viacom against Google-owned YouTube. Viacom had alleged that YouTube knowingly allowed copyrighted material on its site, but since the video-sharing site regularly removes protected content when notified by its rightful owner, it was not found liable for copyright violations. The decision was a major victory not just for Google but for all internet content providers.
Goldman Sachs Settles SEC Fraud Charges for $550 Million

July 15
Goldman Sachs agreed to the largest sum a Wall Street firm has ever paid to settle SEC charges that the firm misled investors in the subprime market leading up to the housing market collapse. "This record-setting settlement reflects the egregiousness of Goldman's conduct and should serve as a powerful deterrent," said Lorin Reisner, deputy director of the SEC enforcement division.
AIG Settles $725 Million Fraud Case

July 16
This time, the bailed-out insurer made the news not for its role in the housing market collapse and subsequent financial crisis of 2008 -- but for a nine-figure sum it agreed to pay to settle an investor lawsuit related to the company's stock plunge following Eliot Spitzer's 2004 investigation into bid rigging and faulty accounting. The nearly three-quarter-billion-dollar payout went to public pension funds in Ohio, New Mexico, Mississippi and California.
Aon Starts Accepting Contingents
July 21

In a move decried by the Risk and Insurance Management Society (which publishes this magazine), the world's second largest insurance broker announced that it would once again accept controversial contingent commissions -- just months after a five-year ban on the practice expired.
Dodd-Frank Act Becomes Law

July 21
President Barack Obama signed sweeping financial reform legislation that, in addition to enacting new financial industry regulations and seeking to lessen the systemic risk the nation faces from banks, created the Federal Insurance Office. It remains to be seen exactly how this authority will affect the insurance industry's perennial state vs. federal regulatory debate.
Record Flooding Cripples Pakistan

July 29
Flood-prone Pakistan suffered its worst flooding in 80 years after relentless monsoon rains raised the Indus River high enough to submerge one-fifth of the nation's land area underwater. The death toll exceeded 1,500, some six million people were displaced, nearly 700,000 houses were destroyed, 1.4 million acres of crops were flooded and the total economic impact has been estimated at more than $40 billion.
Russia Burns

July 29
Record-breaking heat and drought caused wildfires that destroyed one-fifth of Russia's crops, killed more than 50 and left 3,000 homeless as the uncontrollable inferno scorched 700 square miles. The largest public scare came when forests that had been contaminated by the Chernobyl meltdown began to burn, potentially sending radioactive smoke into the sky, but no major related effects have been reported. Economic costs have been estimated as high as $15 billion.
Gunman Kills 9 at Beer Distributor

August 3
A truck driver accused of stealing beer from the Connecticut beer distributor that he worked for killed eight employees at the facility before turning the gun on himself. Omar Thornton was scheduled to attend a disciplinary hearing on the morning of one of the nation's worst acts of workplace violence in recent memory.
HP Chief Resigns Amid Scandal
August 6

Hewlett Packard CEO Mark Hurd quit following a sexual harassment investigation that revealed a personal relationship between him and a contractor who received various improper payments from HP.
An Eggstra-Ordinary Recall

August 17
After more than 1,800 cases of salmonella were reported, Iowa-based Wright County Egg and Hillandale Farms issued the largest egg recall in history: more than 550 million eggs. The event brought to light Wright County Farms' history of lawsuits, health violations and acts of animal cruelty. A class action lawsuit was filed on behalf of many of the salmonella-stricken individuals.
Bedbugs Take Manhattan

August 21
A summer of bedbug infestation in New York City reached its apex -- literally -- when the pests were discovered to have infiltrated the Empire State Building. Retailers including Nike, Victoria's Secret and Abercrombie & Fitch were forced to endure the reputation and logistical costs of the bloodsuckers throughout 2010.
New Zealand Quake Costs $4 Billion

September 3
A 7.0 magnitude temblor shook New Zealand, causing widespread building damage and insured loss estimates of up to $4.5 billion. Fortunately, few injuries were reported.
Hurricane Earl Panics East Coast

September 5
Its bark was worse than its bite, but Hurricane Earl, the first major storm to threaten the U.S. in 2010, caused panic from the Carolinas to Maine as its trajectory had many fearing that the unprepared Northeast would be struck. A glancing blow was the only fallout, leading some preparedness proponents to worry that "the boy who cried wolf" syndrome will hamper efforts to protect East Coast residents the next time a hurricane inevitably makes its way north.
Asteroids Buzz by Earth

September 8
Two asteroids, the largest of which was 65 feet in diameter, cruised by earth. Fortunately, they were each far enough away to pose no threat to humanity, but they were closer than the moon -- raising fears about how to combat the inevitability of the Armageddon-like scenario.
Pipeline Blast Levels Neighborhood

September 9
A natural gas pipeline explosion killed eight people, destroyed 37 homes and damaged 18 others in the San Francisco suburb of San Bruno, California. The explosion caused some officials to question the work conditions and safety practices of the pipeline's owner, Pacific Gas and Electric and may wind up costing the company more than $1 billion.
Tornado Hits NYC

September 16
A tornado-like storm turned heads after its violent winds killed one, uprooted trees, totaled cars and caused power disruptions. Rail service was also halted for hours by the storm that permanently altered many tree-lined communities in Brooklyn and Queens.
AIG Finalizes Plan to Repay Bailout

September 30
AIG entered into an agreement with the U.S. Treasury Department to repay the $180 billion government bailout it received in the wake of the 2008 financial crisis. As part of the plan, the Treasury Department would swap its preferred shares in AIG for common stock that it would then sell over time.
NFIP Extended for One Year

September 30
President Obama signed the "Flood Insurance Extension Act of 2010," extending the National Flood Insurance Program for a year, providing much-needed stability for its 5.5 million policyholders. The FEMA-run program lapsed three times in 2010 after reauthorization by Congress failed.
Hungary's Toxic Sludge

October 4
Toxic red sludge flooded western Hungary, killing at least nine people and injuring 120 others after a reservoir burst at an alumina plant in Ajka. The spill, which released 180 million gallons of industrial waste, caused massive damage in nearby towns and villages and destroyed all life in the Marcal River. Hungarian authorities estimate that it will take at least a year and tens of millions of dollars to clean up the damage.
Rogue Trader Jailed, Fined $7 Billion

October 5
Former Societe Generale trader Jerome Kerviel did not get off lightly for nearly bringing down one of France's oldest banks by losing some $7 billion and initiating trades well above the bank's total market capitalization. The $7 billion Kerviel now owes is a "symbolic" figure the court never expects to be repaid, but the bigger controversy is that the ruling puts all the blame on one trader -- and none on the bank's poor risk controls, which even Societe Generale termed "deficient."
Zurich Financial Services Settles 2003 Class Action for $455 Million

October 7
Switzerland's largest insurer agreed to pay $455 million to settle a 2003 U.S. class action lawsuit related to its Farmers Group unit. The settlement resolved claims challenging management services fees dating back to 1999 from a pool of up to 13 million policyholders, each of which received an average payout of $35.
Chilean Mine Rescue

October 13
After 69 days trapped nearly a half mile below ground in a collapsed shaft, the first of 33 miners emerged from the earth in a rescue capsule constructed jointly by the Chilean government and NASA engineers. (See
"8 Crisis Management Lessons from the Chilean Mine Rescue"
for more)
Foreclosure Frenzy

October 13
A 50-state investigation was launched, focusing on the mortgage industry's alleged use of fraudulent documents to complete thousands of foreclosures. Headed by Iowa Attorney General Tom Miller, the announcement of the investigation came on the heels of announcements from Bank of America and GMAC that they had suspended all or some foreclosure proceedings pending completion of internal reviews relating to improper verification or notarization on mortgage documents.
Indonesia Earthquake

October 25
A 7.7 magnitude earthquake rocked central Indonesia, triggering a tsunami. Close to 500 were killed and more than 100 remain missing. Questions were immediately raised regarding the operation of an expensive tsunami warning system set up after the 2004 Asian tsunami.
Bank Supervisors Finalize Basel III Reforms at G20 Summit

November 11
Finance ministers and central bankers from the Group of Twenty nations endorsed new international capital standards requiring banks to hold fatter capital buffers and abide by more stringent liquidity rules.
UN Climate Change Conference

November 29
With no momentum gained since last year's Copenhagen talks, discussion resumed in Cancun, Mexico, with little optimism. U.S. Special Envoy for Climate Change Todd Stein said that the key issue is "a question of political will among players." Don't expect much.