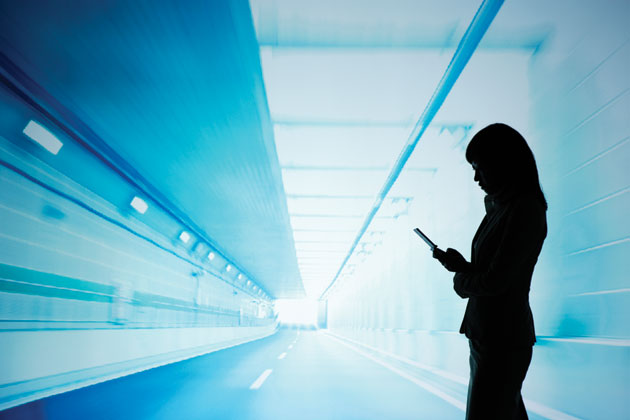 In looking back at the earliest issues of
Risk Management
, it is clear that risk management and insurance was very male-dominated in the 1950s. But it was not only this publication that reflected the lack of diversity prevalent in the business at that time; most other insurance publications-and companies-looked the same. Quite simply, there were few women working in this industry at that time. That is far from true today.
Looking out on the floor of the RIMS Annual Conference & Exhibition, or any industry-related conference for that matter, it is clear that women have made their mark. The number of women within the risk management and insurance field has grown drastically in the last 10 years alone.
This follows the wider national trend of women succeeding in the workforce. As the U.S. economy moved from manufacturing to services, brain power became more important than brawn, putting men and women on a level playing field. In 2009, there were more than 66 million women employed in the United States, according to the Bureau of Labor Statistics. That is up from 32.7 million in 1973.
Today in the United States and Europe, women earn 60% of university degrees and run some of the world's largest companies, such as Kraft Foods, Pepsico, Wellpoint, DuPont and Xerox. And according to the United Nations Association, women work 67% of the nation's working hours and produce 50% of the world's food.
The World Economic Forum has issued its annual Global Gender Gap Report since 2006, and each year the forum has found a direct connection between a country's ability to leverage the talents of women and that country's economic success. "A nation's competitiveness depends significantly on whether and how it educates and utilizes its female talent," according to the 2007 report.
More encouraging still, a December 2010 report from the U.S. Department of Labor found that women accounted for 51% of all people employed in management, professional and related occupations in 2009.
Unfortunately, even in 2011, we are still seeing gender bias from some of the world's largest companies. A massive class action lawsuit was filed against Walmart for alleged sex discrimination. It could go down as the largest employment class action suit in U.S. history, encompassing as many as 1.5 million former and current Walmart employees. Despite this, however, the trend is clear: more women than ever before are climbing the corporate ladder.
Many business publications recognize this and run an annual list of women executives to watch in the coming year. Sadly, women in the risk management and insurance industry rarely make these lists. It is difficult to understand, considering female risk professionals are increasingly earning high-profile positions as they strive to stamp out the gender biases of the past-and the present.
To show how things have changed and how the remaining challenges can be overcome, we present the following firsthand stories from women who are succeeding within the field of risk management.
KATHIE MALEY
Vice President, Risk Management, Special Risk Services,
IMA Financial Group

While it is no secret that we are a male-dominated industry, I believe I am a perfect example of what any woman can accomplish if she establishes her own personal and professional goals. Living and working in Houston added to the challenge, given the prevalence of men in the oil and gas business. While there were certainly many examples of where decisions and opportunities-and even access to potential opportunities-were clearly driven by gender versus talent, I used those experiences to strengthen my resolve.
What I see-and firmly believe-is that once you have earned the respect of the male peer group, those experiences become less and less prevalent. Knowing that those challenges exist continues to provide me with motivation to bring my best to what I do each and every day.
For women who are struggling with that dynamic or have found themselves in an environment that is not ideal, I would encourage them to seek out the champions in their organization who will help them. I have found that there are very capable men and women in this business who are energized by the prospect of strong, talented women and are looking to add them to their team every chance they get. Find those individuals and look for ways to partner and build relationships.
Attempts to overcome the challenges of the past alone will likely fail. Conversely, using those issues as an excuse for lack of accomplishment is short sighted. Our ability to think creatively to avoid the burden of legacy decisions and better understand the human element of this business positions us to bring added strength to the industry.
While it has been a cliche for years, this truly is a relationship business. Women's abilities to build and maintain strong relationships will drive the next generation of risk management and insurance professionals.
STACEY NIELSEN

Senior Risk Analyst,
Dollar Tree Stores

In my opinion, women have steadily gained a strong foothold in this field. I, for one, don't believe that I have been passed over for jobs or not given raises because I'm a woman.
If you are open to learning as much as you can in whatever position you are in. And if you're willing to expand your knowledge through professional development and you're prepared to work hard, you will be respected in the industry and able to advance yourself professionally.
I suspect that there is a bit of a self-fulfilling prophesy involved; if you believe that you will face setbacks or not be treated fairly because you are a woman, then the chances are greater that that is exactly what will happen. However, if you believe in yourself, your work ethic and your skills, the people you encounter will believe in you, too.
The women who were trailblazers in the field have helped the women of today get to where we are. Due to their diligence, I believe that women today and tomorrow, with hard work and commitment, have limitless opportunities ahead of them.
TAMIKA PUCKETT

Risk Manager,
Public Schools of Alexandria City, Virginia
I have found that being a female has presented some challenges. Despite my education, knowledge and experience, I often have had to prove myself knowledgeable before being granted a professional level of respect. Additionally, as in most other industries, I do believe that females in the field are generally paid less than their male counterparts.
Typically, the role of women in the field of risk management and insurance has been limited to claims handling. Overall, risk manager jobs are few and far between. I find that the number of female risk managers is disproportionately low when compared to men, especially in larger corporate entities. However, change is inevitable, and I believe that we will continue to see a rise in the number of female managers in the industry in the coming years.
TRISH HENRY

Executive Vice President and Deputy General Counsel,
ACE
I do not look like most people's idea of a typical insurance executive. I certainly do not gain instant respect when I walk into a room-but I do believe that I get respect when the meeting gets underway and the issues get discussed.
In some ways, being the only woman in the room can be an advantage. You can be more memorable, and if things are tense, sometimes the presence of a woman can make everyone behave a bit better. All of this only works if you are very prepared and you make sure you are heard; interrupt if you have to because if you do not, you can become invisible.
I have worked very hard and sacrificed a lot personally, but I really do not think I have had to work harder than a man would in a similar role. Men and women in senior leadership roles at successful companies all work hard and give up things personally to get where they are.
What may be different is that many-certainly not all-successful men have wives who stay at home and handle the bulk of the issues with the family and household. For any family in which both spouses have high-pressure jobs and travel, it can become overwhelming trying to manage everything. Some of my women friends with really big jobs have husbands who stay home. I think that says something. My husband is a lawyer who works full-time, but luckily his office is five minutes from home and from our daughters' school, and he does not travel for his work. Without his support, I would never be able to work and travel as I do.
I think the future for women in the insurance industry is bright. More women than men are graduating from college and attending graduate school and performing quite well. There are many women-owned businesses and women risk managers making the purchasing decisions, so financial services companies have to make sure there are opportunities for women that reflect this diverse client base.
While women are doing very well up to the middle management/vice president level, I personally think there should be more women division presidents, CFOs and CEOs. I am not sure why progress at the very top has been so slow. I do not believe it is because of underlying gender discrimination, but rather I think it may be because a lot of those positions are filled by the networking pipeline. When senior roles become open, it is natural for the current management to think of people they know internally or externally who may be good for the job. And since most companies are predominately run by men, the people they think of happen to be men. There is no intention not to consider women.
It may go like this, "Oh, this guy would be perfect to run X department, I worked with him at XYZ Company and he is great." He probably is great. But I bet there are some female candidates who would also be great. If they are not known by the most senior individuals in the industry, however, they rarely get a chance. It is a little bit of a catch-22; you need more very senior women in place so that the people they think of in their networking pool to fill big jobs are other women. The talent is there, but it may be going undiscovered.
LORI SEIDENBERG

Vice President of Enterprise Risk Management,
Centerline Capital Group
What's really funny is that it has only been during the last few years that I have noticed the gender card. I spent so many years trying to beat the age card, as I was always younger than my peers. Now that I am older and increasingly find myself participating in high-profile situations, I am more aware of the gender inequity.
My big "a-ha" moment came this year while I was participating on the working group revival of the New York Insurance Exchange. As I entered the large conference room for the first meeting, I was the only woman in the room of around 30 participants. Now I am more aware. It is sometimes frustrating to see panels with no women participating. I now always make that comment on the course evaluation form. I am excited there are more women's forums where we can come together and discuss our challenges.
Most of my supervisors have been women. I would say in my 21-year career, I have only had two male bosses. That could be a blessing and a curse. I think women too often are critical of other women. First, there is increased competition among women to occupy the same jobs. They feel if they are not strong with other women then they are viewed as weak. Second, they can be the worst in stereotyping other women as being "too weak" or "too emotional."
I believe women will continue to have increased success in the industry. This is because there are more women being promoted up through the ranks. Eventually, they will increasingly reach the C-suite and be promoted to the CEO position. It will take some more time-but it will be worth the wait.
DORIEN SMITHSON

Executive Vice President of Strategic Outcomes,
Practices Willis

If you look at my career track it would be difficult for me to say I had setbacks. In my 31 years I have held high-level roles at four major global firms. However, as a woman in leadership positions, you can be discounted initially. People can pre-judge you to meet their predetermined expectations. I believe most of it is based on our cultural socialization. We naturally rely on what we are used to seeing or experiencing in our life.
In terms of promotions and compensation I have also been fortunate to work for results-oriented companies. When the focus really is on results it sometimes levels the field. It certainly gives you a better hand to negotiate.
I love this industry, and I think the future is very bright. We are seeing more women in leadership and critical roles in the industry and a greater diversity of styles. Family dynamics are changing relative to parenting. This will change the cultural socialization, expectations and pre-judgments. This will break down the stereotypes.