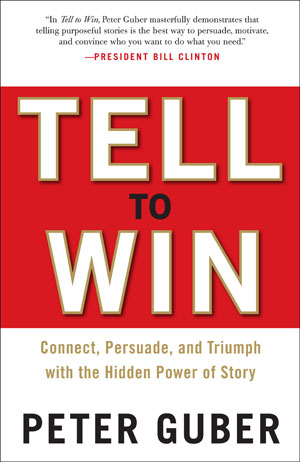 The ability to convince people to do certain things is something most business executives are taught before they ever reach the corner office. But learning how to form personal, emotional bonds with customers and upper management is not the easiest skill to master. In
Tell to Win
, author Peter Guber claims that the stories we tell about our companies, our products and ourselves are the exact things that elicit the emotional reactions that help form lasting, important relationships and, in the end, help your company succeed. And Guber is one who knows how to run a successful business. He is the former chairman of Sony Pictures and current CEO of Mandalay Entertainment Group.
To help convince readers, he enlists a crew of successful individuals and powerful storytellers, such as YouTube founder Chad Hurley, NBA legend Pat Riley, director Steven Spielberg and spiritual guru Deepak Chopra. Through their words, and his own, the book shows how to move beyond soulless PowerPoint slides and mind numbing charts to create meaningful stories that can motivate, empower and win over everyone from shareholders to customers to employees.
Gruber was not born with a talent for storytelling or the knowledge of how powerful that talent can be. That was taught to him by a few impressive individuals including Bill Clinton, the Dalai Lama, Arianna Huffington, Nelson Mandela and Frank Sinatra. Though Gruber may come across as more of a professional name-dropper than a skilled storyteller, each and every well-known individual that is mentioned serves a purpose.
Tell to Win
clearly expresses how important narrative powers are. But it also assumes we are all natural storytellers. To those that are, this book will do wonders, and to those that are not, it can serve as motivation to improve or merely exist as a frustrating reminder of a missing talent. Either way, Gruber's storytelling skills come through just as strong on paper as I assume they do in person, making for an quick and entertaining read.