[caption id="attachment_12667" align="aligncenter" width="630"]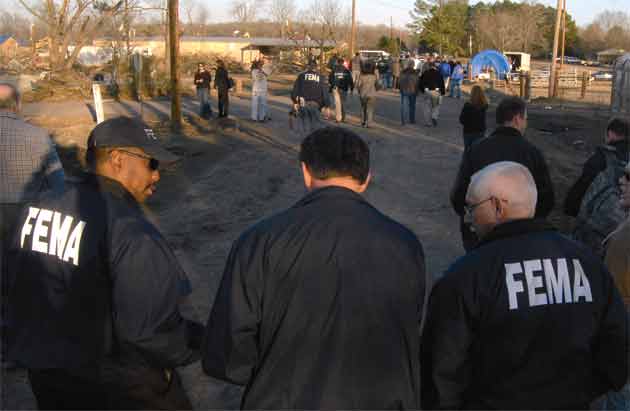 FEMA field agents tour tornado damaged areas in Atkins, Arkansas, after a 2008 storm.[/caption]
These days, when disaster strikes, the Federal Emergency Management Association (FEMA) is one of the first responders, offering support to citizens and local rescue teams to ensure that "as a nation we work together to build, sustain, and improve our capability to prepare for, protect against, respond to, recover from, and mitigate all hazards." Though the organization has faced criticism for its response to several catastrophes, including Hurricanes Andrew and Katrina and the September 11 terrorist attacks, it has succeeded in aiding millions of distressed citizens and rebuilding countless battered communities. On April 1, FEMA celebrates its 32nd year in existence. Here, we look at some of the organization's most important milestones.
FEMA is Formed
April 1979
President Jimmy Carter issued an executive order calling for the creation of an all-encompassing disaster response agency. FEMA was born, in the process, absorbing several organizations, including the Federal Insurance Administration, the National Weather Service Community Preparedness Program, the Federal Preparedness Agency of the General Services Administration and the National Fire Prevention and Control Administration.
James Lee Witt Appointed
April 1993
Soon after President Bill Clinton took office, he appointed James Lee Witt as director of FEMA, a position he held until 2001. Witt was formerly the director of the state Office of Emergency Services for Yell County, Arkansas. He is often credited not only for bringing related experience to FEMA but for raising the agency's level of professionalism and ability to respond to disasters.
9/11
September 2001
In response to September 11, FEMA activated 25 of its 28 Urban Search and Rescue teams, five of which were deployed to the Pentagon and 20 to the World Trade Center. In 2002, the organization published the World Trade Center Building Performance Study, which found that the towers were sturdy enough to sustain the impact of the airliners, but the ensuing fires fed by massive amounts of jet fuel caused the structures to collapse.
FEMA Moves to DHS
March 2003
FEMA joined 22 other federal agencies, programs and offices in becoming part of the Department of Homeland Security, and its Emergency Preparedness and Response Directorate. During this time, President George W. Bush appointed Michael D. Brown as FEMA's director, a move heavily criticized due to Brown's lack of disaster preparedness experience. Soon after, however, Brown criticized FEMA?s absorption into DHS, saying it would "fundamentally sever FEMA from its core functions" -- something many critics would later cite after the agency's poor response to Hurricane Katrina.
Hurricane Katrina
August 2005
The largest natural disaster in U.S. history was a test for the nation's new disaster response plan, and in many people's eyes, it was a failure. Then-FEMA Director Brown was criticized for what was seen as a slow initial response to the situation and an inability to effectively manage the displacement of thousands of residents. He was voted number one on CNN's "Political Turkey of the Year" list. On September 12, 2005, Brown resigned, though many believed he was pushed out by the administration.
PKEMRA
October 2006
Following FEMA's lackluster response to Hurricane Katrina, President George W. Bush signed into law the Post-Katrina Emergency Reform Act (PKEMRA). The act significantly reorganized FEMA, provided new authority to remedy gaps that became apparent in the response to Katrina and included a more robust preparedness mission for FEMA.
FEMA Appoints New Head
May 2009
President Barack Obama named W. Craig Fugate, who spent eight years as the director of the Florida Division of Emergency Management, as FEMA administrator. Fugate came to FEMA with more than 30 years of emergency services experience, including overseeing 11 presidentially declared disasters and $4.5 billion in disaster assistance. Obama chose Fugate in the hopes that he could handle future disasters better than his predecessors.