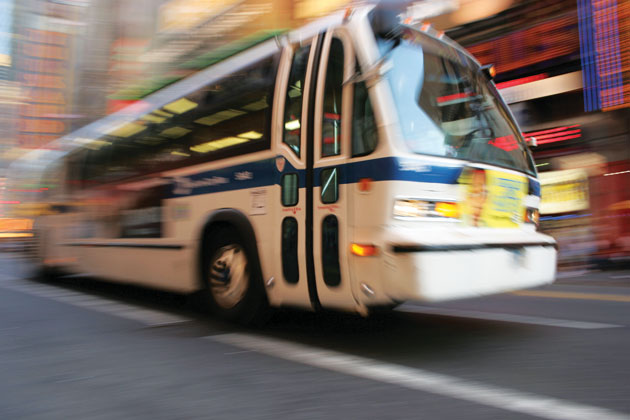 In New York, most people rely on mass transit. And for getting out of town, one of the most popular choices are the motorcoach buses that depart from Manhattan's Chinatown. These "Chinatown buses" offer riders a cheap ticket out of town to destinations such as Boston, Philadelphia, Washington and various casinos in the area.
But these low-cost tour bus companies have a horrifying track record of safety. On March 12 that fact tragically came to light when a bus returning to Chinatown from the Mohegan Sun Casino in Connecticut overturned on a Bronx highway, killing 15 people and injuring 20. Just two days later, two people were killed in another accident involving a Chinatown bus returning to New York from Philadelphia. That bus line, Super Luxury Tours, has one of the worst driver safety ratings in the nation, according to a report from the U.S. Department of Transportation. Though Super Luxury Tours may be considered the bad seed of the tour bus industry, many motorcoach companies have a spotty safety record. In fact, the Advocates for Highway and Auto Safety reported 34 motorcoach crashes nationwide in 2010 that resulted in 46 deaths and injuries to 363 people.
These crashes have highlighted a long-standing concern over the safety of such discount coaches and, more specifically, the issue of driver fatigue, which is suspected in the Bronx crash. Currently, drivers are required to maintain handwritten logbooks to track the hours spent on the road. These have commonly become referred to as comic books, however, as many drivers allegedly falsify their records routinely.
Other concerns facing tour bus drivers are issues with licenses and medical evaluations. According to the American Bus Association, more than half of the deaths in bus accidents from 1999 to 2009 could have been prevented if the drivers involved had not been allowed behind the wheel.
In response to March's back-to-back bus accidents, a sting was initiated by the Manhattan Traffic Task Force, which pulled over more than a dozen tour buses at a surprise checkpoint. Each of the buses failed the test when inspectors from the city's transportation department found that nine drivers should not have been behind the wheel and 10 buses were deemed unfit for the road.
In a more sweeping move, Sen. Charles Schumer (D-NY) asked New York's Department of Motor Vehicles to re-examine all drivers of low-cost tour buses for previous safety violations and suspended licenses. He believes if an audit had previously taken place, the March 13 crash would not have occurred. "The audit would have shown that the man behind the wheel shouldn't have been behind the wheel, and he wouldn't have been driving," Schumer said.
In further action, Sen. Frank Lautenberg (D-NJ) penned a letter to U.S. Transportation Secretary Ray LaHood, saying he is "concerned that DOT is lagging behind in its progress on the Motorcoach Safety Action Plan."
The plan, introduced back in 2007 after a motorcoach crash in Atlanta killed five members of the Bluffton University baseball team, stalled shortly after its origination. It eventually resurfaced again this January after a motorcoach accident in Ohio. Now, politicians are pushing for permanent legislation to improve tour bus safety standards.
The Motorcoach Enhanced Safety Act, co-sponsored by Schumer and Sen. Kirsten Gillibrand (D-NY), would, among other things, require buses to be less flammable and have safety belts, anti-ejection windows, tougher roofs that can withstand rollovers and increased fire resistance. The bill would also address the logbook issue by having electric, on-board recorders installed in each motorcoach.
It is not only the bus drivers or parent companies that are to blame for increased risk among buses. A recent report issued by the federal government regarding city transit buses states that it may have to rewrite safety rules due to passengers being heavier today that they were in the past. The Federal Transit Authority (FTA) proposes raising the assumed average weight per bus passenger from 150 pounds to 175 pounds, which means fewer people will be allowed to ride city buses. The changes are needed to "acknowledge the expanding girth of the average passenger," said the FTA.
With steadily rising fuel prices, more and more people are turning to public transportation. Hopefully, for bus riders, that will not prove to be a risky decision.