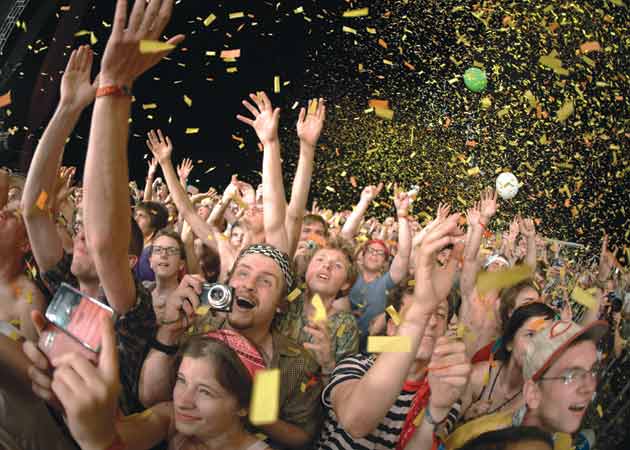 In December 1969, thousands of music lovers converged at Northern California's Altamont Speedway for a free festival that marked the end of the Rolling Stones' successful American tour. On the bill were Santana, Jefferson Airplane, Crosby, Stills & Nash and the Stones themselves. With this genre of music, it seemed like nothing more than peaceful setting for the 300,000 in attendance at what was expected to be the Woodstock of the West. Instead, what started as a musical expression of peace turned into a deadly combination of events.
In what some have called a critical mistake, the Rolling Stones' management hired the Hells Angels as security for the festival, with the Angels reportedly accepting $500 worth of beer as payment. With a drug-fueled crowd and intoxicated security, the atmosphere quickly turned to violence.
As the Rolling Stones played "Under My Thumb," 18-year-old, Meredith Hunter, high on methamphetamines at the time, rushed the stage brandishing a gun. The man was quickly accosted by the Angels, who stabbed and stomped him several times before leaving him for dead. Three others also perished at Altamont, one fan who drowned in a drainage ditch and two people in sleeping bags who were accidentally run over by a vehicle.
The ensuing firestorm of controversy surrounding what Rolling Stone magazine called "Rock & Roll's Worst Day" not only marked the end of the hippie-vibe and Woodstock generation -- it launched a new era of festival risk management.
Ben Stern is no stranger to large, high-risk events. As vice president of the California-based Heffernan Insurance Brokers, he insures the Electric Daisy Carnival, a three-day, West Coast rave notorious for illicit drug use, underage drinking and a record number of attendee hospitalizations. Here, as with most other music festivals, the number-one risk organizers face is keeping the crowd safe.
"A lot of times they're inebriated or not making decisions with a clear mind so you have to be cognizant of that," said Stern. "When you're dealing with someone under the circumstances, you have to do so very carefully."
Such concerns are magnified at multi-day festivals that allow overnight camping -- a feature of some festivals that presents numerous problems. "Not only are people drinking for 10 to 12 hours during the shows, but they're going back to the campsite and continuing," said Stern. "You've got a 24-hour exposure. You can't control what they're doing in their tents -- drugs, alcohol, sexual abuse."
The three-day Coachella Valley Music and Arts Festival is one of the more popular multi-day music gatherings in the United States, attracting more than 50,000 music lovers to Indio, California, each year. But bigger did not equal better in this case.
Last year, gate-crashers used bolt cutters along the perimeter of the grounds to gain free entrance. To make matters worse, hundreds of guests gained admission using counterfeit tickets. Combined, this allowed for 15,000 entrants beyond permitted capacity and led to what festival security called "a borderline riot situation."
Risks can be even more pronounced if you're dealing with a seven-day festival involving 50,000 individuals and a towering bonfire, as is the case with Burning Man. One of the larger festivals on the West Coast, Burning Man brings together tens of thousands of people for a week-long celebration of radical self-expression and self-reliance in Nevada's Black Rock Desert. The event culminates on its final night each year with a ritual burning of a wooden effigy, bringing the masses together in one central location for an awe-inspiring night of fire and metaphors. But where there's fire, there's risk.
Last summer, an attendee claimed he was pushed into the fire due to poor crowd control. When the case went to court, however, the judge had little sympathy. "The words of the judge were roughly, 'the person had not taken due course in protecting himself at an event called Burning Man, where they clearly state on the ticket the dangers inherent in attending such an event,'" said Amy Vitarelli, vice president of Heffernan Insurance. In the world of festival risk management, this was seen as a big win for Burning Man, setting a precedent for individuals assuming the risk posed by such festivals as stated on most tickets.
For the worst example of failed festival risk management, one need look no further than the debauchery that was Woodstock '99. Despite massive hype that it would be a reincarnation of the 1969 original, the 30-year anniversary show provided more chaos and violence than peace and love. With oppressive heat, exorbitant food and water prices, lack of security and an insufficient number of facilities, the crowd of 200,000 turned to riot mode. Attendees broke into ATMs, looted merchandise, turned over -- or set ablaze -- abandoned vendor booths and started countless fights. There were also four alleged instances of rape, and property damage reached upwards of $1 million.
"Woodstock '99 is an example we give in regards to what not to do as a festival promoter," said Stern. "Everything about that festival was incorrect."
Just as the crowd can be worrisome for event risk managers, so too can the artists. In March 2004, pop princess Britney Spears was performing in Moline, Illinois, singing and dancing to her new song "Boom Boom" when her knee buckled and she was forced to retreat backstage. Twenty minutes later, she returned in a bathrobe to inform her fans that the show could not go on.
Just three months later, the situation worsened. Her knee completely gave out during a video shoot for her single "Outrageous." If she was a piano player, perhaps the fate of her upcoming world tour would have been spared, but since her performances rely heavily on choreography and her injury would keep her off her feet for the next six weeks, her managers were forced to cancel her highly anticipated, 36-city, two-month-long "Onyx Hotel Tour."
Fortunately for her management team, however, they had purchased event cancellation insurance just in case something of this nature did occur. This type of insurance not only covers the expenses and profits of an event should it be canceled, but it also pays the cost to keep it going.
Inclement weather, for example, may not always force cancellation like a torn knee ligament, but it can create challenges. James Chippendale, founder and CEO of CSI Entertainment Insurance, has learned this first hand.
He was once involved with organizing a festival nearly cancelled by torrential rain. The authorities were close to calling off the event, saying it was not safe for people to attend. But since they purchased event cancellation insurance, the company stepped in to see what measures could be taken to make the field safe enough for authorities to allow the show to go on. "So they brought in plywood, they brought in mulch, hay and additional systems to pump the water out," said Chippendale. "Whatever that cost was to keep the event and the door open, event cancellation coverage paid for that."
Chippendale, who has worked with some of the largest festivals in the world, including Lollapalooza, Austin City Limits and Ultra Music Fest, believes that such large festivals share the same risks as smaller, community fairs -- events with which CSI also works. A multi-million dollar claim can occur at a 2,000-person town fair just the same as it can at a 90,000-person festival. And when that occurs, the insurance purchased beforehand is no longer a budget burden but a life-saver.
"Smaller [festival organizers] are starting to understand that," said Chippendale. "They were looking at insurance as something you had to buy. Now, they're looking at it as something that's good for their event."
Adding to the risk of event cancellation is that of third party vendors. To coordinate a three-day music festival catering to upwards of 100,000 people, organizers rely heavily on vendors for food, merchandise, lighting, sound, security and first aid. This in itself poses a major risk. What if a food vendor serves tainted meat? Or what if security personnel are not well trained?
To manage these concerns, event organizers should be cognizant of each vendor's insurance coverage and ensure that not only are they fully covered, but that they are indemnifying the event organizers. Simply asking a vendor or third party partner to supply a certificate of insurance is not enough. Festival risk managers should require the third parties to supply copies of their insurance policies in their entirety. This way, organizers will be aware if any exclusions are included that may be detrimental to the event.
"Say you hire a security firm," said Stern. "You don't want that security firm to have a policy with an assault and battery exclusion." Something like this would not be revealed on a certificate of insurance.
At Burning Man, even in the middle of nowhere with a laid-back crowd, there is a team of risk managers who have prepared for the seven-day event for the 11 months prior. "You don't necessarily, as a layperson, think of Burning Man and think 'wow, what a well risk-managed account that must be,'" said Vitarelli. "And yet, it's probably one of the most risk-managed accounts out there, regardless of industry, with respect to festivals and events."
Just as important as ensuring that there is an ample amount of security available, organizers also want to refrain from creating a hostile environment where the crowd feels threatened by an atmosphere of control and dominance. Many festivals, instead of having third party security personnel walk the grounds in uniform, will request these individuals patrol the area wearing plain clothes and blending in with the crowd. "The genius is that it doesn't take away from the event," said Stern. "You don't see it."
Having third party equipment coverage in place is another imperative. During one festival Chippendale insured, a lighting tower collapsed. The tower was owned by one company and holding a jumbotron owned by another that then fell into the bleachers, which were owned by yet another company. "So you have this trickle down damage effect," said Chippendale.
Another major challenge for multi-day festival organizers is managing volunteers. There is never a shortage of people willing to volunteer a few hours of their time for a free ticket. But what happens when a volunteer is injured while performing his or her duties? Event risk managers must have a workers compensation policy in place not only for volunteers but for paid employees as well. Whether in the Nevada desert or a California field, injuries will, and do, happen.
Music festivals, or any event for that matter, involve a sea of people in a world of risk. How the event organizers and risk managers handle crowd safety, insurance and third party risks will determine the success of any festival.