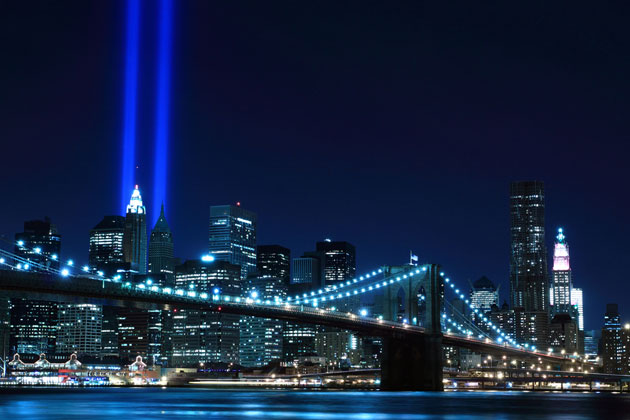 Of all the "where were you when?" moments, none resonates so clearly in my mind as the attacks of September 11, 2001. I'm not a sentimental person by any means but even a decade later, I find myself getting choked up when watching or reading reports of that day.
Everyone has a story. I was working in Midtown Manhattan. From my 20th floor office window, I had a view of the towers and watched as they buckled and fell before my eyes. No one in the office said anything. There were no words.
As I made my way to the train that would take me home to Long Island, the city was in shock. The expressions of sorrow, horror, confusion and fear that I saw likely mirrored my own. As I walked, I stared in a daze at the black smoke in the distance until I realized that I had been walking in the middle of the street for blocks with no regard for traffic. But no car horns ever sounded. At the train station, the mood was the same. Even though trains were delayed, no riders complained. Who would dare when you were sharing the platform with downtown workers covered in the dust of collapsed buildings that once dominated the New York skyline?
When I finally made it home, everyone wanted to hear about what I saw, but I didn't want to talk about it. How do you describe what it's like to watch a skyscraper full of people fall to the ground?
Thankfully, no one I knew died. I was lucky. Loss was everywhere, however, and when I finally returned to the city after a few days, sagging shoulders and hollow, glassy-eyed stares were all too common. I had to stop reading the newspapers because the reports became too excruciating. It was all I could do to keep from crying.
It's a cliche to say that the world irrevocably changed on September 11, but it did. In a sense, the world shrank. Terrorism was no longer something that only happened overseas. The fears of the world were our fears now. And with that came the increased need for more and better security. To a certain extent, Americans had always taken their safety for granted, but now this kind of thinking was obsolete. The attacks showed us that all risks were possible and our mitigation plans were going to have to change to reflect this reality. Ten years later, this mindset lives on every time we go to the airport or participate in a disaster preparedness drill. It is a testament to our resiliency that we now find most of these things to be annoying. Evidently, not even terrorists could stop us from complaining.
If there can be anything positive to take away from this tragedy, perhaps it is that September 11 has made us more vigilant to all the risks that are around us and, as a result, organizations and individuals alike have taken great steps to reduce these threats. We still have blindspots, as evidenced by Hurricane Katrina, for instance. But overall, the argument could be made that in some ways we may be safer than we were 10 years ago.
Of course, this doesn't mean the painful memories of September 11 have vanished, particularly for the families and friends of the nearly 3,000 people who died that day.
But there has been progress. At the World Trade Center site, the National September 11 Memorial and Museum will open this month on the anniversary of the attacks, while the new One World Trade Center steadily climbs to its eventual 1,776-foot height after years of political infighting and financial controversy. Hopefully, these signs of rebirth, coupled with the memory of those we lost, can inspire us to move beyond tragedy and create a new legacy for September 11 -- a legacy of a better, safer world.