The hacking collective known as Anonymous, along with its sister-group LulzSec, have wreaked havoc on the websites, email accounts and phone systems of a variety of organizations, political figures and groups that they deem evil, anti-democratic or pro-censorship. The Sony PlayStation Network, Amazon,
PayPal, MasterCard
and Visa have all fallen victim.
And though the group has suffered setbacks as of late, it insists that it will not slow down its salacious streak of hacking. In fact, a recent Verizon data breach report states that hacktivists like Anonymous stole more data than organized crime in 2011.
Here, we take a look at a few of the lesser-known, though still noteworthy, Anonymous events.
[caption id="attachment_7919" align="aligncenter" width="600"]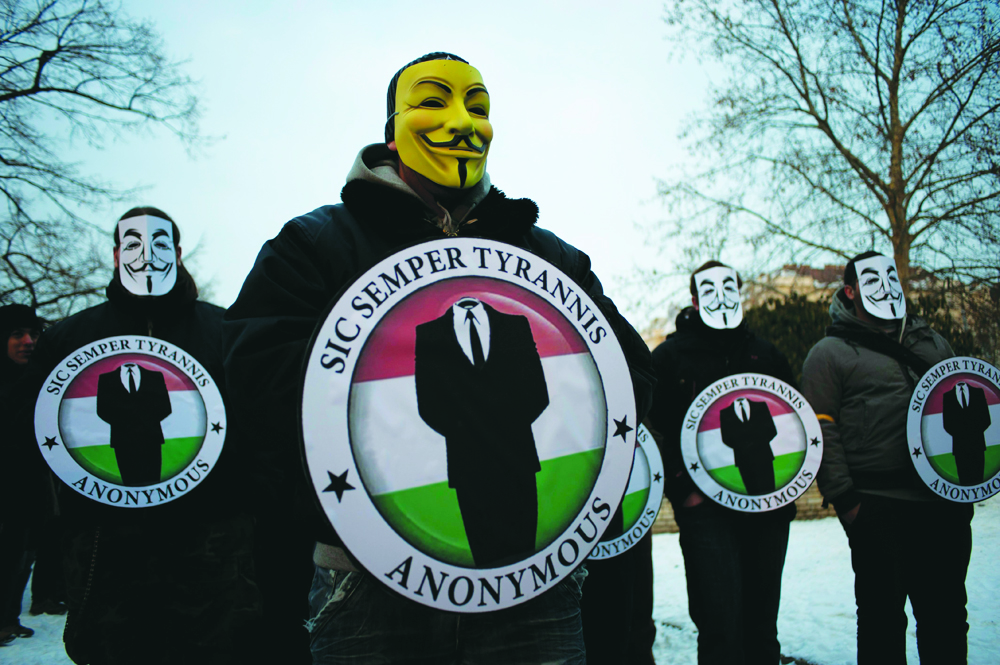 Members of Anonymous appear in Guy Fawkes masks while shields with their logos dring a demonstration against the Anti-Counterfeiting Trade Agreement in Budapest in February 2012. (AP Photo/MTI, Janos Marjai)[/caption]
December 2006
In late 2006 and early 2007, Anonymous took action against Hal Turner, a white supremacist radio host. Turner, who hosted a weekly webcast from his home in suburban New Jersey, claimed the group took his website offline with a denial-of-service attack and cost him thousands of dollars in bandwith bills due to the group flooding his site. Turner sued several rogue websites that posted information obtained during the hack. A judge dismissed the copyright infringement case in 2007.
January 2008
Anonymous gained worldwide attention for its protest against the Church of Scientology. The incident began when a video produced by the church featuring Tom Cruise was uploaded without permission to YouTube and the church issued an order for removal of the video. Seeing this as a form of internet censorship, Anonymous formed "Project Chanology," which bombarded the church with denial-of-service attacks, prank calls its phones and black faxes (pages of faxed black paper that exhaust toner supply and take fax machines offline).
June 2009
The 2009 Iranian presidential election was allegedly fraught with vote rigging. To protest this perceived injustice, Anonymous, together with The Pirate Bay, a pro-online piracy and bit torrent site, and various Iranian hackers, launched an "Iranian Green Movement Support" website. The portal continues to provide resources and support to protesting Iranians, despite attempts by the Iranian government to censor news on such topics.
January 2011
Anonymous launched an attack on the website of the Irish political party, Fine Gael. The personal details of up to 2,000 people were compromised in the attack, and the homepage of the party's website was changed to show an Anonymous logo with the text "Nothing is safe, you put your faith in this political party and they take no measures to protect you. They offer you free speech yet they censor your voice. WAKE UP!"
February 5, 2011
In an act of over-confidence, Aaron Barr, the CEO of HBGary Federal, a tech security company employed to protect the computer systems of the U.S. government, claimed that his firm had successfully infiltrated the hacking group. Anonymous retaliated by replacing the home page of HBGary's website with a message stating that the hacking collective should not be messed with. Anonymous also took control of the company's email, dumping 68,000 correspondences from the system, erasing files and taking down its phone system. Barr resigned two weeks later to focus on "rebuilding [his] reputation."
June 2011
Members of the volunteer group Food Not Bombs had been providing free vegetarian food to homeless people in downtown Orlando for years. When several members were arrested for doing so against city ordinances, Anonymous took it personally. The group took down the websites of Mayor Buddy Dyer, the Orlando Chamber of Commerce, the Orlando International Airport, the Roman Catholic Diocese of Orlando and the Rotary Club of Orlando. A "boycott Orlando" message was also inserted into the Universal Orlando Resort site.
August 2011
In opposition to the political strife in the country, Anonymous hacked the Syrian Defense Ministry's website, replacing the homepage with an image of the pre-Ba'athist flag, a symbol of the Syrian pro-democracy movement. Anonymous told news media that the action was part of a broader effort to focus on political targets. It did so again in February 2012, releasing hundreds of emails after hacking into a mail server used by Syrian President Bashar al Assad.
February 10, 2012
Anonymous claimed responsibility for taking down the Central Intelligence Agency's website for more than five hours. The group tweeted "CIA TANGO DOWN" immediately after the attack, which followed a leaked conversation between FBI and Scotland Yard officials discussing members of Anonymous being put on trial, as well as other topics relating to the group.
February 28, 2012
Interpol arrested 25 members of Anonymous in Europe and South America
. The agency began looking for the hackers as part of "Operation Unmask," an initiative that began in mid-February, after Anonymous claimed credit for denial-of-service attacks on the Colombian Ministry of Defense, presidential websites and a Chilean electric company. Several weeks later, the group claimed it was "taking down the internet."