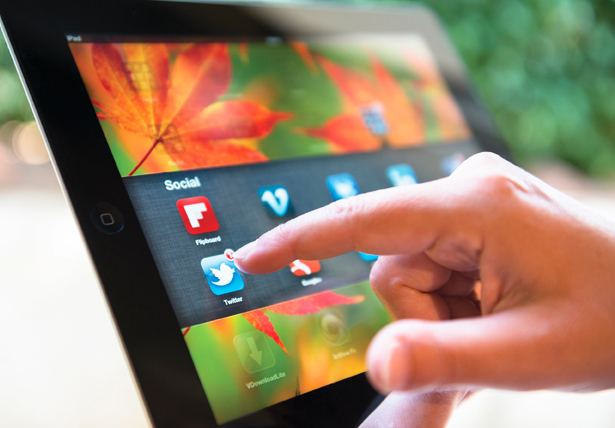 Mobile apps are becoming vital resources during disasters—and for good reason. "People are stressed out, scared and seeking information," said Wendy Harman of the American Red Cross. Her organization, the most recognizable name in disaster relief, monitored more than 100,000 mentions of Hurricane Isaac on social media: a number that helps show how mainstream it has become for people to use mobile devices during a natural catastrophe.
According to a recent Red Cross survey, 55% of people now rely on online news for emergency information, while 39% say they would use social media to let loved ones know they are safe. And of those who use social media during disasters, 76% are likely to seek information about weather conditions or warnings, 62% would search for damage caused by the event, and 56% would try to find the status of loved ones.
Of course, social media and online news are not always mobile. Some of these respondents are still using tethered devices. None other than Facebook founder Mark Zuckerberg, however, has said that his company's future resides in the mobile realm, and trends suggest that demand will only rise for mobile disaster information.
In May, smartphone usage in the United States officially passed that of "dumbphones," according to Nielson, with the average smartphone user now spending 39 minutes per day using apps. The number of apps downloaded on Apple's iPhones and Google Android devices also grew 28% in 2012 compared to 2011.
So while only 20% of respondents to the Red Cross survey have so far used a mobile app to get information about an emergency, it seems inevitable that this number will continue to grow. For government agencies, nonprofit organizations and companies with expertise in disaster preparedness, now appears to be the time to invest in creating apps that will help people stay safe.
[caption id="attachment_11573" align="alignright" width="356"]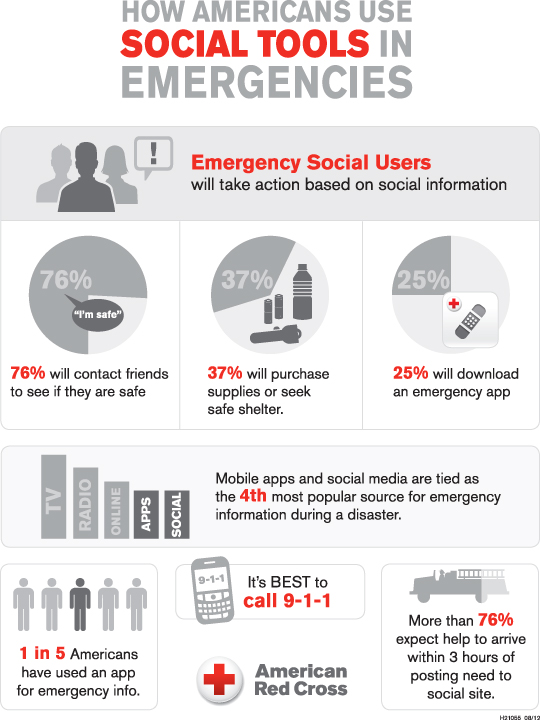 Graphic courtesy of The Red Cross[/caption]
The Red Cross has already turned its eyes to mobile. In addition to a First Aid App for "everyday emergencies," it offers a specialized Hurricane App, Earthquake App and Shelter Finder App. The hurricane app includes an "active storm tracker," which sends users notifications about their local area, and "challenges," which test users' knowledge about hurricane preparedness and history. The earthquake version offers advice on how to prepare before a seismic event ("know which hotels along your evacuation route will accept you and your pets"), what to do during the shaking ("if you are in bed, stay there, curl up"), and what to consider in the hours ahead ("consider all water from wells...to be unsafe until tested"). Each also has a utility toolbox that can turn a phone into a flashlight, blinking strobe light or alarm to alert rescuers.
Others have developed apps with similar missions. Two leading insurance industry organizations, the Insurance Information Institute and the Insurance Institute for Business & Home Safety, partnered to create the Know Your Plan app. Currently available only for Apple devices, it includes preparedness checklists and a Google Crisis Response feed that displays local emergency information. An app called StopDisaster, made by Studio Seneca and selling for $1.99 in Apple's App Store, is aimed at helping people maintain a digital disaster preparedness kit. Users can input their emergency contacts, create shopping lists, record the expiration date of perishable items and store important documents they may lose access to during a disaster. And EZ Apps, Inc.'s Hurricane Tracker, does just what it says: provides updates of windstorm trajectories, threat levels and forecasts.
Thus far, however, insurance companies, which would seem well positioned—and well funded—to offer assistance during a disaster, are lagging. Many carriers and brokers offer general service apps to make their clients' lives easier while on the go, but few have developed catastrophe-focused apps.
USAA, a military-focused financial services company, offers an app that, during a disaster, enables policyholders to report the status of a property claim, submit damage photos, rent a car or "schedule an appraisal through one of USAA's approved repair shops." Insurer Travelers partnered with the Weather Channel to create a "My Friends Weather" app for Facebook that shows users which of their friends may be at risk if disaster hits. Some other industry companies have expressed plans to develop their own catastrophe-related apps, but for now the options remain limited.
A recent report from technology and market research company Forrester may offer some insight as to why. Its research shows that the majority of companies spend less than $500,000 per year on mobile services, which it says is enough "to migrate existing digital services to the smaller screen" but far from adequate to fund "the bigger, longer-term opportunities associated with more sophisticated services."
Then again, while it may be surprising that many of the industry's biggest companies have not developed disaster apps, perhaps the lack of options will help keep people from growing reliant on technology during disasters. After all, catastrophes often mean no power, and no electricity means no charging a phone to use apps. So while apps and other advances will help in the future, learning the low-tech lessons of past disasters will always be the best way to remain safe when disaster strikes.