The tragic phenomenon of disgruntled workers turning violent is nothing new, whether it is the 20th-century post office shootings that put workplace violence on society's radar or the more recent revenge killings of former bosses. In fact, according to the Bureau of Labor Statistics, an average of 564 work-related homicides occur in the United States annually.
Some cite a lack of gun control while others blame stress and inadequate resources to help disgruntled or mentally ill employees. Whatever the case, the issue of workplace violence, and more so, workplace homicides, is a disturbing trend that needs a solution.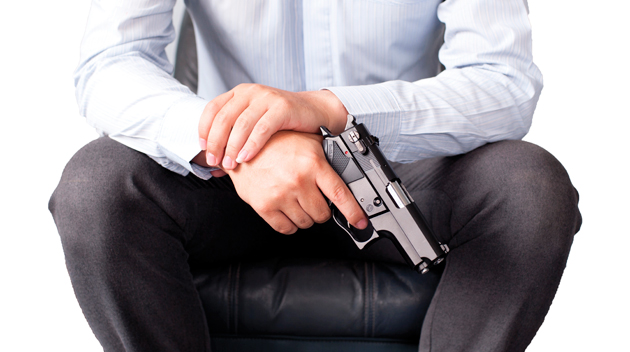 August 20, 1986
Patrick Henry Sherrill spent just 16 months as a postal worker in Edmond, Oklahoma. During that time, he was disciplined and suspended twice by his managers. It is believed that Sherrill, on the day of the shooting, felt he was facing a job termination and opened fire on his coworkers the morning of August 20, killing 14 and injuring 6. He then took his own life. His attack was the third worst single-gunman mass murder in U.S. history at the time and is credited with inspiring the phrase "going postal."
October 10, 1991
As revenge for dismissal from his job as postal clerk in Ridgewood, New Jersey, 35-year-old Joseph Harris killed his former supervisor with a sword and shot her boyfriend dead. Harris then traveled to his former place of employment and gunned down two mail handlers. He left a note expressing his discontent with the Postal Service, referencing Patrick Henry Sherrill's massacre at the Oklahoma post office five years earlier.
May 6, 1993
In a remarkably rare coincidence, two post office shootings took place on the same day. Lawrence Jasion killed one and wounded three at a post office in Dearborn, Michigan. A few hours later and thousands of miles away, in Dana Point, California, Mark Richard Hilbun killed two postal workers with a firearm. As a result, the United States Postal Service created the position of "Workplace Environment Analyst" to prevent violence in the workplace and dispatched the analysts to each of its 85 postal districts. As a result of downsizing, however, the positions were eliminated in 2009.
March 6, 1998

Not long after returning from a four-month, stress-related medical leave, Matthew Beck, a disgruntled 35-year-old Connecticut lottery accountant, went on a murderous rampage at the state's lottery headquarters, killing four of his supervisors before taking his own life. Two years earlier, Beck was demoted from accountant to a job testing computer software and his pay was cut.
February 12, 2010
In March 2009, Amy Bishop, a biology professor at the University of Alabama in Huntsville, was denied tenure. Almost one year later, she carried a 9-millimeter handgun to campus and began shooting colleagues during a routine meeting attended by 12 individuals from the university's biology department. Bishop killed three and injured three. She was sentenced to life in prison without the possibility of parole in September 2012.
August 24, 2012
Jeffrey Johnson, 58, was an employee of Hazan Imports for six years before being laid off due to downsizing. Facing eviction and other financial problems, Johnson, who blamed his troubles on the layoff, killed his former boss, Steve Ercolino, outside of the company's Midtown headquarters. Police, trying to stop the shooter from injuring others, began firing on the crowded streets near the Empire State Building, wounding nine civilians and killing Johnson.
August 31, 2012
A former Marine opened fire inside the New Jersey supermarket where he was employed before the store opened its doors for the day, killing two employees and, later, himself. Terence Tyler had taken to Twitter in the months before the shooting to express his emotions with violence-filled messages about killing sprees and hate. Though his family acknowledged his troubles, they felt helpless and estranged from Tyler.
September 27, 2012
Immediately after being fired from his job at Accent Signage Systems in Minneapolis, Andrew Engeldinger shot and killed five people, including the company founder and two managers, and injured three others before fatally shooting himself. It was Minnesota's deadliest workplace shooting. Engeldinger had a history of mental illness and two years earlier had completely cut off contact with his family.
September 28, 2012

To date, there have been more than 20 post office shootings in the United States and countless acts of workplace violence within the private sector. A report by the Merit Systems Protection Board noted that 13% of federal workers witness workplace violence. Though the figure highlights that the majority of workers are provided a safe environment by their employer, the report found that "survey results, when extrapolated to the federal workforce as a whole, mean that more than 240,000 federal employees observed an incident of workplace violence."