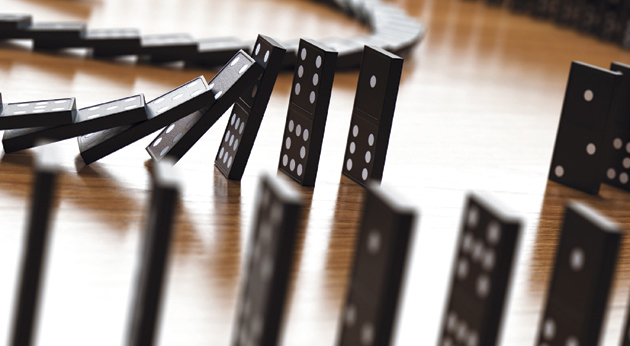 In March 2012, an explosion at a nondescript German chemical plant shut down the facility. The event at Evonik Industries hardly seemed newsworthy across the Atlantic. In Detroit, feelings were different, however. Executives from the world's largest car manufacturers were in a panic, fearing they would be forced to cut car production since, as it turned out, the affected plant was responsible for a large portion of the world's supply of a resin called PA-12, a hard-to-make compound automakers use in plastic fuel and brake lines.
But supply chain issues are sometimes less obvious. In 2004, a minor short circuit hit British Telecom. What appeared to be a small hindrance turned into a nightmare with major consequences. In all, 130,000 users' telephone, fax and internet systems broke down; 31 bank branches were forced to close until further notice; ATMs were disabled; and emergency hotlines were inaccessible.
Both of these events show how supply chains have become an increasingly important and vulnerable factor in global business. Probably the most well-known and widespread disruptions followed the Thailand floods of 2011. Honda Motors, Sony and Toyota were just a few of the companies whose supply chains were severed after some of the worst flooding in decades devastated the country. The Thailand floods illustrated not only how interconnected modern business has become, but also how different the supply chain issues resulting from a disaster can be from the traditional property losses that companies and insurers are accustomed to dealing with.
"Normally, the characteristic about a property event is that, within three to six months, you know everything," said Shivan Subramaniam, CEO of FM Global. That was not the case after the Thailand flood, however. More than six months later, claims were still rolling in. It wasn't that people were slow to file; it was that new losses continued to emerge as companies peeled back the layers of their supply chains like an onion. It was a wake-up call. Companies discovered that their losses stemmed not just from a direct supplier, but from a supplier of a supplier of a supplier, weaving a tangled, interdependent supply web.
Though stories of supply chain nightmares blanketed the business news after the Thailand floods—and the 2011 Japan earthquake—there remains a lack of preparedness among executives. It's not necessarily that business leaders don't see the potential for supply chain interruptions; it's that they don't have an answer for them. In fact, alarming findings from a recent Deloitte survey revealed that 45% of executives say their supply chain risk management programs are only somewhat effective or not effective at all.
Supply chain resilience is a work in progress—and the proof is in the various programs aimed at mitigating risks to the global supply network. One such program is the federal Homeland Infrastructure Threat and Risk Analysis Center (HITRAC). An initiative of the Department of Homeland Security, its mission is to provide a common understanding of regional, critical infrastructure, cyber and explosives threats.
On the climate front, the National Oceanic and Atmospheric Association works with various groups to examine the effects of weather on supply chains. One result has been the Severe Weather Data Inventory, which provides valuable intelligence to risk modelers.
SAP, a business software corporation, has gone so far as to create SAPinfonet, a system that crowd-sources supplier information from more than 13,000 sources. The information is used to trigger alerts based on user-defined risk thresholds, understand the impact of negative events on suppliers and predict future performance while managing alternative supply methods.
And U.S. Chief Technology Officer Todd Park has even launched
OpenDataInitiative.org
, a project that works to free up and disseminate government and corporate data, all in the name of increased intelligence to aid supply chain risk mitigation, among other things.
Of course, when all else fails, there's always insurance. But it must be supply chain-specific, said Linda Conrad, director of strategic business risk management for Zurich. As she points out, if a company has a marine policy, it could potentially cover the costs of that inventory but it will not cover the cost of a potential delay. Nor will it cover the costs of recovery, such as having to reorder goods or ship goods to a different port. "That why supply chain insurance that is 'all risk' and can cover extra expenses is so important," she said.
Supply chain risks and the techniques that companies use to mitigate them will continue to evolve as society begins to see modern businesses as the intertwined behemoths that they are, rather than independent, lone bastions of commerce. "We're still underestimating the magnitude of the interconnectedness of all the business enterprises," said Subramaniam. "We're a far more connected world than we were five or 10 years ago. There is so much interdependency in all the products and services nowadays. We don't fully recognize it."