[caption id="attachment_13802" align="aligncenter" width="630"]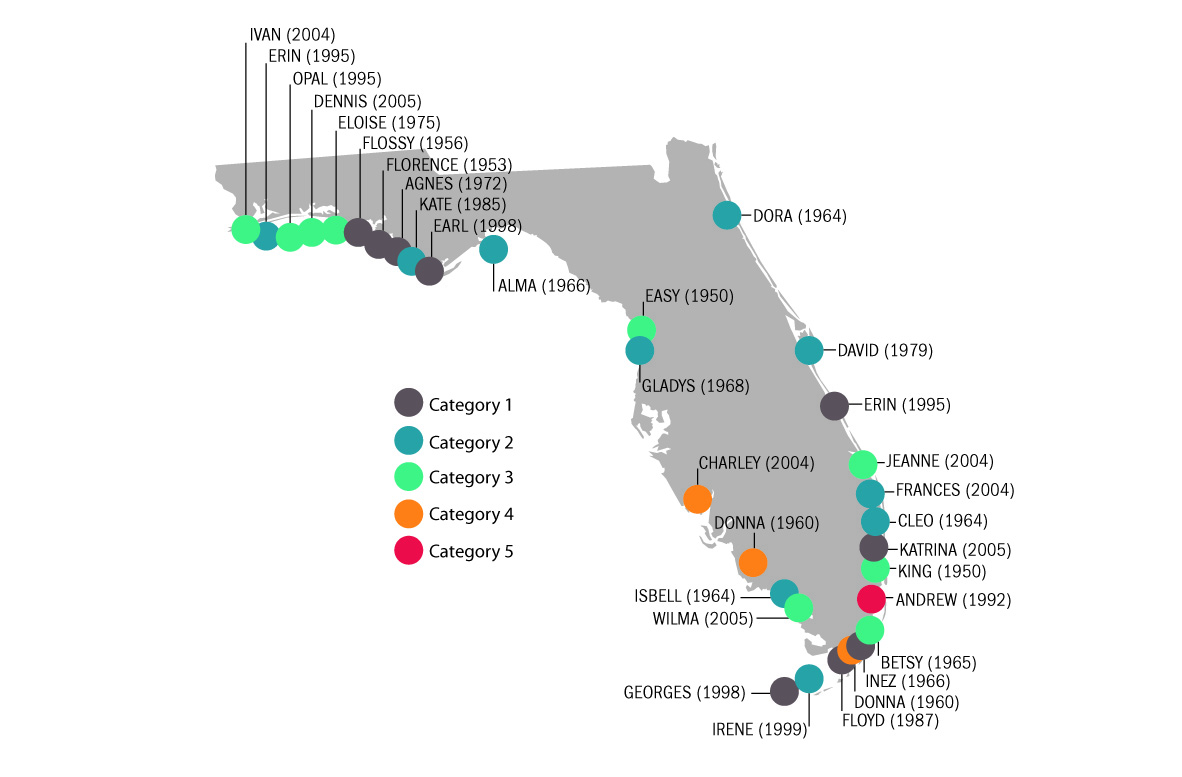 From 1950 to 2011, Florida was hit by 12 major hurricanes (Category 3 or higher). Though it has been spared—even by smaller storms—since 2005, some believe this means the state is due for another blow. (Click for larger map.)[/caption]
2013 HURRICANE NAMES
As they are each season, this year's significant tropical storms will be assigned an alphabetical list of English, Spanish and French names by the World Meteorological Organization. (The list skips Q, U, X, Y and Z due to so few options.)

Names that will be used in 2013:

Andrea
Barry
Chantal
Dorian
Erin
Fernand
Gabrielle
Humberto
Ingrid
Jerry
Karen
Lorenzo
Melissa
Nestor
Olga
Pablo
Rebekah
Sebastien
Tanya
Van
Wendy

Hurricane season starts June 1, and forecasters believe it will be an active year for storms. Philip Klotzbach and William Gray of Colorado State University have become the world's foremost experts when it comes to predicting tropical depressions in the Atlantic, and in April, they forecasted 18 named storms this year. Of that total, they believe nine will become hurricanes and four will become major hurricanes, with an above-average chance of at least one of these making landfall in the United States.
Regardless of the predictions, many Floridians were already expecting to be hit. The state that is geographically most vulnerable to Atlantic storms and has the longest coastline among the lower 48 (1,350 miles) has been spared each of the past seven years. Hurricane Wilma, one of seven major hurricanes that made landfall in the United States during the historic 2005 season (the year of Katrina), was the last storm to punish Florida.
Statistics and probabilities do not account for the "we're due for one" factor. But many of those living in the Sunshine State feel like there will be a return to the onslaught that came in 2004 and 2005, when seven storms made landfall in Florida (Charley, Frances, Ivan, Jeanne, Dennis, Katrina and Wilma).
Given that Katrina and Sandy each rewrote the book on how the public perceives hurricanes, it is easy to forget that Charley, when it hit in 2004, was the second-costliest hurricane in U.S. history, causing $8.8 billion in insured losses (in 2011 dollars). Even this paled in comparison to the worst storm on record at the time: Hurricane Andrew, the 1992 havoc-wreaker that killed 26, caused nearly $23 billion in insured losses (2011 dollars), changed the way the country prepares for disasters and gave rise to the reinsurance market in Bermuda.
Then there is the still-unseen worst-case scenario in a state that, as of 2007, had some $2.5 trillion in insured coastal property. Cat modeling firm Karen Clark and Co. estimates that if a repeat of the 1926 Great Miami Hurricane occurred today, it would cause insured losses of $125 billion.
Really, there is no science that makes the state more vulnerable to storms in 2013 just because it's been so long. But with the vast potential for death and destruction, does it really matter? Every year is one that Floridians should spend preparing for hurricane season.