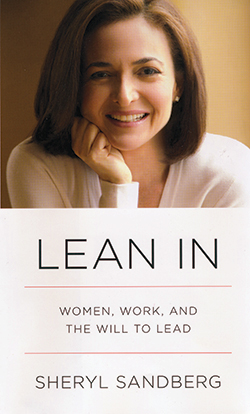 There's a leadership ambition gap in this country between men and women. This is not breaking news. This is how it has been since women first entered the workplace as secretaries and nurses. As a nation, we've come a long way in equalizing the roles of women in work. But we're far from even. And women are partly to blame, according to Facebook COO Sheryl Sandberg.
In her new book,
Lean In
, Sandberg takes women through the staggering, though not completely shocking, statistics about women in the workplace and what keeps them from attaining leadership roles. One hurdle is their risk-averse nature. "Career progression often depends upon taking risks and advocating for oneself—traits that girls are discouraged from exhibiting," she writes. "This may explain why girls' academic gains have not yet translated into significantly higher numbers of women in top jobs." From there, she tackles success and likeability, why asking for a mentor may be a bad idea, partnerships in marriage, and how men and women can work together towards equality.
Some think Sandberg had it easy since she was raised in affluence, but this does not mean she didn't work hard to complete both an undergrad and an MBA at Harvard, become a research assistant at the World Bank, work as chief of staff to then-Treasury Secretary Larry Summers or become a vice president at Google. She used her brains, ambition and work ethic to get to where she is today, and she hopes other women will learn from both her triumphs and her mistakes.
Sandberg doesn't claim to have all the answers. Instead, she's using her experiences to tell her story so that others will hopefully gain from it. This isn't the first book to point out gender-based inequalities in the workplace or offer up tips on how to fight back, and it doesn't claim to be. Sandberg, however, differs in that she challenges women to create the lives they love. She implores them to be leaders in work, partners in the home and supporters of other women. She challenges them to stop pulling back and
Lean In
.