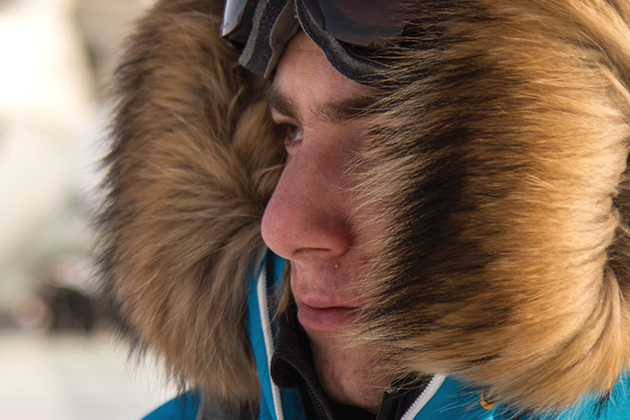 Parker Liautaud describes himself on Facebook as a "19-year-old polar adventurer and climate change campaigner." A Yale University geology and geophysics major (class of 2016), Liautaud is the youngest person to reach both poles and has made four polar expeditions in the past four years, including the fastest Antarctic coast-to-pole trek.
He has been honored at the White House and named as one of
Time
's "30 people under 30 changing the world." Liautaud is a man on a mission to bring public awareness to climate change. Recently, he and sponsor Willis Group Holdings put together the Willis Resilience Expedition, which recorded weather data and collected snow samples from the coast of Antarctica to the South Pole. He discussed his experiences with
Risk Management
at RIMS 2014 in Denver.
RM: How did you become interested in climate change?Liautaud:
I started getting curious about climate change when I was 12 or 13 years old, but I didn't know much about what caused it or the consequences. I felt a responsibility to understand what climate change was and why it was important, because people around me suggested it was important. As a young kid, I felt that, if something was important for my generation, I should know about it.
As I became more informed, I came across a British explorer named Robert Swan-the first person to walk the North and South Poles in the 1980s. He talks about climate change and has an organization dedicated to engaging businesses in climate change issues. He is a classic British explorer, very charismatic. For a young kid, it was a captivating story. I went to Antarctica with him when I was 14.
RM: How did you manage that?Liautaud:
I begged him. I saw one of his talks and I harassed him, politely, for several months and he eventually allowed me to go-and it wasn't that hard of a trip. We visited a base that he and his team had built, entirely powered by renewable energy, that he used for educational purposes. When I came back I decided to start my own projects related to climate change and do an expedition to the North Pole, and I organized one when I was 15. I didn't make it all the way to the pole on my first expedition, but I was successful on another one when I was 16, and again at 17.
RM: How did the Willis Resilience Expedition happen?Liautaud:
That came together after my third North Pole expedition and it was by far the biggest thing I had ever done-that was in November and December 2013. It was a two-part expedition and very successful. First, we covered 1,200 miles crossing the Antarctic continent in a custom-built truck and we did three research sampling programs. Afterward, we made a world record attempt for the fastest walk to the South Pole-a 350 mile unsupported walk from the coast of Antarctica to the South Pole. That was successful in every regard.
RM: What is the status of the research?Liautaud:
The most important work we did was sampling to understand the distribution of a particular radioactive isotope of hydrogen that will allow more accuracy in reconstructing past climates. The research is still underway. The expedition was to take samples, and those samples and ?measurements were sent to labs for analysis. Next, we will try to figure out what the data means and why it's important.
RM: What is it like to be in such an isolated place?Liautaud:
It is overwhelming to be there. There is nobody around and dealing with the isolation is part of the mental challenge. It is amazingly beautiful, especially when you are near a mountain range. When you look at the size of the place, you think it can't possibly be that vulnerable. But it isn't that the ice sheet is melting from top to bottom-that is not how climate change works. One of the ways Antarctica is being affected is that it is contributing to sea level rise. Not just the melting on the surface, but melting at the base of the ice sheet, which is causing much faster glacial flow into the ocean.
RM: What do you make of the divided opinions on climate change?Liautaud:
One reason the public is not unified on climate change right now is because it is largely seen as something that is statistical, abstract and not easy to experience on a personal level. It's only when you have big, extreme weather events like Superstorm Sandy that you get upticks of public opinion, and then it goes back down again. People's opinions on climate change are generally influenced by weather, even though weather and climate are two very different things.
This past winter, this point of view was everywhere, because the polar vortex is a complicated phenomenon. The challenge is getting the science across to people around the world in a way that is accessible and actionable.
RM: What can businesses do now?Liautaud:
We're at an interesting time in climate change, because there is a realization that this is not an issue of the future-things are happening right now. This also means that the issue of resilience is important, because it's now a marriage of mitigation and adaptation. Businesses are absolutely critical in taking on this challenge and responding to the issues that relate to climate change. Risk managers, in particular, are at an important point, because no one is more part of the situation than risk managers who, for business or even financial reasons, cannot deny the threat of climate change. The insurance industry is also front-and-center with this issue. Climate change and climate data have to be taken into account-especially in projections and models-as climate is affecting people, societies, cities and food supplies right now. So from a business perspective, it can't be ignored.