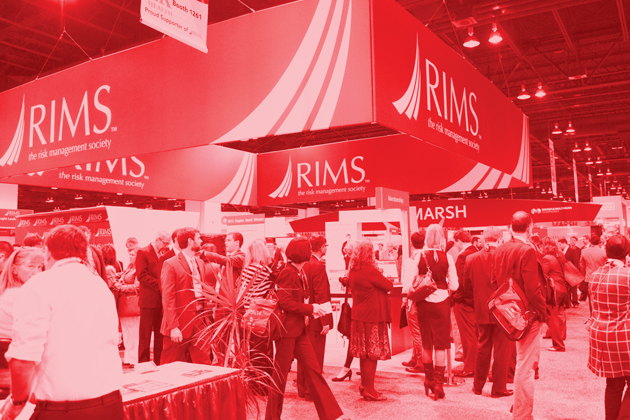 You have planned your event right down to the very last detail, securing the perfect location and accounting for every aspect of transportation, weather, food, safety and technology for attendees. What could go wrong? For event planners, this is not a rhetorical question—it is business as usual. After all, if something can go wrong, it probably will, and it is the event planner's responsibility to prepare for any contingency.
Few attendees are aware of what goes on behind the scenes of a successful event, but in order to ensure an enjoyable experience for everyone, hospitality professionals must be on top of a long list of details, both large and small. For example, when planning for RIMS annual conferences, which attract some 10,000 attendees, Stuart Ruff, RIMS' director of meetings and events, studies the risks city by city, often starting with the area's big picture concerns. "Every city presents different risks," Ruff said. "In Los Angeles in 2013, we were concerned because of the earthquake risk," he said. "We developed an extensive earthquake plan and gave our staff preparedness training. For 2016 in San Diego, we're looking at that again."
The safety of attendees and workers is, of course, a top concern. By their very nature, conferences may face risks that attendees do not even realize are being addressed. "People are coming in for a convention, wearing their name badges in public and they could be targets for criminal activity, so we heighten security around hotels and the convention center," Ruff said. This year in the lead-up to RIMS 2015, which will be held in New Orleans from April 26 to 29, the organization even made available a video of safety tips to offer additional support for attendees.
Organizing housing for so many visitors can also be a challenge. Ruff has had to learn some difficult lessons in this regard. Before last year's conference in Denver, for example, a conference hotel could not open on time because construction had fallen months behind schedule. The year before in Los Angeles, a key hotel closed abruptly for renovations. "Both times we had to scramble and find other hotels," Ruff said.
There are less than 25 locations in North America that can be used for a conference the size of RIMS so planning for each event usually begins 10 years in advance. Because of the unexpected difficulties that can arise, "we now start earlier and put conditions in contracts, such as ensuring that there will be enough hotel space for attendees," Ruff said. "We also put language in the agreements for getting out of them if we have to, if a hotel isn't going to be able to our needs."
In addition to addressing city-wide risks, Ruff and his team also must look at the event itself. For example, there is the risk of a keynote speaker cancellation, which could be especially difficult if the speaker is a celebrity. "Speakers are busy and sometimes travel at the last minute," Ruff said. "We typically would know within 24 hours and would replace the speaker with something else. We have many partners at our locations that we work closely with that could help."
Technology requirements have also become more critical. There are 160 educational sessions at this year's conference and each has electronic needs, all of which operate on a central network. "We check to make sure the venue has generator plans in place and what they involve," Ruff said. "We have also done more work on cybersecurity to protect our data and attendee information as much as possible."
Ruff knows first-hand what can happen if something goes wrong. "With my previous employer, half of their technology once failed in a general session," he said. "We test and retest equipment, but if a wire comes loose or something goes wrong, you have lost power. Some things are definitely beyond your control." While event planners can have as much backup as possible, they are usually still renting large-scale equipment, leaving them stuck if that equipment fails.
Sometimes even seemingly minor details can create hazards. Ruff recalled an incident during RIMS 2013, where a vendor made an oversight by not highlighting curbs with yellow tape at an outdoor party. "As a result, an attendee fell and scraped her knees," he said. "That was a lesson learned: Double-check the work of vendors. Now we visit the sites ahead of time and actually walk all the events. You sometimes learn the hard way to look with a closer lens."
Managing On-Campus Risks
Janet Stein, director of risk management and insurance at the University of Calgary, also oversees events of all types and sizes. "We house the Olympic Oval, a large spherical facility built during the 1988 Olympics, which hosts international skating and speed skating events on an ongoing basis," she said. Other large events that take place on the 35,000-student campus include the World Police and Fire Games, which attract about 10,000 entrants—only slightly fewer than the Summer Olympic Games. There are also large auto shows and graduation events to consider.
To handle all these activities, the school has a specific events committee. Monthly meetings include representatives from campus security, emergency management, safety and grounds. "Safety means looking at everything from food to bands that may use a smoke machine, which can set off the fire system," Stein said.
The need to coordinate the huge variety of events and keep them safe for attendees of all ages led to the university's current online coordination system. "It has a rundown of things like whether you are going to bring fireworks, or cook food," she said. "Then, users can click for either our regulations or the legislation or municipal rules around doing that." When cooking food, for example, there must be hand-washing facilities close by. "It also tells them who to see to apply to for a permit, if necessary. This saves a lot of time and lets them know what is expected."
The events committee is currently expanding its coordination system to include every event, no matter what size, held on campus. "We have thousands of classrooms that are also used, so we are working to coordinate all the big and small events and all the non-academic events being held on campus," Stein said. This means bringing several different systems together, from one to book the gymnasiums for athletic events to one to reserve classrooms.
Stein said it is critical to make sure everything is covered by their insurance, or decide whether to buy additional coverage. "For most events we don't buy extra coverage—we find ways to mitigate the risks," she said. "This is possible since the events are mostly on our own property and, usually, if someone doesn't show up, it doesn't take the event down, so we don't buy a lot of specialized event insurance."
During Super Bowl XLVII in February 2013, the Baltimore Ravens were leading the San Francisco 49ers 28-6 with 13:22 left in the third quarter when half of the lights in New Orleans' 73,000-seat Superdome went out. The biggest game of the year was left partially shrouded in darkness.

Check out "The Night the Lights Went Out" for more about what happened and how building management operations director Randy Philipson's advanced planning saved the big game.
Securing Event Insurance
Many organizers do opt to purchase additional insurance coverage, however. According to Lance Ewing, leader of the hospitality and leisure industry practice at AIG, the biggest element of event insurance coverage is cancellation. Policies can also include, but are not limited to, liquor liability, coverage for working volunteers and employment practice liability to cover potential discrimination claims. Advertising should also be covered for something like a pay-per-view event that could go awry.
"You can cover almost anything for the right price and with the right insurance market," Ewing said. "It could be added as an endorsement or a standalone policy as part of direct physical damage." Exclusions such as the collapse of a stage, injury to animals or extreme weather can also be written into a policy for an additional premium. Other frequent exclusions are fireworks and pollution, such as a gasoline leak from a truck servicing the event or from a vendor's equipment. "As we get into new and unusual types of events, the hazards are less known and therefore are underwritten in a different manner," he said.
Ewing said that event organizers tend not to overlook much. "They go over many scenarios and get law enforcement, fire and medical teams involved in the planning," he said. "They also do tabletop exercises as part of their planning. Because they do a lot of these, they don't leave much out."
Of course, even with the most thorough planning, unexpected problems will occur. A highly visible case in point came in 2013 when the lights went out at Super Bowl XLVII in New Orleans (see
"The Night the Lights Went Out"
).
"I was watching and my stomach was literally in knots for their team and what they were going through," Ruff said. But experienced event planners learn to roll with the punches and trust the plan. "Fortunately, our conferences have run smoothly and most things that have happened aren't noticed by an attendee," he said. "But I am always on alert."