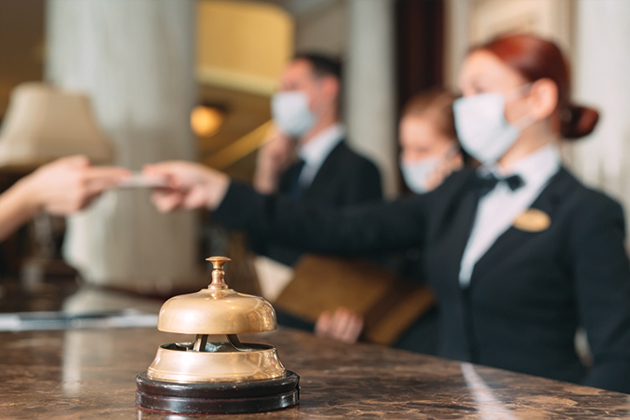 As the weather gets warmer, hotel managers know that the annual influx of spring breakers is not far behind. With COVID-related restrictions now lifting, hot spots such as Miami, Ft. Lauderdale and South Padre Island will once again be popular destinations in 2022. From college students to families, and from those in colder climates to the simply cooped-up, many people are eager to resume travel and are planning trips in the months to come.
While consumer confidence and bookings are on the rise, many hotel properties are facing staffing shortages as the hospitality sector has been one of the hardest hit by both the pandemic and the Great Resignation. In an environment where even basic operations can be challenging, it is critical for hotel management to maintain a safety culture, mitigate loss exposures and reduce risk as hospitality companies on-board new employees and ramp up for the rising demand. These key considerations can help hospitality risk managers keep everyone safe as travel picks up again:

Risk Management Priorities
Due to staff shortages, many hotel managers have taken on additional responsibilities, making it difficult to provide adequate training while simultaneously running the facility. With time at a premium, the top three risk management priorities that hospitality teams should be focusing on are:

Prioritize safety training. Existing staff may be too busy to receive the appropriate safety reinforcement. Workers returning after COVID-imposed furloughs may not have enough time to reacclimate to their roles. It may be difficult to allocate enough time for proper training for new hires. Do not overlook the importance of safety incentive programs
that can help reward staff for working in a safe manner. These programs do not have to be especially time- or labor-intensive to make a big difference.
Focus on staff retention. With a team that may be expected to work longer and harder until the property is fully staffed, employee satisfaction is more important than ever. Treating your team well is not only the right thing to do, but it also improves your odds of retaining employees by boosting satisfaction. From flexible schedules to appropriate pay increases to incentive programs, there are many ways to acknowledge staff and demonstrate how much you value them. Employees who feel valued are more likely to stay and work harder.

Do not forget de-escalation training. Service reductions or limited staffing may lead to guest frustration, which can then lead to conflict. Offer training on de-escalation to help employees handle unexpected circumstances in a manner that keeps them safe and customers happy.

Peak Season Training
During peak occupancy seasons like spring break, an influx of college students and other guests may mean higher-than-usual use of amenities like pools, fitness centers and restaurants. It is important to provide refresher training for all managers and staff on safety protocols related to these areas prior to the arrival of these vacationers.
These considerations should include protocols for responding to injuries, such as what employees should do if they observe an accident and who is responsible for completing an accident report. Staff should also know how to respond to inappropriate or aggressive behavior, including whom to notify and whether they should confront the aggressive or inappropriate party or involve security staff or law enforcement.
Employees also need to be well-versed on hotel policies around common spring break issues like alcohol consumption, excessive noise, room occupancy issues and theft. In general, staff should be encouraged to report anything that seems peculiar or unusual, no matter what the time of year.

Facility Safety
While most hotel facilities perform safety inspections regularly, they should also conduct thorough inspections of the property before peak occupancy seasons like spring break. This should include particular focus on:

Life safety: Ensure that fire exits are unobstructed, exit lights are operational, directional arrows are accurate, and back-up generators work as intended.

Fire safety: Ensure that sprinkler system maintenance is up-to-date, and fire annunciator panels, smoke detectors and kitchen fire suppressant systems are fully functional.

Swimming pools: Rules should be posted in a common space, depth markers clearly visible, and flooring in good condition. Life safety items such as life preservers, emergency phones and shepherd's hooks must be operational and easily accessible. Inspect the ADA lift to make sure it is working.
Window guards: Window "stops" should be in place to prevent windows from opening more than four inches. All balcony door locks should be inspected to ensure proper operation.
Slip, trip and fall prevention: All floors should be inspected for hazards such as cracked tiles, missing
transition strips, spills or puddling. Anti-slip weather mats should be in place throughout the hotel, particularly at the doors closest to the pool area.
Elevators: Ensure elevator cars open level with the floor, and test emergency
buttons, phones and other equipment to verify that they are operational. Provide emergency evacuation maps at each floor landing to indicate stairwell fire exit locations.

Security Considerations
In addition to fire, life safety and loss exposure inspections, security measures must also be reviewed. Verify that security cameras are operational and there is a procedure for the retention of video. Review access control best practices and ensure that entry or fire exit doors cannot be blocked or propped open and that guest room door self-closing mechanisms are operational. Make sure any trespassing or other security-related signage is in place.
It is not uncommon for hotels to hire additional security during spring break. Whether an in-house team or a third-party contractor, ensure any security staff understands the hotel's safety controls and policies.
If you are using a third-party contractor, have counsel review the contract. Limiting liability and potentially transferring risk can provide significant cost savings in the event of an incident. Ensure the contract includes "hold harmless" wording, complies with insurance limit requirements, and names the hotel as an additional insured.
All security staff should be trained in the use of de-escalation techniques. They should be aware of the hotel policies on the level of physical exertion used, responsibilities during emergency situations, injury- and security-related incidents, hotel tours, and any other activities in their job description.
In the hospitality industry, it is important to foster a culture of safety that is supported at the executive and management levels. Proactive preparation and training will mitigate risks and promote a more enjoyable environment, both during the spring break season and throughout the year.