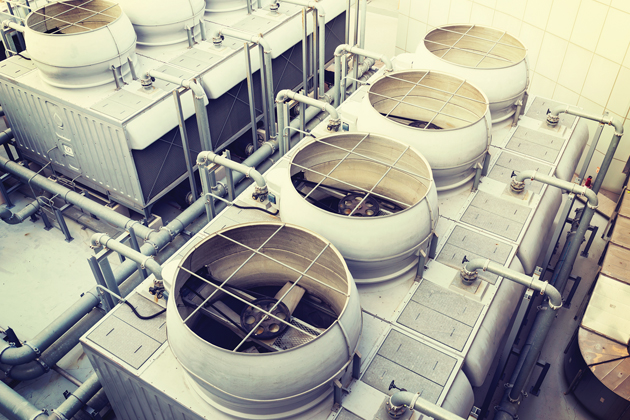 A recent outbreak of Legionnaires' disease in New York killed 12 people and sickened at least 127 others. The origin was traced to the Opera House Hotel in the South Bronx, where a high concentration of Legionella bacteria was found in water in the hotel's cooling towers. While the outbreak was declared over in mid-August, it illustrated the ongoing challenge faced by building and facility managers of keeping cooling towers and hot water heaters free from harmful bacteria.
Legionnaires' disease is a form of pneumonia caused by Legionella bacteria, named for a 1976 outbreak following an American Legion convention in Philadelphia. The bacteria, which multiplies in warm water, was believed to have spread through the hotel's air-conditioning system, ultimately sickening 221 attendees and killing 34.
Although this bacterium existed long before its discovery in 1976, illnesses from Legionnaires' disease have become more frequent in recent years, according to the Centers for Disease Control. Tim Keane, a consultant with Legionella Risk Management, Inc., noted that the number of cases rose 217% between 2000 and 2009, from 1,110 cases to 3,522. Up to 18,000 people are hospitalized with the disease annually, with mortality rates exceeding 10%, and the CDC said that many more cases are not diagnosed or reported.
On Aug. 13, the New York City Council approved new regulations that force building owners to register and inspect their cooling towers to prevent future outbreaks. Shortly thereafter, New York Gov. Andrew Cuomo announced that the guidelines were to be implemented state-wide. The regulations require registration, testing, inspection and certification of cooling towers and also mandate timeframes and processes for each of the requirements. Building owners must use a new statewide electronic system to register and report these actions.
In the wake of the outbreak, New York City Health Commissioner Dr. Mary T. Bassett said in a statement, "We eliminated the danger posed by the Opera House Hotel's cooling tower as soon as it tested positive for disease-causing Legionella. Today, all cooling towers in the affected area have been disinfected, and all cooling towers across the city are being evaluated and disinfected if necessary. Historic legislation passed by the City Council and signed by Mayor de Blasio should help prevent tragic outbreaks like this from occurring again."
Spreading the Disease
Legionella grows best at temperatures between 77 and 108 degrees Fahrenheit, so when water storage tanks like the cooling towers and hot water tanks used for air conditioning and heating systems are kept at an improper temperature, they can become breeding grounds for the bacteria.
Legionella may also grow in broken municipal water pipes that create stagnant, bacteria-laden pools of "black water." When this water enters a hot water heater, harmful bacteria can quickly multiply. "Unless you increase that hot water heater to 160 degrees, you're doing nothing to kill the Legionella," Keane said.
From a cooling tower or hot water tank, the bacteria can be spread through mist from humidifiers, evaporative condensers, domestic potable hot water systems, fountains, spas, respiratory equipment and hot tubs. Once microscopic droplets containing the bacteria become airborne, they can be inhaled and cause illness.
Keane noted that hospitals are most at risk because state codes require them to maintain a water temperature that does not exceed 110 or 120 degrees—right in the range where Legionella grows. Newer hospitals present even more of a problem because they often have only one patient in a room and have added more outlets for water, including showers, sinks and toilets. "Now there are three distal sites per patient where there used to be one per half-patient," he said.
Plumbing code requirements for larger pipes to meet the increased use have compounded the issue, with many hospitals using six-inch pipes instead of three-inch. "Smaller pipes move the water more quickly and keep the water from becoming stagnant as it does in oversized pipes," Keane explained. Hospitals with these larger water pipes "can have stagnant water conditions 24/7," he said.
An Ongoing Risk
The recent outbreak in New York has been contained, but building owners and risk professionals should still take notice, as Legionnaires' disease is not going away. While many people understand that cooling towers are a problem, they are not aware that potable water systems also pose a risk. Although fewer people at a time get sick from this kind of contamination—typically two to 10, whereas cooling tower outbreaks often affect from 10 to more than 100 people—it still presents a public health risk that should not be overlooked.
When planning a response, risk managers may want to look to the swift action taken by GlaxoSmithKline in August. When a routine inspection at the company's plant in Zebulon, North Carolina, found Legionella bacteria in a cooling tank, the company immediately sent workers in the impacted building home before they could get sick and the cooling tower was cleaned before operations were resumed.
"As happens in almost every case when a problem arises, the question is what do we do, and in GlaxoSmithKline's case they reacted swiftly," he said.
Keane cautioned that risk managers need to know what they are up against with the disease and not rely solely on the government for help. "They are more likely to get misdirection than proper direction and that will cause them pain and delay in solving the problem," he said. Instead of waiting for trouble, he urges them to make a plan.
In addition to protecting employees, the goal is to minimize the risk of being sued for negligence. "That's the difference between a $10,000 to $50,000 lawsuit and a $1 million to $5 million lawsuit," Keane explained. "To be negligent is to not deliver a standard of care, so the number-one thing is to make sure you are delivering a standard of care."
Reported settlements and jury awards from Legionnaires' disease cases have ranged from $225,000 to $5.2 million to compensate survivors of deceased victims and reimburse those who were infected for their pain and suffering. Settlements have included payments for medical expenses, lost wages, disability and other damages.
The best step risk professionals in the United States can take is following the ASHRAE 188 standards from the American Society of Heating, Refrigerating and Air-Conditioning Engineers, released in June 2015, Keane advised.
Paul Frederick, vice president of global security and safety with Starwood Hotels and Resorts, said the company has had a Legionella program in place in its 1,267 hotels for the past 10 years that meets the ASHRAE 188 standards. "We evaluated ASHRAE 188 with our water treatment supplier and the lab we do our water testing with and we believe we meet the intent of 188 with what we are already doing," he said.
Water temperatures are frequently tested and a temperature of 125 degrees is maintained, he said. "We test the incoming supply of water in water heaters, tanks and receivers every six months for Legionella bacteria," Frederick explained. "We also test samples of guest rooms every six months and, if we are doing a renovation and any room is vacant for more than five days, we test that room also."
Cooling towers used for air conditioning are also regularly tested. "That is a common area of [bacteria] growth and with our testing lab and our water treatment partner we aggressively test every three months," he said. "If there is any area of concern, we treat it right away."
He advised risk managers, "You can't let it go. This is a constant thing—you always have water in your pipes."