In recent months, immigration has become an even more contentious topic and a major focus of the current election cycle that is drawing fire from across political lines. But lost amid all the furor is the fact that immigration into the United States—particularly from Mexico—is actually ­declining. According to a recent Pew Research Center study, the Mexican immigrant population is decreasing due to a number of factors, including a sluggish U.S. economy and an improving one in Mexico. In fact, from 2009 to 2014, the number of immigrants from Mexico (870,000) was outpaced by the number of Mexican nationals returning home (about one million in 2014). Nevertheless, immigration remains a hot-button issue, both politically and economically, with important implications for U.S. businesses.
California in the Crosshairs
Of all states, California's experience may be the most emblematic of the immigration issues facing the country. According to the Migration Policy Institute, California has the largest immigrant population of any U.S. state, with a foreign-born population of more than 10 million, equal to 27% of its population. At 4.3 million, California's Mexican immigrant population is also the largest of any state, making it home to 37% of the entire Mexican-born population in the United States.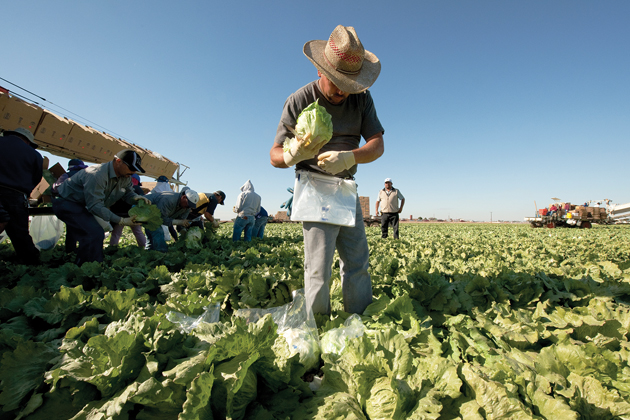 It is no surprise that California tops the list of states where immigrants live. According to the California Department of Food & Agriculture, the state produces almost half of all U.S.-grown fruits, vegetables and nuts. All that food requires a lot of manual labor, which is not coming from the native-born. "The reality is that some 90% of the farm workers in California are foreign-born," said Eric Larson, executive director of the San Diego County Farm Bureau. "The farm worker population is an immigrant population."
Why aren't American workers filling that role? "Unemployment in this country is low, and Americans do not raise their children to be farm workers," Larson said. "We've moved way away from farming as a livelihood as a country. We're now a couple of generations removed from it."
It is understandable then that the agricultural community—particularly those whose operations depend on manual labor—are keenly interested in immigration and immigration reform. Yet reform has become a waiting game fueled by political polarization that Larson believes will not necessarily change with a new president. "All this time we're waiting, we see the workforce shrinking," he said.
A City Divided
In San Diego, home of the country's busiest border crossing, immigration is as divisive as in other parts of the country, even though much of the area's economy depends on an immigrant labor pool. San Diego is ranked 11th on Pew Research Center's list of metropolitan areas with the highest Hispanic populations (both native and foreign-born), with Los Angeles ranking number one. But the city is deeply divided on what immigration means to its economy.
In January 2013, city officials came down on the side of immigration reform when then-Mayor Bob Filner and members of the council announced their general support. Since U.S. Census records show 38.6% of the city's residents are Latino, officials hope to play a role in any federal-level reform. So does the San Diego Hotel Motel Association, which last July joined 21 businesses from across the country in a meeting with the White House, Department of Labor and Department of Education to discuss ways to integrate immigrant populations into the community.
Yet such reform efforts come in direct opposition to the wishes of some residents. Protesters halted busloads of Central American immigrant detainees being moved from southern Texas to a Border Patrol facility in San Diego in 2014. When the U.S. Border Patrol attempted to fly detainees into the area, they were forced to shelve the idea, although they claim the move was not influenced by protests. A petition to get what has been called the "California Immigration Reform Act" onto the ballot this November also failed to receive the required number of signatures for consideration.
The atmosphere continues to heat up, and various associated groups are choosing their positions. For example, in 2013, amid increased U.S. Immigration and Customs Enforcement (ICE) raids and the threat of such raids that put the city's Latino residents on edge, the San Diego Unified School District voted to approve a resolution supporting immigration reform in support of its students. Likewise, in 2014, when a federal judge in Oregon ruled that one detainee had been held without probable cause and her constitutional rights violated, the San Diego County Sheriff's Department exercised the county's new limits on cooperating with immigration officials. ICE officials are now required to provide arrest warrants that show probable cause.
The Impact on Business
What does this all mean for business? For the agriculture sector, the immigration debate is a large stumbling block. In fact, agriculture, particularly in California, is struggling due to a variety of ills—drought first and foremost, but also changes within Mexico, the source of the industry's primary employee base. The country's economy and demographics have changed, creating a smaller workforce pool. "Add to that the difficulty of getting across the border or coming into this country, whether documented or undocumented, and it's an easy choice to stay home," Larson said. "That's frustrating for us when we have good, valuable work on this side of the border."
The struggles over that sought-after labor include those who are here illegally. "The unfortunate thing is the majority of them are working with fraudulent documents," he said. "That creates a tremendous amount of unease. The farm worker comes, shows his documents, which look authentic—we're not in a position to challenge them; we take them at face value as we're supposed to—and it makes our workforce a bit tenuous. It could literally be pulled out from under us."
Tough immigration standards place a heavy burden on farmers. "Farmers are very heavily invested in their infrastructure and their land," Larson said. "Oftentimes these farms are carrying some debt. If you don't have the workers to do the work, the business has to shrink."
According to Pew Research, Mexicans make up 49% of undocumented immigrants. Some experts believe current legislation has also created a situation in which undocumented immigrants who want to return home cannot. For example, one of the stricter provisions in the 1997 Naturalization Reform Act is the grounds of inadmissibility clause, which imposes heavy repercussions on those in the country illegally, whether by means of overstaying a visa or not possessing the proper documentation in the first place. Under the measure, an immigrant in the country illegally for six months who tries to leave, for example, would not be admitted back into the United States for three years. Immigrants overstaying by a year who attempt to leave could be barred from re-entry for 10 years.
"The effect this law was supposed to have was to deter people from coming illegally. Instead, it deters them from leaving," said Richard Green, partner in Carothers, DiSante, & Freudenberger LLP's immigration practice group in Irvine, California. "There is seasonality and a cyclical nature to the labor market, where it's very common for Mexicans to come north, work for the season, and then go south." Yet without paperwork, returning home becomes a life-altering risk. The grounds of inadmissibility clause does not trigger until an immigrant attempts to leave, so they stay. "They're stuck," he said.
Searching for Solutions
Agriculture is not the only business sector adversely affected by strict immigration laws. The immigrant population includes many skilled workers who are sought after by technology companies, for example. Because of limits on H1B visas—those that allow U.S. companies to temporarily employ foreign workers in specialty occupations—tech companies are experiencing shortages in the talent pool. In April 2015, U.S. Citizenship and Immigration Services announced that it had received 233,000 petitions for H1B visas for fiscal year 2016. The current cap on such visas is 85,000.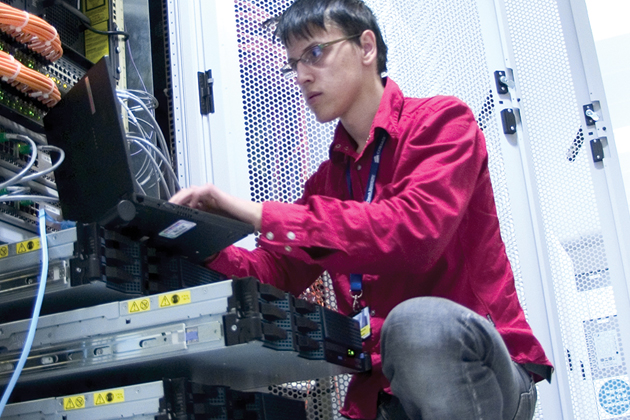 Current immigration statutes such as the H1B limits are putting the U.S. tech industry at a disadvantage, said Dr. Fariborz Ghadar, the William A. Schreyer Professor of Global Management Policies at Penn State University's Smeal College of Business, and founding director of the Center for Global Business Studies. A number of companies have been forced to set up operations in other countries in order to access the strongest workforce. Both Facebook and Microsoft have established locations in Canada, where the immigration policy is more open. According to Ghadar, it is a move that has a major economic impact on the United States, yet one many tech companies find necessary. "If you're a tech company, you risk not getting the qualified people you want, and competitors internationally will keep them," he said. "You will eventually lose your technological lead, or you will have to set up operations overseas in order to hire these people."
In an attempt to address this dilemma, Facebook's Mark Zuckerberg joined forces with other members of technology's elite, including Bill Gates and the heads of LinkedIn, Yahoo and Dropbox, to form FWD.us, an organization that seeks to engage elected officials and push for policy changes that promote immigration reform. The group's reform goals include securing borders, creating jobs to improve global competitiveness, creating a pathway to citizenship, and establishing an employment verification system for the immigrant population.
Because visa limits are not adequate to meet the labor market needs, businesses are forced into some tough decisions. "A rational employer looks at the legal system and the illegal system and runs the risks of the illegal system," said Green.
He believes there is a simple fix. "The undocumented problem would go away if we simply created the channel," Green said. "What we've got now are [visa] programs that are regulated to death—to the point where they're not useful. If we created a workable system to address the bottom end of the labor market, we would no longer have an undocumented immigration problem. They would be documented now."
Green advocates program reform that would remove quotas and the bureaucracy that is the current immigration law. He believes that removing the quota from the H1B visa program would do much to improve corporate America's ability to compete globally. "The least we can do is to raise the number of H1B visas given," he said. "There's no reason why we can't multiply the H1B visas by at least five."
Experts say it is up to U.S. businesses to push for sensible reform measures, but corporate America has held back, at least at the federal level. That could be due, in large part, to the political climate. Ghadar said businesses need to lobby hard at the federal level, but they are gun-shy. "You don't want to advocate a situation that the population has been frightened to believe is dangerous, so you lobby in a quiet manner," he said, but that is largely ineffective.
Ultimately businesses must decide between taking on Washington and the politically-charged atmosphere surrounding immigration or taking business offshore in order to attract the talent needed, Green believes. "Whether or not we should allow people to immigrate because our labor market has a demand for their services, that's without question," he said. "Absolutely we should allow people to immigrate and feed our economy."