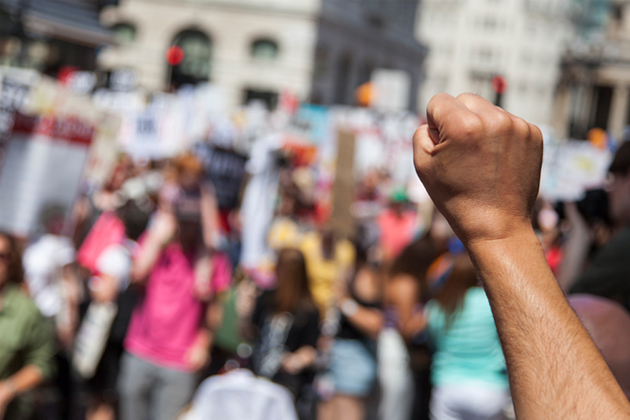 Anecdotally, it seems that divisiveness is on the rise in the United States. From news headlines to social media to even yard signs, Americans proclaim disparate and partisan views on topics ranging from abortion to gun legislation to student debt forgiveness. For the public, openly communicating political views and values can be costly in terms of friendships. But for businesses, expressing political views can lead to irrevocable losses. This can be the case even if a business has the strictest intent "staying out of politics and controversial issues."
This places businesses in a conundrum. On one hand, a business can remain silent and fly under the radar in terms of politics and values. While this may seem like a good course of action, the problem is research shows consumers want executives to speak out. According to an Edelman survey on the role of business in politics, 86% of respondents expect corporate leaders to publicly engage on major societal issues. And it is not just consumers. Often, employees place pressure on the leadership to take a side. Thus, no matter what course of action a business takes, vocal or not, it is important to be aware of the implications.

Boycotts
A surprising number of consumers will boycott a brand that does not reflect their values. One in four Americans are currently boycotting a company or product according to a Lending Tree survey. Chick-fil-A serves as an example. In June 2012, a series of public comments opposing same-sex marriage by Chick-fil-A CEO Dan Cathy, in addition to reports of millions of dollars' worth of donations made to organizations that fight against LGBTQ rights, led to protests and boycotts. National political figures both for and against the actions spoke out and some business partners severed ties with the chain. Many people still refuse to eat there and contribute to profits that may be used to fund anti-LGBTQ causes.

Although the goal of a boycott is to immediately and negatively impact sales, that is not what businesses need to worry most about, according to Brayden King, a professor of management and organizations at Northwestern's Kellogg School of Management. Instead, he finds the typical boycott does not necessarily impact sales revenue. Rather, it threatens the company's reputation and leads to negative media coverage, which damages a business—and its bottom line—in the long run.
Products or companies are not the only things being boycotted. Almost one-quarter of Americans have chosen not to travel to a specific state or country because of legislation or policies they disagree with. This jumps to 35% among those with an annual household income of at least $100,000.
In some more extreme cases, consumers may lash out against businesses through vandalism. After Russia's invasion of Ukraine, for example, the vandalism of Russian-owned businesses escalated and some even received bomb threats, according to NBC News. Russian restaurants have been a prominent target, even though some owners are Russian immigrants who have lived in the United States for years and may decry Russia's actions. According to the U.S. Small Business Administration, a single incident of vandalism costs an average of $3,370. As with boycotts, vandalism can also lead to reputation risk.

Political Fallout
Having your business boycotted by consumers is bad, but there are other threats as well. Many businesses receive favored treatment from local or state governments in the form of low-cost leases, tax credits or other perks. Businesses that speak out on hot-button issues may find themselves in conflict with government officials. For example, after Delta Air Lines spoke out against laws requiring voter ID, Georgia's GOP-controlled House voted to strip away a sales tax exemption for jet fuel that benefited the company.

Small businesses and even nonprofit organizations also are not immune to political retaliation aimed at their company's bottom line. It is not uncommon for a business to be denied a contract due to political affiliation or views. In the case of Lancaster County, Pennsylvania, for example, commissioners ended a contract with the YWCA, cutting support for a court-mandated program that aids families involved in court cases because of the YWCA's stance on voting rights. In 2020, Grace Community Church in Los Angeles, California had its lease terminated for a large portion of their parking lot in what their attorneys said was retaliation for holding in-person services during COVID-19.

How to Mitigate the Risk

Mitigating the risk of retaliation is challenging since it is a complex, ever-evolving risk. However, it is still possible to provide protection that can ensure your business does not suffer from the fallout. A good first step is to assess the risks most likely to impact your businesses and also to review your insurance policies and pinpoint where there may be gaps or risks that are not fully addressed—including risks that could be mitigated and protected against with proper insurance. It is possible to insure against regulatory risk, legislative risk and even litigation. Traditional insurance policies have limitations though. They can have exclusions that will render a claim being denied and are often costly and difficult to procure. There is where a captive insurance company can fill the gaps—and offer additional benefits.

A captive insurance company is a form of self-insurance where the insurance company is owned by the business or business owner. The policies can be broadly written and customized to fit the risk management needs of the company. Since the premiums paid (minus claims) are profit, it also enables the business to accumulate cash reserves. When a crisis happens and the business has lost revenue or is unable to operate, the cash reserves enable the business to survive.
In addition to insurance, it is also important make sure you have access to a solid attorney in the event that your business becomes the victim of retaliation. Retaining counsel can help determine if a retraction is needed or whether to pursue litigation.
Lastly, it may make sense for your business to hire a reputation management firm to combat misinformation and work toward improving public opinion and creating increased positive sentiment.

Since divisiveness in the United States does not show any signs of abating, it is important to act now and ensure your business is protected against intimidation tactics, retaliation and reputation damage.