[caption id="attachment_12975" align="aligncenter" width="630"]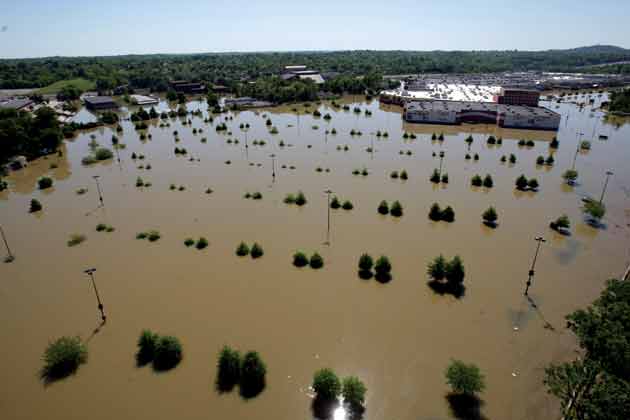 Heavy rains caused the Cumberland River to overflow, flooding the parking lot of the OpryMills Mall in Nashville, Tennessee.[/caption]
Thus far, 2010 has been a record year for rainfall and floods. Unfortunately, it has also been a record year for the number of National Flood Insurance Program (NFIP) lapses. The program, run by FEMA, lapsed for the third time this year in May when Congress once again failed to reauthorize it. During such interruptions, no new policies may be written nor can existing policies be renewed. "We are concerned that this push for reform has now been underway for nearly four years, and during this time it has held up any consideration of a long-term extension," wrote the Independent Insurance Agents and Brokers of America in a letter to congressional leaders. "Consequently, the program has been forced to go from one short-term extension to the next." In July, the program was once again reauthorized through September 30. But this is little consolation to the owners of the estimated 5.5 million homes the program insures-many of them wondering if Congress will finally commit to a long-term program or remain a broken record.
March 16, 2010
In South Dakota, snowmelt and heavy rain drove the James, Vermillion and Big Sioux Rivers over their banks. Some residents referred to it as the worst floods they had ever experienced in that area.
March 31, 2010
Rare New England floods, after three days of record-breaking rains, caused the worst flooding Rhode Island had seen in 200 years. Boston, New Jersey, New York City and Portland, Maine, also witnessed record-setting rainfall during the month of March.
April 30 - May 7, 2010
Torrential rains during the first two days of May sparked record floods in central and west Tennessee and into Mississippi. Nashville was the hardest hit, with some parts of the city and surrounding areas reporting up to 20 inches of rain. The devastating floods claimed 31 lives in Tennessee, Kentucky and Mississippi. Unfortunately, fewer than 4,000 homes in the Davidson County (which includes Nashville) were covered by flood insurance at the end of 2009. Total insured and uninsured damages are still being assessed-but are expected to be immense.
May 2, 2010
Heavy rains that battered Tennessee also caused floods throughout most of Kentucky, causing two deaths in the state. At least 23 counties and eight cities declared states of emergency.
June 11, 2010
The Little Missouri River surged more than 20 feet in a matter of hours after torrential rains walloped the area. The following pre-dawn flash flood claimed at least 20 lives, most in the Albert Pike campgrounds in southwest Arkansas.
June 14, 2010
Severe thunderstorms ripped through central Oklahoma, triggering vicious flash floods that left 136 people injured and thousands without power. A state of emergency was declared in 59 of Oklahoma's 77 counties.