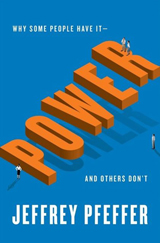 Did you know that an outstanding job performance may not guarantee a promotion-but could actually hurt an employee's career? Hard to believe, but that is what Jeffrey Pfeffer is throwing out there in his most recent book,
Power: Why Some People Have It and Others Don't
. He gives the fictional example of a young IT professional who was so good at his job, his manager would not let him advance towards other areas of the company because he feared losing his star employee.
Pfeffer's point here is that doing great does not guarantee a promotion or raise. For that, he asserts, you "need to be noticed, influence the dimensions used to measure your accomplishments, and, mostly, make sure you are effective at managing those in power, which requires the ability to enhance the ego of those above you." More specifically, Pfeffer lists seven personal qualities that he feels builds power: ambition, energy, focus, self-knowledge, confidence, empathy with others and capacity to tolerate conflict.
Though some may associate power with greed and corruption, Pfeffer presents the idea of power (and wanting it) in a positive light, telling the reader where to start, how to stand out and that, most importantly, that it is OK to break some rules. Using examples such as Soichiro Honda (founder of the Japanese automobile company) and Henry Kissinger, Pfeffer claims that following the "straight and narrow" does not always pay off. Bidding homage to Malcolm Gladwell, he states, "the rules tend to favor-big surprise-the people who make the rules, who tend to be the people who are already winning and in power."
But earning power does not come without conflict. To sidestep problems, Pfeffer offers advice such as "don't take things personally" and "be persistent." Sure, these sound obvious, but Pfeffer ties in case studies for each bit of advice, illustrating approaches that may have otherwise gone unnoticed. Power shows how political skill, not just work performance or talent, is a driving force behind succeeding in any field.