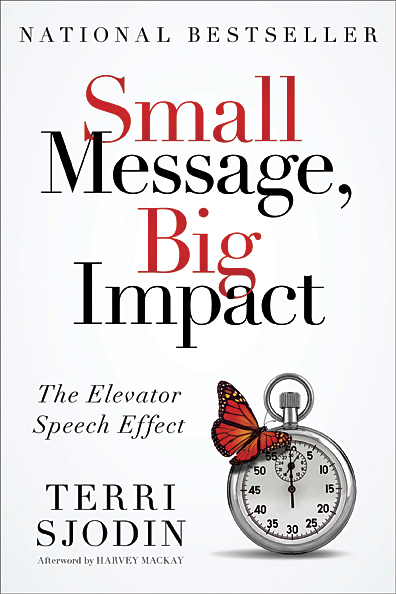 We've all been there: someone asks about your business, your product or your quarterly goals and you can't come up with an eloquent answer. You stumble on your words when put on the spot and later wish you had mentioned certain (sometimes vitally important) things. But you can't take that moment back. You can, however, learn from it. And Terri Sjodin wants to teach you.
In
Small Message, Big Impact,
Sjodin explains several techniques, such as "Monroe's Motivated Sequence," to find your voice, structure an "elevator speech" and make an impact on any audience. "I've found that it takes approximately three minutes to establish rapport with someone and build an intriguing message," Sjodin writes. "Plus, a person will usually give you that amount of time if you asked for it." She should know. She has run her own public speaking, training and consulting firm for more than 20 years. And before that, she was recognized as a gifted speech and debate competitor throughout high school and college.
She used that experience to craft a straightforward book with 12 main sections, each covering certain aspects of communication, such as how to build a persuasive case and how to earn the right to be heard. The book concludes with a questions-and-answers section and even provides readers with worksheets to aid them in drafting their elevator speech. Though it begins slowly, it evolves into a useful tool for any individual or organization (some companies have even used the book as a training manual for their sales department).
Sjodin notes that the best speakers got that way from consistent preparation. She cites Ronald Reagan's unofficial title as "The Great Communicator," recalling how he was always prepared with three-minute elevator speeches, which he would use in different situations depending on the audience and current events. This, Sjodin claims, should be how every individual in any profession approaches public speaking. With communication, or with anything for that matter, preparation is paramount.