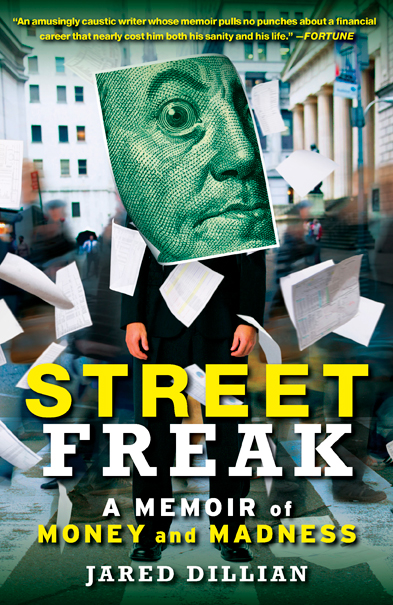 Expensive scotch, $3,000 dinners, 80-hour workweeks, million-dollar trades, million-dollar paychecks and acute psychosis. It's the life of a big bank trader. Or, at least it was for Jared Dillian, a Lehman Brothers index arbitrage trader from 2001 to 2008.
In his energized memoir,
Street Freak
, Dillian recounts his days at what used to be one of the largest banks in the world, from his time as an associate assigned to work security when Lehman relocated to Jersey City after 9/11 to his rise to the firm's head exchange-traded fund trader. In between were massive highs and lows, and a realization that Dillian was afflicted with bipolar and obsessive-compulsive disorders, conditions that almost cost him his life.
If it was a bull market, things were good and everyone lived the high life. Lehman traders literally made markets and enjoyed single-day trading profits of $30,000, $40,000, even $400,000 at times. Dillian and his crew traded on adrenaline, fully admitting that "It didn't matter that we were without a risk management program." It was, as we know now, that type of trading mentality that eventually brought down the banking behemoth.
Dillian is self-deprecating, yet egotistical, humorous and extremely smart, making
Street Freak
both entertaining and educational. While most books from the financial sector genre are borderline coma-inducing, it's the rare read that makes learning about futures and the Nasdaq Composite fun.
The book also stirs the emotions, whether it's making one's heart race when reading about Dillian's trading losses or eliciting laughter at his snarky and specific descriptions of those at Lehman and other big banks. (Bear Stearns hired "poor, smart and determined" whereas to be hired at Morgan Stanley, "You need a lot of kids. Who will in turn need a lot of school, a lot of lacrosse equipment and a lot of fashionable, color-coordinated clothing. Your wife needs to be hot.")
To truly get inside the belly of the beast that is any trading floor, read
Street Freak
, and be glad you stayed far away from a profession that, for some, is a hellish ride of emotions.