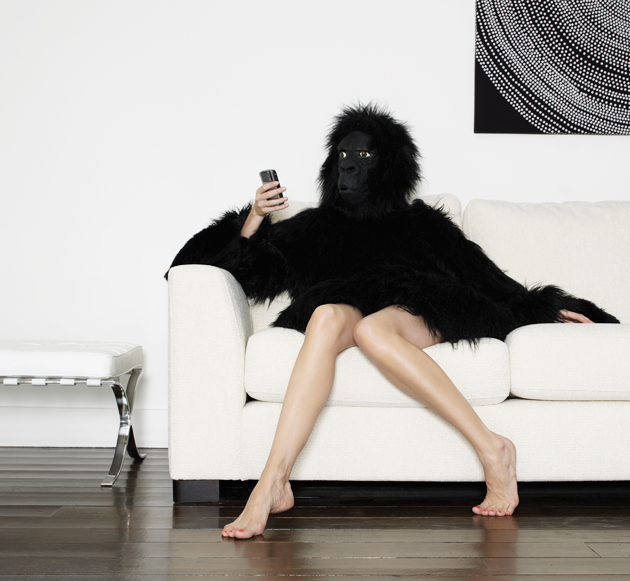 Transporting guns, evading cannibals and masking pimples are exposures that don't usually enter the typical risk management orbit. Yet for some, such threats are just business as usual.
Just take Troy Polamalu's hair. For at least one company, it is a major—and expensive—business risk. The strong safety for the Pittsburgh Steelers football franchise has an enviable, three-foot-long mane that has netted him instant recognition, some nasty takedowns by opposing-team tackles and a contract to appear in Head & Shoulders shampoo commercials for Procter & Gamble, which insured Polamalu's hair for $1 million.
That payout occurs should Polamalu lose 66% or more of his hair, says April Anslinger, associate marketing director of Head & Shoulders. "The only hurdle we had to overcome was to prove that Troy's hair was healthy to start with," she said.
Then there's Gennaro Pelliccia, whose tongue is insured by Lloyd's of London for $13.8 million. Pelliccia is Costa Coffee's Italian Master of Coffee, and it is his job to taste every batch of coffee beans before they are shipped out for consumption.
Just about everything on earth is steeped in risk. While that fact may drive a risk manager into fits trying to mitigate as much as possible, some of those risks are as entertaining as they are serious loss exposures. Well, as long as it's not
your
risk.
Guns Without Roses
Moving $25 million worth of guns across the country is not something Emily Cummins usually handles. As risk manager for the National Rifle Association (NRA), Cummins is used to the more "typical" daily loss exposures: working in fine arts (collector guns are indeed fine art items), canceled conferences due to lousy timing, even hacktivism. But when she got the call in 2009 to take possession of a bequeathed firearm collection, she put together a risk management plan that rivaled Pentagon security.
When Robert E. Petersen, founder of Petersen Publishing passed away in 2007, he left his guns to the NRA. It's not your ordinary collection—Petersen's was legendary among gun aficionados and contains what many consider the finest firearms in the world. "There are guns in here that are well into the six figures," museum director Jim Supica told Virginia's Connection newspaper. "You are talking Fabergé eggs here."
But what do you do with such a huge gun collection? You display it, of course. The NRA's National Firearms Museum in Fairfax, Virginia, was the recipient, and it was up to Cummins to get it from Los Angeles to Fairfax without any glitches.
One of the biggest challenges was coordinating law enforcement, private security and NRA security on both ends of the move. Cummins also had transportation logistics issues since she was moving the guns in unmatching, dissimilar vehicles traveling different routes to Fairfax.
One thing she couldn't plan for was the weather. The move occurred just as "Snowmageddon" blanketed much of the eastern United States. The collection had to be moved, literally, through several feet of snow. Still, it all worked seamlessly and the valuable collection arrived safely. "The key with fine arts is showing them the same stewardship that the original owners showed," said Cummins. "The same love the Petersens had for each Gatling gun and vampire-hunting revolver, it's up to us to love them as much and make each piece accessible to the public while at the same time keeping them safe."
Another risk comes from conventions. Apart from the more typical event pitfalls, Cummins says her organization had to handle one particularly regrettable risk: bad timing. The NRA's annual meeting, which attracts 70,000 attendees, is held in different locations each year. The year the convention was in Denver just so happened to take place shortly after the Columbine High School massacre.
Apart from the barrage of bad publicity, the NRA faced the thorny issue of complying with state law. Because it is a New York-based organization, the NRA had to follow New York laws, which required the group to hold an annual meeting. "We couldn't cancel or reschedule," she said.
So the annual meeting went on. However, most public events were canceled, as were banquets, fundraisers, catering and more. "We needed to convey the right public attitude of sensitivity, but the timing was so tight when this occurred. We canceled as much as we could."
Another concern she deals with daily is what she calls "hacktivism." Cummins and her team conduct daily, real-time monitoring of internet mentions in order to protect the reputation of the NRA. She says it pays particular attention to lampooning or any attempt to embarrass the organization.
Cummins says the NRA is currently fighting a lawsuit from an unhappy political candidate, who was given an "F" grade by the organization for his level of support of the Second Amendment. "He sought removal of the F grade, a court-ordered public apology in newspapers, and compensatory and punitive damages," says Cummins.
While the lawsuit hasn't been decided yet, Cummins is taking it in stride—just as she does most of the risks facing the NRA. "When I'm up to my neck in alligators," she says, "I remind myself I came here to drain the swamp."
Acne-Proof Coverage
Imagine you are a director filming an integral scene of your upcoming blockbuster. Your young starlet arrives on set with a bad case of acne. The makeup team goes to work, but in the final edits, you realize you were asking a lot of some foundation and powder. The acne is visible and distracting. And you have already wrapped filming.
That's the scenario Wendy Diaz, underwriter with Fireman's Fund in the Los Angeles area, had to resolve. Ultimately, the claim required paying for filming to resume, and it is just one of many claims that Fireman's Fund handles in Hollywood. Fireman's has offered film insurance for 90 years, says Diaz, and there is a lot of expertise within the company.
That's why when an actor gets a surfboard to the face (filming had to be halted until the stitches were out) or breaks a pelvis falling from a horse (another business interruption claim when the director couldn't film around the actor's absence), the coverage is there.
Cast insurance is one of the main areas of claims that Diaz sees regularly. She says the average claim for a cast member injury or illness is for a quarter of a million dollars per day. So anyone in front of the camera is usually covered. Likewise, so is any integral member of the set—directors and even stunt coordinators. Also, coverage is provided for wardrobes and any prop or set element, including the sets themselves.
Once, Diaz says, an entire "town" had to be completely rebuilt. Fire had destroyed the newly constructed set, and the claim included rebuilding along with business interruption. While it wasn't a Fireman's Fund claim, it illustrates how large a threat fire is in filmmaking.
Diaz says the coverage required by the film industry is unique "just by the nature of the business." Normal policies won't do, she says. "There's a specialized policy that was written for it. We don't write on a traditional property policy."
Diaz is surrounded by experts in her loss control division, which is something she sees as an essential part of managing unusual risks. "You need to have experienced underwriters and claims people," she said. "These claims are very different than a traditional claim."
All Fracked Up
For Letia Clement, sometimes it's just one fracking thing after another. That's because her company, Laris Insurance Agency in Lockport, Louisiana, has just taken on a client who performs oil-induced hydraulic fracturing operations. Better known as fracking, this process entails creating small cracks (fractures) below the surface of the earth by injecting pressurized fluid into the ground, which releases petroleum or natural gas from surrounding rocks so it can be pumped out of the ground.
The process is most successful within pockets of Marcellus shale, a sedimentary rock known for its liquid petroleum deposits. Fracking operations that allow access to the petroleum use water mixed with chemicals to fracture the rock. When it was first introduced in 1947, it was considered a safe way to tap into oil and gas reserves.
However, thanks to two documentaries, 2010's
GasLand
and 2009's
Haynesville: A Nation's Hunt for an Energy Future
, the environmental effects of fracking have been called into question. Clement, marketing manager for Laris, says that her client's operations have to be covered for environmental losses, including pollution coverage for the site, contractor, vehicles and all the equipment.
Clement says only a handful of insurers are willing to cover the risk due to negative publicity surrounding the operation. One insurer did cover fracking operations in general but would not cover her client's specific operation. Regardless, she said Laris found enough insurers that would offer coverage to provide a choice among carriers for the customer.
Because it is a new customer, Clement says the business has no loss data with Laris yet. Still, clients like these often do need the guidance of a broker or other businesses in the same industry. She suggests risk management use their networks and the brokers themselves to help determine what is the best mitigation solution. "There's always something that's uninsurable, but you want to get the best spot possible," she says. "Fortunately, the nature of the beast is that the client feels everything is covered. Our responsibility is to make sure they understand exactly what's covered and what's not covered."
No Thanks, I Just Ate
It's James Mahurin's job to identify unusual risks. The owner of Insurance Audit TN in Franklin, Tennessee, Mahurin has spent his career identifying risks and preparing risk surveys for clients. He has worked with hotels in flood zones, oil-spill response organizations, and even tour companies that need to make sure their guests are not eaten by cannibals.
With the hotel chain, he helped the company determine its overall loss potential for hurricane and flood damage and just how much of that risk the hotel wanted to retain. Pretty basic stuff despite the hotel having what he says was a "serious, seven-figure exposure."
What is not basic is the oil-spill response organization's operations. The group coordinates cleanup efforts for 17,000 miles of coastline, and it responds to incidents across the country. While Mahurin was working with them, the organization handled such 11 incidents, each full of their own unique risks.
Then there are the cannibals. One company he knows ran a kayaking business that operated in some of the world's most-remote locations—places where people still eat people. A strange risk indeed, but that wasn't the worst problem. "Assuming the natives aren't at war," he says the main problem is chartering tourists "who are out of shape and having heart attacks."
Another situation left a different client exposed to more than just the business-as-usual risks. The client leased a large facility in an industrial park and was surprised to discover that it was responsible for every part of the facility, from the HVAC and sprinkler systems to the transformers and truck doors—everything except the exterior, bare shell. The tenant had insurance but not enough to cover what turned out to be an unforeseen $28 million exposure. "They signed a lease in which they assumed liability for what could have been tens of millions of dollars, and they did not know," said Mahurin. "The changes to their property insurance are simple to make, but no one realized they needed to be made."
Regardless of the source, Mahurin still generally maintains a matter-of-fact view of unusual risks. While they may be out of the ordinary, they are just risks needing mitigation, and he sees little difference in process. "Identify your exposures, take steps to reduce the loss, decide what to retain, and insure what you can't retain."
And when it comes right down to it, these strange risks aren't what keep most risk managers up at night. The larger threats are the everyday risks. "The routine is the unusual," said Mahurin.