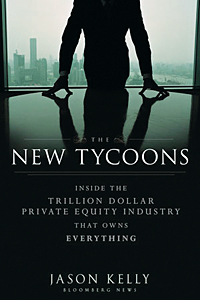 Many may not realize it, but by owning some of the world's biggest brands, such as Hilton, Dunkin' Donuts and J. Crew, private equity has a hand in a lot of the things we use in our everyday lives. And others may not even know what private equity is, since, as the name implies, it is private—such organizations are not required to file financial statements with the SEC.
"Private equity by its nature and design, is secretive, a breathtakingly wealthy corner of the world where the names only occasionally escape the business pages, names like Stephen Schwarzman, David Bonderman and David Rubenstein," writes Jason Kelly. But its secrecy and complex workings are unveiled by the Bloomberg News reporter-turned-author in
The New Tycoons
, a book that documents private equity's biggest companies such as KKR and Carlyle, and the people and methods behind them.
Kelly walks the reader through the most important aspects of private equity—fundraising, leverage, deal making, operations and exiting—throughout the book's 12 chapters and 200 pages. He presents a fascinating case for the industry and its biggest investors—public pensions and university endowments—and how private equity is more than just a tax shelter for the super wealthy.
Though the industry has received much attention recently, in light of Mitt Romney's role at Bain Capital, Kelly's book helps readers understand that the industry helps create jobs and spurs economic growth, even though it is often criticized for being greedy and dishonest.
Kelly also helps readers understand some trends within the industry, including how private equity is becoming better known as more large private equity firms go public; how the nature of private equity firms is growing more complex as they begin to broaden their scope in terms of the companies they acquire; and private equity's influence on the general populace.
Though Kelly's writing style reflects his reporting background, which some might argue does not make for a good book, he provides insight and details on the fascinating world of private equity—making the industry seem a little less evil, a little more human and a lot more interesting.