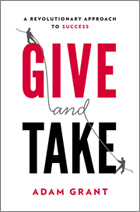 Those who give more than they take tend to succeed at higher rates than those who take without reciprocating. Though givers may fail more than takers on the road to victory, in the long term, they far outpace takers in terms of success. Call it karma, or call it coincidence. Givers go far.
This is the theory Adam Grant puts forth in his new book
Give and Take
. Givers, as he puts it, "strive to be generous in sharing their time, energy, knowledge, skills, ideas and connections with other people." And he posits that because they put themselves first, they (eventually) come out on top. "Although we often stereotype givers as chumps and doormats, they turn out to be surprisingly successful. Givers reverse the popular plan of succeeding first and giving back later."
Grant has the experience to act as a mouthpiece for modern business moguls. He is the youngest-tenured and single highest-rated professor at the Wharton School. He also holds a Ph.D. in organizational psychology and has consulted for companies such as Google and Goldman Sachs.
Using examples such as embattled Enron CEO Ken Lay and
The Simpsons
writer George Meyer, Grant illustrates the dichotomy between takers (Lay) and givers (Meyer). He also uses the idea of reciprocity rings, or a process where people in a small group make various requests while others step forward to fulfill them, to enforce this principle. This, along with numerous psychological studies on success, leadership, positive reinforcement and creativity, helps Grant make a strong and well-documented case for givers as winners. He does warn, however, that givers also have the highest chance of failure due to giving too much. It's a fine line but one that is highlighted in
Give and Take
.
Grant is not just an author of another self-help business book, he's a man out to change a long-standing worldview. Who knows, maybe there is a link between generosity and success. Maybe the old-fashioned ways of greed and individualism are a thing of the past. Maybe good guys don't finish last after all.