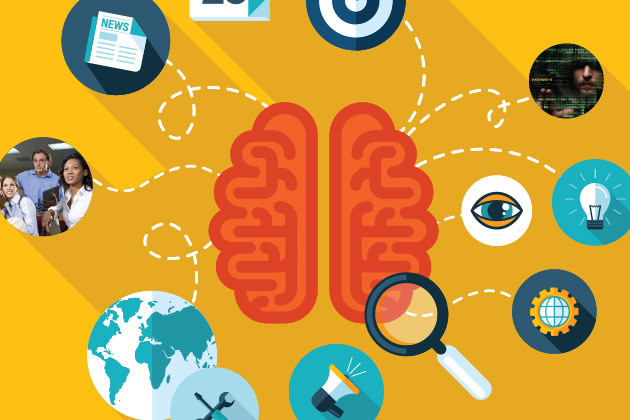 Risk management is more important than ever in today's corporate world. With lessons learned from the financial crisis still fresh and the total cost of risk up by almost 15% since 2009, according to the most recent RIMS Benchmark Survey, organizations and their boards are focusing more than ever on corporate risk management and searching for ways to mitigate and insure their risks. What's more, growth and employee turnover in the insurance industry also mean a greater number of employment opportunities.
None of this is lost on university risk management and insurance (RMI) educators who know they have much to offer. They also realize that their main task is to attract students and bring life to an industry students know very little about and often perceive as dull.
"Few people coming in the door know what risk management is, because an 18-year-old has only had exposure to auto insurance," said Rob B. Drennan, Ph.D., associate professor and chairman of the department of risk, insurance and healthcare management at Temple University's Fox School of Business. "We know this because, every time they answer a question, it's related to auto insurance."
"Temple has found that learning about risk management means making converts. Once students hear their message, many are drawn to the program. To attract students, the department has a strategy that has proved successful: all 2,000 students of the Fox School of Business pursuing an undergraduate degree each year are required to take an introduction to risk management course in their sophomore year. Because the course is key to engaging students in risk management and the insurance industry, "We teach the course very carefully," Drennan said. "This past year, the twist is that we have focused on several public policy issues."
The first class discussion is about the impact of risk on a firm's value and how managing those risks can help. Next, "we talk about current public policy issues related to how society finances losses," he said. "We discuss TRIA and the national flood insurance program from a public policy perspective. Should you, for example, give people disaster relief if they build a house on the Jersey shore and it keeps getting wiped out?"
FOR MORE ON RISK MANAGEMENT EDUCATION

The Graduate's Perspective
Risk management professionals discuss how their educational experience shaped their career.
Another big topic is cyberrisk. "The kids shop at Target and they know what happened," Drennan said. "They have talked about it in other classes, but we look at it from a risk management perspective-what kind of losses, how would you deal with them and what kind of insurance would you have? Also, how easy is it for the insurance industry to put a price tag on cyberrisk?"
At the end of the semester, there is a strategic plan to sit down and conduct information sessions. Students who attend those sessions are invited to consider majoring in risk management. Out of a class of 250 students, 25 are targeted for the program. "This is one of the first courses they encounter in business school where they have to think critically, as opposed to memorizing facts," Drennan said. "Good students with critical-thinking skills are really drawn to this."
The department's efforts have paid off. This past year, the number of risk management graduates was up to 210, from 140 last year. "Our biggest challenge now is that we have waiting lists for our classes, which gives us a different kind of enrollment problem-a good problem to have," he said.
At the University of Wisconsin, undergraduate students become interested through classroom discussion about key issues. "We spent a lot of time during the spring semester talking about cyberrisk, which was just after the Target security breach," said Joan T. Schmit, Ph.D., American Family Insurance Chair in Risk Management and Insurance with the Wisconsin School of Business. "We discussed all the elements that can be affected, including supply chain."
At the University of Georgia, on-campus recruiting for risk management and insurance majors "continues to be very strong," according to Robert E. Hoyt, Ph.D., Moore Chair, professor of risk management and insurance, and head of the insurance, legal studies and real estate department at the Terry College of Business. "We have had increasing numbers of students declaring the RMI major earlier in their college career and this has increased our total number of majors to roughly 350 juniors and seniors. It also suggests that we will have even larger graduating classes in the next few years."
Florida State University also requires business majors to take an introductory class, "Risk in Business and Society," prior to entering the College of Business, said Kathleen McCullough, Ph.D., assistant department chair, associate professor and State Farm Insurance Professor in Risk Management and Insurance. So far, more than 700 students are registered for the class, which she said is "a great chance to show the breadth of issues that risk management encompasses."
Big Data and Analytics
One trend risk management educators have noted is an increased demand from the industry for students with knowledge of big data and analytics. "One insurer came to us and said they would hire all the students with data analytics training," Drennan said. While Temple's business program currently offers a data analytics course, his goal is to "offer a data analytics course in the context of risk management and insurance. This will help our students to be able to take all those reams of data and turn them into meaningful information."
The University of Georgia has also added a business analytics class as a requirement for all business students. "Business analytics has become an increasingly important skill-set for business professionals," Hoyt said.
Schmit noted that, at Wisconsin, "Big data, predictive modeling and business analytics have taken off and we want every business student to feel comfortable with ambiguity and uncertainty and have the tools to manage that sort of setting." Because risk is present in all of business, she said, "We believe that students from every discipline can benefit from an understanding of risk uncertainty, ambiguity and from the tools to function effectively within that kind of environment."
To help students understand ambiguity, Wisconsin has instituted a program called "Navigating Uncertainty." "The idea of navigating uncertainty is a way of using business analytics," Schmit explained. "The combination with behavioral economics and decision-making is a critical component-always with the understanding of the foundational aspects of how insurance functions."
RMI Students in Demand
Karen Epermanis, Ph.D., director of the Brantley Risk & Insurance Center and associate professor at Appalachian State University, is seeing a huge demand for insurance-trained risk management majors. "We had a graduating class of 54 students and all but four were hired, and two are about to be, so we are at 94% hiring this year," she said. "There is truly a demand for the training."
Currently, more than 25% of students at Appalachian State are attracted to the surplus lines industry, she reported. "Our state surplus lines organization is very active, and the primary funder for 12 students who go to London each year."
While in London, the students visit Lloyd's and other companies and brokers. "It's tied into the international insurance classes," she said. "At Lloyd's, they get to sit in the box and by the time they have done all those cool things, they are hyped up with surplus lines. The surplus lines industry has also done a good job of recruiting when they have job openings."
Students are also more comfortable taking jobs with companies that offer training programs. "This generation seems to want training," she said. More and more companies are hiring interns and a number of students are already employed before starting their senior year. "They are required to finish the year and some companies are strict, requiring at least a 3.0 grade-point average," Epermanis said.
Hoyt also noted the increasing number of available jobs for graduates. "We had a record-setting 70 companies registered for our Risk and Insurance Careers Day in January, which focuses on full-time and internship positions throughout the risk and insurance industry. This shows the growing interest that risk and insurance firms have in hiring RMI majors."