Hurricane Dorian Losses Estimated in the Billions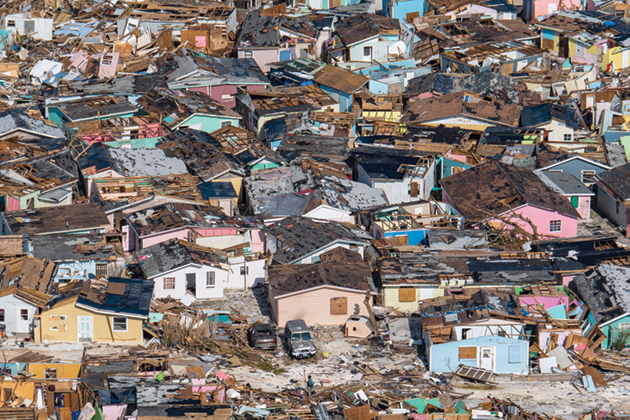 After Hurricane Dorian tore through the Caribbean in early September, authorities are still assessing the scope of the destruction it caused. Risk modeling and analytics firm RMS estimated insured losses will be between $3.5 billion and $6.5 billion, largely based on losses from the Bahamas, which received the brunt of the storm. Dorian hit the island nation as a Category 5 hurricane, killing more than 50 people, with 1,300 still missing as of Sept. 12. The northern islands of Abaco and Grand Bahama were hit hardest and likely face "generational devastation," said Bahamian Prime Minister Hubert Minnis. A Red Cross spokesperson reported that more than 13,000 houses (almost 45% of the homes on Grand Bahama and Abaco) were severely damaged or destroyed. Because of the scale of destruction and the inaccessibility of the islands, rescue workers have struggled to adequately address the crisis there, with many people stranded or in dire need of water, food and medicine. These factors will also affect the rebuilding costs. According to RMS senior product manager Jeff Waters, the cost of materials "is expected to inflate, and repairs could be prolonged, both of which are expected to amplify the costs of claims from this event."
Executives Urge Passage of Gun Control Laws
In September, chief executives of 145 companies signed a letter calling gun violence a public health crisis in the United States and asking the Senate to pass "common-sense, bipartisan gun laws." The companies represented span the retail, technology and financial sectors, including Dick's Sporting Goods, Royal Caribbean Cruises, Levi Strauss, Airbnb, Uber, Yelp and Bain Capital. Specifically, the group called for the Senate to follow the House's lead and pass stronger background check laws, and advocated for "red flag laws," which allow family or law enforcement to report warning signs of individuals who may pose risk of harm to themselves or others and temporarily prohibit their access to firearms. In August, 53 people died as a result of mass shootings in the United States. Amid waves of public scrutiny following recent tragedies, corporations have thus far taken more action than Congress regarding gun violence. A number of retailers including Walmart, Walgreens and CVS are asking customers not to openly carry firearms in their stores, even in states where open carry is permitted. Walmart also announced plans to reduce weapons sales, including ceasing sale of some forms of ammunition and all sales of handguns in Alaska, the last remaining state where it offered them. The moves follow two deadly shootings at Walmart locations this summer, including the August killing of 22 people in El Paso, Texas.
Purdue Reaches Opioid Lawsuit Settlement
Purdue Pharma, manufacturer of the opioid-based painkiller OxyContin, reportedly reached a tentative settlement in the lawsuit brought by 23 states and more than 2,000 cities and counties over the company's role in the opioid crisis. Under the deal's conditions, the Sackler family, which owns Purdue, would give up control of the company but admit no wrongdoing, while Purdue would file for bankruptcy and become a trust that solely manufactured drugs to help combat the opioid epidemic. Additionally, the company would pay $10 billion to $12 billion, including $3 billion specifically from the Sacklers. Some of the parties suing may not agree to the settlement and could continue with individual lawsuits—they have argued that the settlement would not be enough to make up for the scope of the company's role in the opioid crisis. In March, Purdue settled a lawsuit with the state of Oklahoma for $270 million, and the Sacklers agreed to pay $75 million over the next five years for a national addiction treatment and research center at Oklahoma State University.
Scammer Uses AI Voice Mimicking to Steal $200K
In March, criminals used artificial intelligence (AI) to mimic the voice of a U.K. energy firm executive, convincing an employee to transfer more than $240,000 to a Hungarian bank account. Using voice software, the caller apparently contacted the employee by name, claimed that payment was needed within the hour, and sent instructions for transfer directly by email. The scam was discovered when the employee called the executive directly, and the scammer actually called back during their conversation. While similar to everyday social engineering scams, in which criminals manipulate people into divulging information or transferring funds, some are calling this incident the first documented case of AI-enabled theft. The use of AI in this case demonstrates how criminals evolve their tactics alongside technological innovations. To combat the growing digital impersonation threat, cybersecurity firms are developing tools to detect faked audio and video, and Facebook recently announced a competition for techniques to identify "deep fakes," or AI-generated videos that convincingly imitate real people.
Countries Lose Eradication Status Amid Measles Spike
According to a recent World Health Organization report, Albania, the Czech Republic, Greece and the United Kingdom have officially lost their measles eradication status. Worldwide, the first half of the year saw more measles cases than any year since 2006, with 364,808 reported to the WHO, compared to 129,239 cases over the same period last year. "This is the alarm bell that is ringing around the world: being able to achieve high national coverage is not enough, it has to be achieved in every community and every family for every child," said Kate O'Brien, director of the WHO's Immunization Department. Measles cases have increased 10-fold in Africa, twofold in Europe, and threefold in the Western Pacific region. While most countries with active outbreaks have low vaccination rates, the WHO noted a troubling rise in countries with high coverage as well, including the United States, which has had the highest number of measles cases in 25 years. Indeed, the United States may also lose its eradication status in October because of ongoing outbreaks in New York.